Greetings Fellow Travel Writers!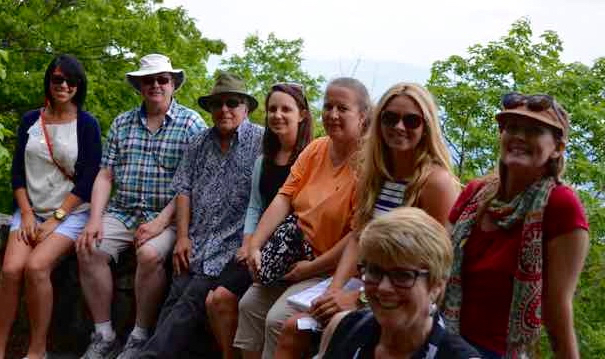 I write this on June 6, the 71st anniversary of the D-Day landings, when allied forces landed on the beaches of Normandy, France, to begin Eisenhower's Great Crusade of liberating Europe from Nazi tyranny.
How appropriate that last week I visited the United States D-Day Memorial in Bedford, Virginia, on a press trip to Roanoke and Virginia's beautiful Blue Ridge Mountains.
The moving and poignant D-Day memorial is a lasting reminder of the terrible sacrifices made by U.S. and other allied soldiers, sailors and airmen and women in World War II.
As some of you know, I write a lot of military and history articles. In fact, this is one of my best-selling travel markets, and I have to say that my history and military travel assignments are my favorites, (along with luxury travel destinations and resorts).

I've just started writing a new eBook, How to Break Into the Military and History Travel Writing Market, due for publication sometime this summer.

And my latest eBook, How to Break Into The Food, Wine, and Beer Travel Writing Market is nearing completion. Soon it will go to editing and production. Watch for its release in the next couple of months. As always, we will offer a substantial introductory discount to subscribers of this e-zine.

Last night I finished my coverage of the Seattle International Film Festival for Videoscope magazine. I've certainly had my fill of Sci-Fi, Horror, and Thriller movies over the past 3.5 weeks, but I did get to see some highly entertaining films.

Another of my favorite writing gigs is covering track & field meets. This week I'm off to Eugene, Oregon, to write about the NCAA Track & Field Championships. Our press box seats overlook the finish line.

Then, I return to Seattle on Saturday, repack, and fly out to Reno on Sunday for four days as a guest of the Reno-Sparks Convention & Visitor's Authority. I have two assignments there.

I never have a dull moment as a travel writer!

This week's featured article is for all of my travel blogging subscribers, and anyone thinking about starting a blog.

If you are one of the travel bloggers who completed our survey a few months ago - you just might find yourself in the article. Thanks for contributing!

Enjoy!
---
Featured Article:
7 Reasons Bloggers Should Write for Print Media
The Internet has completely changed the face of travel writing, and added another dimension to it. It has opened up many opportunities for travel writers.

With the digital age it became possible for anyone to become a travel writer. Many people started up travel websites and blogs, with thousands of them springing up, literally, overnight.

Before the Internet, travel information came from magazines, guidebooks, and books - all print media.

Now, a virtual encyclopedia of travel information can be found online. Guidebooks and magazines continue to sell, but most people today rely primarily on the Internet for their travel information.

I browse the Internet constantly, looking for information, doing research or looking for quality websites about travel. And frequently I read beautifully written travel articles on blogs - stories easily worthy of publication in glossy print travel magazines. And I scratch my head and wonder, "Why didn't the writer pitch this story to some magazines and get paid for it?"

Obviously, there are some travel bloggers out there who have the right stuff for getting published in print magazines. I feel bad that their work is lost among the mass of information on the Internet - only to be read by a few people.

With this in mind, here are seven reasons bloggers should write for print media:

Continue reading the article ...
---

Please share this e-zine with friends, family or anyone who may be interested in travel writing and can benefit from some free marketing and travel writing information.


They can sign up for this e-zine at this link.
---

'Friend' Me!
If you haven't already done so, please 'Friend' me (Roy Stevenson Freelance Writer) on Facebook. My posts are generally travel writing-related and I try to keep it fun.

My Saturday morning 'Where's Roy' Facebook post has been particularly popular! I post a travel photo—usually with me in it—and you have to guess where the heck I am. A few friends and subscribers have proved particularly adept at this.

That's all for now.

Until next time, you keep pitching....

Roy

Roy Stevenson
Pitch Travel Write
www.pitchtravelwrite.com


Please note: Some products mentioned in this e-zine may result in my receiving a small referral fee if you decide to purchase the product. I only recommend products and services that I believe are high quality and can help you be more successful as a freelance writer. Please let me know if you have any questions.
---