Greetings Fellow Travel Writers and Bloggers!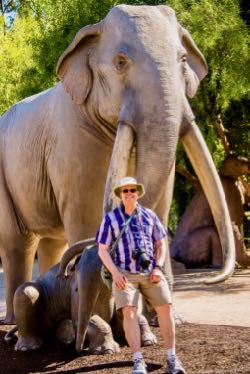 Many novice travel writers believe the only type of publications that will publish their stories are travel magazines. This couldn't be further from the truth. And there's a good lesson that neophyte travel writers can learn from this. Consider this fact: although I've written for 203 publications, and the majority of them are not travel magazines.
While these publications certainly include 22 travel & lifestyle magazines, and 31 travel websites, other periodicals that have published my travel stories include a whopping 53 non-travel specialty magazines. From magazines with names like American Cowboy, Armchair General, Aviation History, Beer Connoisseur, Blue Water Sailing, Coast & Kayak, Lost Treasure, Pacific Horticulture, Popular Communications, Renaissance, Spaceflight, Walking New Zealand, World War II, to name a few, you can see that I've managed to place travel articles in dozens of non-travel publications.
These non-travel genre magazines include custom publications and trade journals. And, get this; many of my published articles are not even travel stories. I've had several hundred technical pieces published in 74 different sports, health, and fitness publications. These include magazines like American Fitness, Fitness Rx for Women, Irish Runner, Marathon & Beyond, Men's Fitness, Northwest Runner, New Zealand Triathlon & Multisport, Runner's World, Running Fitness, Tennis View, Triathlete, and WellBeing Magazine.
As you can see, my articles are all over the map. Why am I telling aspiring travel writers this? Because, I wouldn't be anywhere near as successful as I have been without writing in multiple genres. That's what I'm renowned for. 
I'm not saying you shouldn't pitch travel periodicals. I am saying you should pitch your travel stories to non-travel magazines. And, you should also be pitching stories about your other favorite subjects and passions to non-travel magazines.
If you're in the freelance writing game for the long haul, you should be selling stories about all your interests. Travel writing is one of the most competitive freelance writing markets, so savvy writers will diversify the genres they write in to boost their bylines.
When you increase the number of genres you're writing in, your potential market increases tremendously. In other words, you'll find it easier to sell more stories when you write for multiple genres.
Writing in multiple genres has the added benefit of expanding your writing envelope and will prevent you from getting bored with writing on one subject. 
My takeaway message from all this: Always strive to get your work published in as many genres and different magazines as you can. And be creative by pitching your travel stories to non-travel magazines.


---
Coaching Registration is Open
Hire an Expert to Help You Break Into Travel Writing
Are you excited about your future potential as a travel writer?

Is this the year that you finally start landing paid assignments with print magazines?

Is something holding you back but you don't know how or where to start in the freelance writing game?

To kick start and accelerate your travel writing into the stratosphere—like the many successful travel writers who all seem to make it look easy—you need a secret weapon.

Smart novices hire a mentor or coach.

Learn more about my coaching program . . .

Look behind any top performer in sports, industry, or business, and you'll find a mentor or coach helping them reach their potential. Hiring a proven, professional coach will save you so much time by helping you work smarter and getting your stories published faster.

Certainly, the information is out there. There's tons of free information in books and on the Internet. But your biggest problem is sifting through those thousands of pieces of information and deciding what is right for you. Often you'll go down the wrong path when you're struggling alone.

Figuring how to put it all together is achievable! Having a coach guide you through a systematic and strategic process will get you bylines in more magazines than you dreamed possible.

If you need someone who will help you make sense of the information, guide you, answer your questions, provide timely advice, and speed up your progress – hire a coach.

I spent years getting to my current level of 1,000+ published articles, in more than 200 regional, national, and international magazines, newspapers, trade journals, custom publications, specialty magazines, in-flights, on-boards, and online travel magazines. Today, I'm considered one of the most prolific travel writers in the U.S.A.

It took a lot of trial and error to get me to where I am now. And I've learned a ton of techniques, tips, and tricks of the travel writing trade on my journey that I want to pass on to you.

My coaching & mentoring program opens only twice yearly and I limit the number of aspiring travel writers I work with to guarantee quality service.

I currently have 5 spaces available in my June intake. If you're interested in finding out more about how my coaching & mentoring program works, and joining my exclusive program, you can get all the details here:

Register here

If you are ready to make a commitment to launching your travel writing career, seeing your stories published in prestigious, paying print magazines, and landing cool press trips to exciting destinations, I can help you. But don't wait too long—my coaching spots fill quickly!

To learn more about my story, you can find it here: Roy's Story and Bio
---
This Week's Featured Post
A Remarkable Travel Journey
By Pam and Gary Baker
Novice travel writers Pam & Gary Baker from Sacramento, California, are creating quite a stir in the travel writing industry. Their breakthroughs into respectable glossy paying print magazines in the past eight months prove that their rapidly accumulating bylines are no flukes.
Says Pam, "Travel writing is not an easy field to break into. Gary and I have been working with Roy for one year and we are now gaining momentum.
So far, we've had three articles published on international websites, had one story published in a Bay area newspaper (both print and online), and our favorite, a story about "Lady Bird" in Via Magazine online. 
We have another article just published in the March issue of Lost Treasure Magazine; the cover story in the May 2018 Australia and New Zealand Magazine; two stories in a Canadian magazine scheduled for later this year; and another story in a Pacific Northwest magazine scheduled for Spring 2019. And, yes, these are paid assignments!"
You can read their inspiring story here:

READ THE ARTICLE
---
Upcoming Posts
June 11: Advantages & Disadvantages of Blogging for Free
June 18: The Most Common Novice Travel Writing Mistakes
June 25: Adding Spice & Life to Your Travel Articles
July 2: Writing Historical Travel Articles



---
We've Been In The News
Just came across this article I wrote in 2010, about journalist behavior on press trips. My advice still holds true!

Read the Writers Weekly article

---
Landing Press Trips and Fam Tours
I field frequent emails from novice and intermediate level freelance travel writers who desperately want to land press trips and Fam Tours. I'm not surprised at these requests because "freebie" travel is the second most important perk of travel writing, after being paid for our work.

To learn more about scoring press trips & fam tours & covering your expenses when on assignment, here are some links to articles on my website:

Press Trips and Low Cost Travel
Press Trips for Travel Writers
5 Rules for Selling Articles and Getting Travel Perks
Quid Pro Quo and Press Trips
How to Land Regional Press Trips and Fam Tours

---
Inspirational Travel Quote of the Week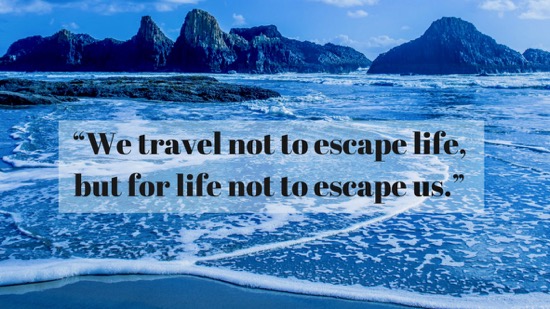 ---
Get on the interest list for The 2019 Complete Travel Writing & Marketing Master Class
We've just wound up our 2018 master class, in Seattle. We believe our Travel Writing & Marketing Master Class is the BEST of its kind, ANYWHERE.

Many of our participants had previously taken other travel writing workshops yet felt that these workshops fell short in preparing them to enter the freelance travel writing arena and get their stories published and be paid for them.

Even by the second day, several of our participants commented to me that our master class "took it to a whole new level."

I'd like to share with you a couple of comments from participants in last month's class:

"This weekend was one for the books! It was an incredible honor to be a part of Roy's world-class marketing conference and I'm eager to see how my fellow classmates and I crush it!" Jessica Pickett

"Home and ready to go to Barnes & Noble bookstore this morning. Thanks so much to Roy & Linda for this amazing weekend and thanks to all the participants for your support and generosity with advice. Looking forward to your success stories!" Mary Lou Osmond

If you want a no-fluff, no-hype class that walks you through the steps necessary to pitch and write for reputable paying print magazines, you should seriously consider attending our April 2019 Seattle class.

To see the rest of the comments from this year's participants and to sign up for the 2019 Master Class Interest List, click on the link below:

SIGN UP FOR THE INTEREST LIST
---
Featured Book of the Week
The Art and Craft of Travel Writing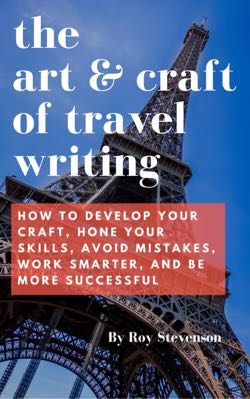 What's in this 21-chapter, 152-page book?

The Art & Craft of Travel Writing has five sections covering . . .
• The Craft of Travel Writing
• Things That Go Wrong in Travel Writing
• Keys to Success in Travel Writing
• Working Smarter
• Goal Setting for Your Travel Writing


Here are some of the chapters . . .
• Creating a Sense of Place and Ambiance
• Turning Your Destination into a Compelling Read
• How to Write Like a Seasoned Professional
• Five Travel Writing Blunders and How to Avoid Them
• Why Some Travel Writers Have More Success
• How to Plug into the Travel Writing Community
• Seven Ways to Take Control of Your Writing Time
• Set Up Systems to Create More Writing Time


This book will help you hone your travel writing skills and get more stories published. We'll show you how to allocate your writing time for maximum efficiency, and exactly what you need to do to break into the competitive travel writing market.

BUY THE BOOK: The Art & Craft of Travel Writing

---
Friend me on Facebook
My Facebook page is about freelance travel writing. I frequently post about:
• travel writing & blogging conferences,
• links to other well produced travel websites and blogs,
• links to my travel articles,
• travel writing themes,
• links to reputable travel writer's groups, associations, and newsletters,
• magazine covers stories and back stories,
• links to resources pages,
• links to travel writing archives,
• links to coaching and mentoring resources,
• and plenty of other useful information to get you up to speed.



Link to Roy's Personal Facebook page
---
Please share the e-zine with friends, family or anyone you know who's interested in travel writing. They can sign up for the newsletter and get free marketing tips each week at this link:

Sign up for my weekly marketing tips

That's all for this week.

Until next week, just keep pitching!

Roy

Roy Stevenson
Pitch Travel Write
www.pitchtravelwrite.com













---