Greetings Fellow Travel Writers and Bloggers!
. . . and WELCOME all new subscribers to The Best Travel Writing Newsletter, ANYWHERE!! Thanks for joining us.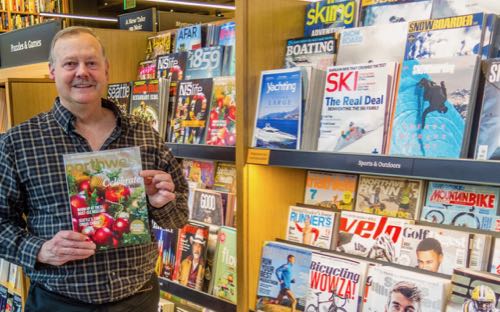 Editorial: The Best Ways to Invest In Your Travel Writing Career
There's plenty of free information online about breaking into travel writing. It's seductive, having all this free information at our fingertips.

But this relentless flood of fragmented data comes at a cost. Because it's piecemeal, it's difficult to absorb in a linear way. And when gleaned from a variety of sources, you'll find conflicting information leaving you with questions and confusion.

I'd like to suggest some better ways to invest in yourself if you want to move your travel writing forward. Some are inexpensive and easy - others require more effort on your part. Back in 2011, when I started writing automobile museum pieces for a car magazine, I purchased two thick books about classic cars from a second hand bookstore. These heavy tomes would, over the years, provide me with valuable background information for my articles.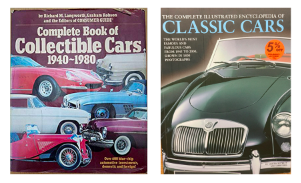 Between them, these books cost $30. Considering that I've made $21,600 from my automobile museum series, I'd say this was an excellent investment.
Same goes for attending travel writing workshops and conferences. If you want to rapidly boost your knowledge, catch up on the latest travel writing trends, get enthused and excited, and meet kindred travel writing spirits, you should attend at least one event each year.
Participating in these events helps you continue to learn, improve, and stay motivated. And, you get to learn from the top travel-writing experts. You'll find most of the experts happy to talk shop with you at these events, because everyone's got their buzz on.
Subscribing to relevant writing magazines like Writer's Forum (U.K) and Writer's Digest (U.S), or purchasing "how to" books about freelance travel writing is money well spent.
Subscribing to one or two top travel magazines is also a good investment. Pick the ones that resonate with you. They'll give you quality travel stories written by the top players.
Membership in a reputable travel writing organization is also money well spent provided the organization offers you real substance. What do I mean by reputable? Look for groups who offer real value for you. Stay away from overhyped groups with travel writing wannabes who only want to showcase their mediocre, cliché ridden stories. You won't learn anything of value there.
And, if you really want to fast track your travel writing career, hire a successful and proven travel writing coach. This will rocket you to the front of the line.
These investments pay off in many ways. Decide what you need to take your travel writing to the next level. Then make the investment in yourself to earn more money as a freelancer.
We're half way through 2019. What are you doing this year to invest in your travel writing future?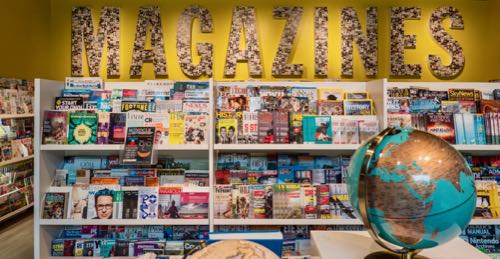 ---
This Week's Featured Post
How to Earn More for Your Travel Articles
What's one of the best ways to earn more for your articles?

Experienced writers write for the high-paying publications, those paying at least $1/word.  Making more money for every word is a great strategy for them, but beginner's often have to settle for less.

The majority of magazines out there don't pay much, often paying only $0.10 to $0.25 per word. So instead of getting paid more per word, I like to get paid more per article.

How do I do this? I get paid several times for the articles I write.  One way I do this is by selling my articles around the world. Freelance writing is a business, so it makes sense to get as much money out of every article as you can. Money is money.  And, if overseas editors are interested in my story idea, that's fine with me.  And I earn more as a result. 

If you want to earn more with each article you write, you need to stop feeling confined to the home market.  Do you really care if you're paid in British pounds, or Australian or Canadian dollars?

How can you sell your articles overseas?

Where do you find overseas publications?

How do you get paid?

Read this article to learn how to do it.

READ THE ARTICLE


---
What's Your Success Story?
We're Looking for More PitchTravelWrite Travel Writing Success Stories.

Have you used our reference books, our PitchTravelWrite.com website, Roy's coaching, our Master Class, our online Master Class, our Travel Writing & Photography Retreat, our weekly newsletter, or any of our other resources to achieve travel writing success?

If so, we'd love to hear from you. Don't be shy!

We also want to hear how you've used our resources to land press trips, score complimentary stays at hotels and resorts and spas, get free guided tours and meals and ground transport and tours, etc.

Please send a summary of your successes to pitchtravelwrite@gmail.com.
---
Upcoming Posts
July 8: How to Be a Prolific Travel Writer
July 15: Memorable Travel Writing Assignments
July 22: Travel Guidebooks vs. the Internet
July 29: Facebook Tips for Travel Writers


---
Pitch Travel Write: Most Popular Links for Dreaming Up Story Ideas

It's getting harder and harder to be a generalist travel writer trying to do what thousands of other generalist travel writers are doing. You have to be really creative to come up with unique story ideas that editors haven't heard before.

A huge factor in selling story ideas and getting them published is the quality of your idea. While this may seem self-evident, finding an interesting story to pitch is a daunting task for novice freelance writers. 

It takes some experience to know what constitutes a viable travel story.  And deciding whether a story idea is a dog or a shooting star is an important first step in the pitching process.

So where, and how, do travel writers start their quest for a salable story? Here are 6 Tips for Dreaming Up Better Story Ideas

For novice freelance writers, trying to figure out what story to pitch to an editor is a daunting task. Because of inexperience, you have no frame of reference.  Often, beginners lack confidence in their story ideas. So where do you start? 
 If you want to boost your bylines, try My Winning System for Dreaming Up Travel Story Ideas

The beauty of travel writing is that you can write an article about almost every aspect of your travels and find a home for it somewhere. Editors get tired of being pitched the same kind of roundup story. They see it all the time and it's not what they're looking for anymore.  They are looking for new ideas and fresh perspectives.

This page will give you some idea of the types of travel stories you can write and sell.

I'm often asked, "What are the best travel stories to write?"  The answer is:  whatever you enjoy writing about. Maybe you enjoy writing food, wine, or beer stories. But, by far, my favorite travel stories are roundup pieces.

Round-up travel stories are high-level descriptions, or "roundups", of what a city or destination has to offer.  There's enough variety to offer something of interest for everyone--or at least to the audience the editor wants to appeal.
 Here's how to write roundup stories and why Roundup Travel Stories are the Most Fun to Write

Do you have trouble figuring out what travel stories will sell? This ebook guides you along the highly creative path of inventing and discovering potential travel stories to pitch and sell to magazines. Master this first step - and combine it with a great pitch - and you'll soon find yourself immersed in exciting experiences with fascinating people. Learn more about Story Ideas that Sell here.


---
Inspirational Travel Quote of the Week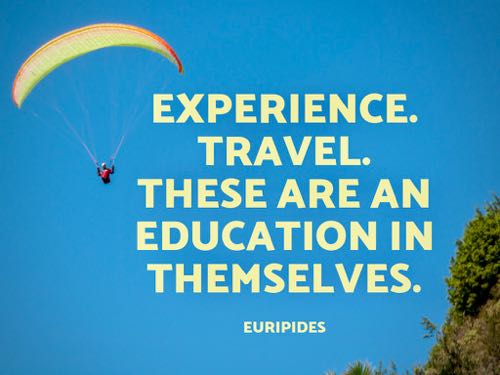 ---
RESOURCES FOR TRAVEL WRITERS
Featured Book of the Month: How to Break Into the Luxury Travel Writing Market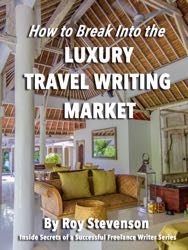 Would you like to stay at luxury resorts, villas, and lodges—for free?

How about being treated like royalty in high-end resorts?

Would you enjoy personalized tours with your own guide and driver?

Does being pampered with lavish treatments in some of the world's most beautiful spas sound good to you?

Would you enjoy eating at some of the finest restaurants in the world—for free? Or wine tasting at some of the world's most gorgeous boutique wineries?

Do you want to know how to enjoy the luxuries of travel without the high cost?

My 12-chapter, 130-page manual will walk you, step-by-step, through the luxury travel writing process. You'll learn how to get luxury travel assignments and leverage them to land luxury travel trips. I've used these techniques to land assignments at dozens of the finest luxury resorts and spas in the world.

This manual contains an up-to-date list of 150+ print magazines and travel websites that publish luxury travel articles. It's the most comprehensive list of luxury magazine outlets you'll find ANYWHERE. Having immediate access to these lists alone is worth the price of the eBook, saving you hundreds of hours of research.



---
We want to say THANK YOU to all our subscribers and social media followers. Running the PitchTravelWrite site would not be possible without your support. Thank you for following us, reading our posts, and emailing questions, comments, and compliments.

We value you more than you can know. Our goal is to help you break into travel writing, get paid for it, and land some cool press trips and free travel.

So keep emailing us - we love hearing from you!
---
At Your Service
Coaching and Consulting
Travel Writing Workshops
Travel Writing Retreats
Online Courses
Vietnam 1-1 Retreat & Consulting
Expat Consulting
email: pitchtravelwrite@gmail.com
If you know someone who will enjoy this newsletter,
please forward or sign up
---
Friend me on Facebook
My Facebook page is about freelance travel writing. I frequently post about:
• travel writing & blogging conferences,
• links to other well produced travel websites and blogs,
• links to my travel articles,
• travel writing themes,
• links to reputable travel writer's groups, associations, and newsletters,
• magazine covers stories and back stories,
• links to resources pages,
• links to travel writing archives,
• links to coaching and mentoring resources,
• and plenty of other useful information to get you up to speed.



Link to Roy's Personal Facebook page
---


That's all for this week.

Until next week, just keep pitching!

Roy

Roy Stevenson
Pitch Travel Write
www.pitchtravelwrite.com













---