Greetings Writers!
The weather is really heating up in Seattle. I hope you're finding fun and interesting ways to keep cool wherever you are.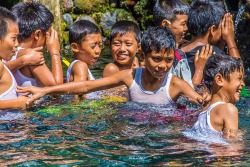 In the last issue I told you that rejection letters don't bother me, even though, as a writer, I get a lot of them.
One of the ways to take the sting out of rejection, is to find ways to get your articles accepted more often.
This issue is focused on one technique that does just that.
One of the reasons I've had so much success at getting published is because I use a technique called "simultaneous submissions". It's a well-known technique, but not everyone uses it.
Some writers tell me they don't use it because they're afraid that two editors will want the same story.
Other writers don't have comprehensive distribution lists. Since this technique is dependent upon having comprehensive distribution lists, they can't use it until they have good lists.
Both of these concerns are easily solved.
If you're not getting published as often as you like, and you're not using this technique, read on.
You'll learn how to do simultaneous submissions. And you'll learn a few ground rules to keep you out of trouble. And in next week's issue I'll give you some strategies for dealing with editors when more than one wants your story.
Once you start using this technique, you'll never go back to pitching one editor at a time. It will become one of your most important ways to get more acceptances.
---
July 14 Marketing Tips:
Simultaneous Submissions:
Sell More, Do It Faster

Once upon a time, not so long ago, a freelance writer wrote a query letter and sent it by mail to one editor. Then the writer would wait.

After a few weeks, the writer heard back from the editor.

If the writer received a rejection letter, he would send another query to another editor by mail. And then he would wait some more.

On and on it went until the writer's story idea was accepted for publication. Then the writer happily wrote the story, sent it in and then repeated the same process all over again.

Times have changed!

Things move much more quickly these days. Email cuts the waiting time down from weeks to days or hours. These days, many editors never bother to respond to query letters, making it futile to wait for a reply.

Oddly enough, some writers still follow the traditional process of writing a query letter to one editor at a time.

If you are using this archaic system, chances are you'll grow old and grey before your list of published articles reaches double figures. And you will definitely not earn much income.

So how can you change the process and improve your chances of getting your story ideas accepted more quickly?

Use simultaneous submissions.

Some writers fret needlessly over this technique. They worry about what will happen if more than one editor wants their story. And so they resort to the traditional way of doing things and query one editor at a time.

So I'm here to tell you this is not an issue. In my seven years of experience as a freelance writer I've always used simultaneous submissions. Having two editors want the same story has only happened to me a handful of times.

And if you have strategies for dealing with this rare situation, everyone will walk away happy. (More about the strategies in part 2 of this article.)

Using simultaneous queries is one of the techniques I've used that has resulted in a 90% acceptance rate for my articles. That's right: 90%!

If you don't already sell 90% of your story ideas and would like to significantly improve your acceptance rate, this article will tell you how to do it.
Continue reading article ...


---

Please share this e-zine with friends, family or anyone who may be interested in travel writing and can benefit from some free marketing and travel writing information.

That's all for now.

Until next time, you keep pitching....

Roy

Roy Stevenson
Pitch Travel Write
www.pitchtravelwrite.com


Please note: Some products mentioned in this e-zine may result in my receiving a small referral fee if you decide to purchase the product. I only recommend products and services that I believe are high quality and can help you be more successful as a freelance writer. Please let me know if you have any questions.
---