Greetings Fellow Travel Writers and Bloggers!
... and welcome to all new subscribers!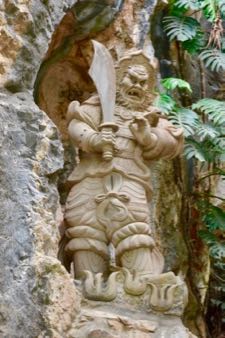 Our new home in the bustling city of Da Nang, Vietnam, has rapidly become recognized as a tourist destination in its own right.
One of its tourist mainstays are the Marble Mountains, only a 10-minute drive from downtown Da Nang. Last week, Linda & I took a half-day to explore this series of steep jagged marble hills. Among their many surreal sights, are nine Buddhist temples sprinkled high atop the mountains and around their rocky bases. 
The largest, and most distinctive marble mountain is "The Water Mountain", featuring four caves. We visited the most noteworthy, Am Phu Caves.
Before you can enter these dimly lit caverns, you must first walk past a gauntlet of two fierce, life-size warrior sculptures, and then cross a marble bridge flanked by marble sculptures of animals. Everything's made of marble in the Marble Mountains!
Inside is a series of high caverns converted into a variety of Buddhist shrines. There are some rather nasty looking depictions of torturers in the Buddhist Hell Realm — a place even travel writers should avoid!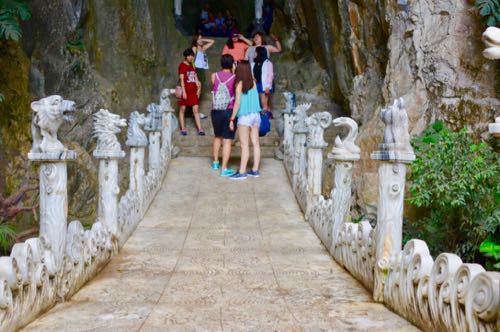 ---
This Week's Featured Post
How To Cover Travel Costs When Magazines Pay So Little
Travel writing differs from other types of freelance writing in one very specific way: you need to go out in the field to do your research. It costs money to travel, and as you all know, travel is very expensive these days. 


Magazines seldom pay writer's travel expenses. So how, then, can you cover your travel costs when magazines pay so little?

Here are three real scenarios from press trips I've taken. In these distinctly different examples, I've included the money I earned through my assignments, and how my travel expenses were covered. These scenarios will give you some real-world insight into how professional travel writers cover their travel expenses.


READ THE ARTICLE:
---
Upcoming PitchTravelWrite Feature Posts
August 7: What Not to Say in Your Query Letters
August 14: The Best Travel Writers Facebook Groups
August 21: Getting Testimonials from Editors & CVBs
August 28: Will Travel Writing Awards Help You Get Published?


---


If you're thinking about attending our master class, and exploring the famed temples of Angkor Wat & Angkor Thom, here are a few things to consider:

• If you're looking for a workshop where you'll get ALL your questions answered - from pitching and selling your travel articles to requesting comps, this workshop is for you.

• If you want to leap past all the beginner writer's mistakes with query letters, editors, and the myriad other hurdles that crop up in freelance travel writing, this workshop is for you.

Learn more here

"At Roy Stevenson's travel writing and marketing workshops, you'll learn everything you need to know about travel writing. The workshops are intense, in-depth, and a lot of fun, all at the same time. There are no holds barred. Ask any question and you'll get the full answer.

Roy is a master of his trade of travel writing and teaching. He imparts his knowledge and experience in a way that makes it very easy to absorb. He isn't afraid that you're going to steal business from him. His ambition is to help you to become a master at travel writing. Be prepared for surprise tutors who will also pass on their knowledge about other skills associated with travel writing."
Peter Safe
Travel Writing & Marketing Master Class
Chiang Mai, Thailand, October 2016

This is not your everyday, run-of-the-mill travel writing workshop that focuses only on the craft of travel writing. No siree!

Those workshops overlook one huge detail: Sales! If you can't sell your articles, you don't get to write them!

This isn't a workshop for dreamers - it's for people who want to get out there and do it. It's for aspiring writers who are dedicated to selling their travel stories in 2017 and really want to see how far they can go.

Please note – this luxury destination workshop is limited to 10 people. If you enjoy learning in a small, supportive atmosphere, this workshop is for you.

Register here ...


---
Inspirational Travel Quote of the Week
"Travel is more than the seeing of sights; it is a change that goes on, deep and permanent, in the ideas of the living."
- Miriam Beard, American Historian & Archivist

---
Have You Planned Your Travel Calendar for 2017?
Have you planned your travel writing calendar for 2017 yet? We at PitchTravelWrite.com spent days preparing lists of:


24 Travel Writing and Blogging Conferences
11 Travel Writing and Blogging Workshops
11 Special Travel Writing Groups, Meetings & Events
5 Travel Shows (and a link to access many more)

Get organized now: Use these lists to plan your travel writing & blogging events for 2017.


---
Resources for Travel Writers

Books and Reference Guides:
Beginner's 3-pack Reference Guides

The Complete Guide to Query Letters for Travel Writers

100 Print Magazines that Want to Publish Your Articles

Fifty Websites that Want to Publish Your Travel Stories

Advanced Travel Writing 2-Pack Reference Guides

How to Land Press Trips and FAM Tours

How to Break Into the Luxury Travel Writing Market

The Complete Guide to Marketing and Selling Your Travel Articles

Digital Bookstore - Guides, Manuals and Special Reports

---
Friend Me on Facebook:
My Facebook page is about freelance travel writing. I frequently post:
• travel writing & blogging conferences,
• links to other well produced travel websites & blogs,
• links to my travel articles,
• travel writing themes,
• links to reputable travel writer's groups, associations, and newsletters,
• magazine cover stories with the back stories about my published articles,
• links to resource pages,
• links to travel writing archives,
• links to coaching & mentoring resources,
• and plenty of other useful information to get you up to speed about travel writing.



If you haven't 'friended' me yet on Facebook, please feel free to do so here:

Link to Roy's Personal Facebook page

---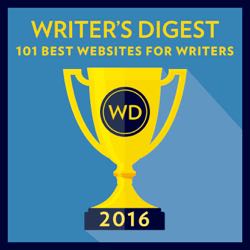 PitchTravelWrite.com was named in 2016's Writer's Digest 101 Best Websites for Writers list.

We're the ONLY travel writer's website on the list! We urge you to forward our newsletters on to your friends that might be interested in taking up travel writing.

PitchTravelWrite.com Testimonials

"I think you should know that I have been sending your link to many a travel journalist as your site is one of the most helpful I've seen to date. I even sent it to my sister who writes mostly about gardens and she was totally blown away by the amount of information you are giving away for free." —Karin Leperi, Freelance Travel Writer

"This site is more like a book than a website. It is one of the best (if not THE best) travel-writing sites I've seen in a long time. It is packed! And most of the articles will be useful to any freelancer, not just travel writers." —Moira Allen Anderson, Writing- World.com


---
Please share this e-zine with friends, family or anyone you know who is interested in travel writing. They can get free marketing and travel writing information by signing up for my e-zine at this link:

Sign up for my weekly marketing tips ...

That's all for this week.

Until next week, just keep pitching!

Roy

Roy Stevenson
Pitch Travel Write
www.pitchtravelwrite.com

---