Greetings Fellow Travel Writers and Bloggers!
Editorial
Welcome to all new subscribers! Several dozen new readers sign up for our Travel Writing & Marketing Tips newsletter each month, and we constantly must remind ourselves that you don't know much about us.
Last week, we told you about when and why we left our comfortable home & lifestyle in Seattle, Washington, and our nine month stay in Chiang Mai, Thailand.
Today we're going to tell you a little more about what we're doing in Da Nang, Vietnam.
The Food Here is Ngon (Delicious!)
Within a 3-block radius of our apartment we have dozens of small restaurants ranging from Vietnamese to Korean, Chinese and Japanese. We have French and German restaurants, and even a great fusion taco place, plus typical fast food pizza and burger bars. We eat well! It's all ngon- that's Vietnamese for "delicious".
We often have a breakfast buffet at the hotels next door for less than $5 each. And if we eat breakfast, lunch, and dinner out, we spend less than $30/day — for two of us! In Seattle, $30 doesn't quite get us a breakfast for two so we love being able to stretch our dollars here in Vietnam.
And we're living well. Many of the younger expats would be horrified that we're spending so much — they eat out for less than $10/day.
There's no shortage of spas, hair salons, and massage parlors, for our creature comforts. Prices are ridiculously low.
We get manicures, pedicures and haircuts for $3 each. Linda and I just had a blissful 1-hour foot massage for $8.50 each! A 1-hour full body massage costs the same. Compare that with the $90/hour (plus tip) that we used to pay in the U.S. (about once or twice a year.) We get massages once or twice a week here.
We're only a 15-minute stroll from Cho Bac My An - our favorite Da Nang local market. We get there early — around 7:30am — to get the freshest produce and seafood. If we woke up earlier, like 5:30 am we could buy it on the beach – fresh off the boats.
But we shop at the market and get 1 kilogram (2.2 lb.) of fresh shrimp for $7. That's only $3.18/lb! When we were in Seattle in April we saw shrimp prices at $18/lb – and it was frozen, not fresh.
We pay $7-$9/week for fresh fruit and vegetables (bell peppers, carrots, cucumbers, tomatoes, limes, mangos, pineapples, dragon fruit).
On our "market days" we have a progressive breakfast starting with our favorite street cart – a fried egg with meats and vegetables sprinkled on top (<$1). The vendor (and cook) makes her own sweet soya sauce and it's yummy. You can't find it on supermarket shelves.
Then I'll have a Banh Mi (50 cents) - the Vietnamese equivalent of a sub sandwich, but way tastier! I wash my banh mi down with freshly blended carrot and pineapple juice (50 cents) and we finish our morning with an iced latte at a nearby café ($1.50). That's breakfast for $6.50 for two of us (Linda is gluten-free and forgoes the banh mi.)
So that's a brief intro to our S.E. Asian lifestyle. Beyond our daily life, we travel a few times each year to other Asian countries and once a year to the U.S. Last year we toured Siem Reap & Phnom Penh (Cambodia), Vientiane & Luang Prabang (Laos), Chiang Mai (Thailand) and Singapore.
This year we've already spent 30 days on assignment at eleven high end Balinese luxury resorts on this Indonesian paradise island. In late September we'll be exploring Malaysia's Georgetown & Penang for a couple of weeks. And every couple months, when we need a Disneyland-like break, we catch a taxi for the 30-minute ride to the magical UNESCO World Heritage city of Hoi An, 20 miles up the road.
This captivating ancient town was a Chinese and Japanese trading center 500 years ago and has now been converted into a buzzing tourist destination. It has well-preserved Chinese clan houses, atmospheric Buddhist temples, and a Japanese bridge along with comfortable cafes, boutique art galleries, quality leather shops, a thriving local market, and a picturesque river. And the town lights up with hundreds of colorful lanterns each night to complete the magic. It's also where we're having our Travel Writing and Photography Retreat in December.
Maybe you'll join us? We have five seats remaining.
Life is good and travel writing has helped make this possible. We hope you get to travel and live in fun destinations!


---
Travel Writing & Photography Retreat
December 9-15, 2018
Hoi An, Vietnam
Registration is open for our Travel Writing & Photography Retreat in Hoi An, Vietnam, December 9-15th.

This unique destination retreat includes creative travel writing and photography workshops.  You'll learn the skills you need to be a successful travel writer and how to produce quality photographs to help you tell your story.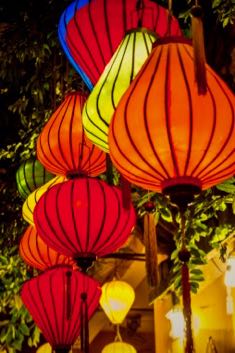 The ancient town of Hoi An, Vietnam was a SE Asian trading port in the 15th through 19th centuries and is a UNESCO World Heritage site. The town continues to thrive today as a trading port, center of commerce and tourist destination. 

Hoi An is especially loved for its beautiful lanterns that decorate the streets by day and magically transform the town into a colorful wonderland every night. 

At the retreat you'll learn the craft of travel writing while touring this extraordinary destination.  No experience is necessary! Just bring an open mind, a laptop, or simply pen and paper.  Your sense of curiosity and creative juices will flow no matter which tools you use.

We'll explore the fascinating local attractions and experience true Vietnamese culture — all while learning the craft of travel writing and photography from a seasoned travel journalist and photographer.

We'll spend three hours each day in classroom instruction including writing and photography activities.  The rest of the time you're free to explore Hoi An, relax with a spa treatment, go on a bike tour or practice your writing and photography.

There are 5 seats remaining. Grab one now and join us in Hoi An this December for an unforgettable experience!

LEARN MORE AND REGISTER

People have been asking . . .
"What's the difference between the Seattle Master Class and the Travel Writing & Photography Retreat in Hoi An, Vietnam?"

Here's the short answer:

- The Travel Writing & Photography Retreat in Vietnam is a one-week creative travel writing and photography event 100% focused on improving your writing and photography skills. It's a relaxed, vacation-like retreat with lessons each morning, a cooking class mid-week, a tour around the ancient town of Hoi An, some group meals, two photography shoots and lots of time to practice your writing and your photography. We call it a "retreat" to make it clear you'll have time to explore, relax, and practice your creative skills.

- The Seattle Master Class is a 3-day intensive workshop focused on selling your articles, getting paid, working with editors and getting comps. We spend 75% of the Master Class on these topics. The other 25% is spent on creative travel writing and success stories. We meet for 8 hours each day in information-packed sessions.

Each class serves a different purpose. There is very little overlap between the two classes.

If you have further questions, please ask. We'll be happy to hear from you. Or, if you're ready register for the Travel Writing Retreat click here.

---
This Week's Featured Post
Five Mistakes That Will Keep You From Travel Writing Success
If you're a beginning travel writer, making errors can cost you valuable time and reduce your productivity. Do you know what they are?

Here are five blunders that can dramatically set back your progress toward getting your articles published. 

Recognizing these mistakes is the first step to understanding what is holding up your progress.  In this article I offer up some solutions to circumvent these situations and to help you get back on track:

READ THE ARTICLE

---
Upcoming Posts
July 30: Writing For Travel Trade Magazines
August 6: Earning Tips for Travel Bloggers
August 13:Following Up On Queries
August 20: Seven Beginner's Travel Writing Mistakes That Can Jeopardize Your Success


---
We've Been In The News
Which is the supreme form of travel writing? Print or online? Is print travel media all washed up? In the article I answer these vexing questions in my guest post on Travel Writers Exchange.

Read the article on Travel Writers Exchange

---
How to Resell Your Travel Articles
Resell your work in US & around the world. I do this all the time. Resell your stories to the same type of magazines in different countries. Here's how I resell my articles and get a bigger bang for my buck. Here are links to my articles about Reselling, Repurposing, and Repackaging your articles.


Five Ways to Sell Your Articles
Earn More - Sell Your Articles Around the World
The Art of Reselling Your Articles

---
Inspirational Travel Quote of the Week
While Anthony Bourdain struggled internally, he never stopped trying to be a better person. A great part of his life's work included studying humanity and participating in other cultures in an effort to better understand how we're not so different, after all. He said:


---
Featured Book of the Week
THE COMPLETE GUIDE TO QUERY LETTERS FOR TRAVEL WRITERS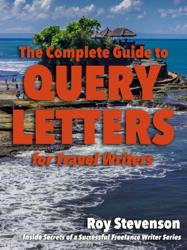 Our best-selling eBook shows you everything you need to know about crafting compelling query letters to sell your travel articles to magazine editors. Available in PDF format, here:

Well-written query letters convince magazine editors that you have an exciting travel story their readers will absolutely love.

In ten years of travel writing I've had more than 1,000 stories published in 200 magazines, journals, newspapers, in-flights, on-boards, specialty magazines, and travel websites – and they all started with a query letter.  I know how to write killer query letters that work, and I wrote this eBook to show you how to do it.

This is different from all other query letter books because you get 20 sample query letters that worked for me. These are actual query letters I used successfully to get articles published in print magazines.

Each sample query letter comes with a clear explanation of the key things that sold the idea successfully. And you can use my samples to create a template for your own query letters, using the same words and layout.

BUY THE BOOK (PDF version)

Here's renowned travel writer & blogger Chris Backe's review of my Query Letter eBook:

"Pitch letters can sometimes feel like the secret sauce of the blogging world. Many folks have a template or two they use, but few share them as openly as Roy has here. Call this what it is – a master-class of sales writing to get into magazines and newspapers."

"The book itself is clean, complete, yet concise enough to be read in a single sitting. Roy's real-world experience and credentials underscore the opening chapters, which reads like common sense should – if it were still common sense. It's up-to-date with the way things actually work here in 2015 (not the way we want them to work). A two-page template is the appetizer, with twenty query letters written by him that resulted in an article placement as the main course.

You'll soon notice the patterns used and feel empowered to try it yourself. Note that some lateral thinking is rewarding – and that tailoring your pitch to ensure that magazine's angle is taken care of is paramount. Highly recommended."

NOW AVAILABLE IN PRINT PAPERBACK and Kindle on amazon.com.

PURCHASE ON AMAZON

All reviews of our Query Letters for Travel Writers book on Amazon.com are 5-Star! You can read them at the amazon link above (on amazon.com scroll down to see reviews).
---
Friend me on Facebook
My Facebook page is about freelance travel writing. I frequently post about:
• travel writing & blogging conferences,
• links to other well produced travel websites and blogs,
• links to my travel articles,
• travel writing themes,
• links to reputable travel writer's groups, associations, and newsletters,
• magazine covers stories and back stories,
• links to resources pages,
• links to travel writing archives,
• links to coaching and mentoring resources,
• and plenty of other useful information to get you up to speed.



Link to Roy's Personal Facebook page
---
Please share the e-zine with friends, family or anyone you know who's interested in travel writing. They can sign up for the newsletter and get free marketing tips each week at this link:

Sign up for my weekly marketing tips

That's all for this week.

Until next week, just keep pitching!

Roy

Roy Stevenson
Pitch Travel Write
www.pitchtravelwrite.com













---