Greetings Fellow Travel Writers and Bloggers!
Wow, it's been a hectic travel season for me since May, and I'm only half way through!
Last month (June) I had two trips to Eugene, Oregon, covering track & field meets, with a 4-day press trip assignment in Reno, Nevada, sandwiched between them.
Linda and I started July off with a marvelous week-long press trip to Anchorage, Alaska, where we did everything Alaskan from glacier cruises to dog sledding on a glacier, exploring a glacier by helicopter, moose watching, and gold panning.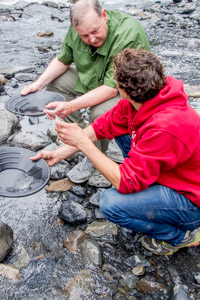 We hiked around an abandoned gold mine in a beautiful valley, did a Segway tour and took a scenic train tour, and we visited museums and the Native cultural heritage center. Our two-night stay at Alyeska Resort, Alaska's finest resort, was a great way to finish our press trip: we hiked, had massages in the spa, swam, and experienced delicious meals in their fine restaurants.

If you'd like to read about our exciting week in Anchorage, check my Facebook page out at https://www.facebook.com/roy.stevenson.397

My Facebook page is for travel writers, and you'll find some great travel writing articles and interesting stories about my press trips. Please friend me if you'd like to keep up with my travel writing. I promise you'll learn a lot from my Facebook posts.

I now have 25 days to crank out 18 travel stories. Then I embark on another 10 days on the road. First, a 5-day press trip to Canada's Yukon Territory where I'll experience the Dawson City Discovery Days festival and explore the beautiful surrounding region with a small group of fellow travel writers.

The day after I get back to Seattle, I depart for a 5-day press trip to Nashville, Tennessee, on assignment for another magazine. And I still have two more press trips scheduled for September! I'll tell you more about those in another newsletter.

On Tuesday evening last week, I attended a media dinner as a guest of Destination British Columbia, Canada. It was like a reunion of Washington State's best and most prolific travel writers and I really enjoyed catching up with my travel-writing friends, many of whom I haven't seen for years (we travel a lot!).

They served amazing food (one of the best ways to a travel writer's heart) and it just kept coming: Two salads, a five herb pesto Gemelli appetizer, brick pressed chicken with infused herbs, porchetta, roasted cauliflower & berry crumble pie and custard tarts for dessert.

Best of all, I landed an assignment and press trip with the Cariboo Chilcotin Coast Tourism Association! Yeah!

---

In this week's featured article, I help you figure out where to pitch your travel stories.

Many travel writers struggle with finding the right magazines to pitch their stories. I get emails every week from travel writers asking me how and where they can find magazines that will be good targets for their query letters.

Today's article gets right down to the nitty-gritty and shows you a systematic approach to this process. It walks you through how and where I find magazines to query with my story ideas.

This article has plenty of real-life examples of how I've tracked down magazines that led to sales. And these assignments, in turn, have led to cool press trips at exciting destinations.

It all begins with finding pitchable magazines...

Enjoy!
---
Featured Article:
Figuring Out Where to Pitch Your Travel Stories
Read the article: "Figuring Out Where to Pitch Travel Stories"...
---

Please share this e-zine with friends, family or anyone who may be interested in travel writing and can benefit from some free marketing and travel writing information.


They can sign up for this e-zine at this link.
---

'Friend' Me!
If you haven't already done so, please 'Friend' me (Roy Stevenson Freelance Writer) on Facebook. My posts are generally travel writing-related and I try to keep it fun.

My Saturday morning 'Where's Roy' Facebook post has been particularly popular! I post a travel photo—usually with me in it—and you have to guess where the heck I am. A few friends and subscribers have proved particularly adept at this.

That's all for now.

Until next time, you keep pitching....

Roy

Roy Stevenson
Pitch Travel Write
www.pitchtravelwrite.com


Please note: Some products mentioned in this e-zine may result in my receiving a small referral fee if you decide to purchase the product. I only recommend products and services that I believe are high quality and can help you be more successful as a freelance writer. Please let me know if you have any questions.
---