Greetings Fellow Travel Writers and Bloggers!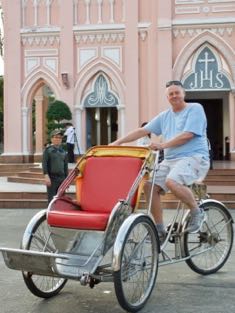 Editorial
Welcome to all new subscribers! Several dozen new readers sign up for our Travel Writing & Marketing Tips newsletter each month, and we constantly must remind ourselves that you don't know much about us.
In this editorial, we're taking a time-out from our usual travel writing and marketing tips to tell you a little more about ourselves and what we're doing.
We currently live in Da Nang, a beach-side city in central Vietnam. How we got here is an interesting story. So here goes!
In early 2016 we decided it was time to leave our comfortable home and lifestyle in Seattle, WA. We had become restless and bored. By May '16 we had given away most of our possessions and packed up the rest in a couple of small storage pods. Finally on June 1 we departed for Southeast Asia. Our intention was to spend 6-12 months in one country and then move on to another. Slow travel, giving us a chance to get to know the place and people.
We spent our first nine months in Chiang Mai, Thailand and enjoyed every minute in the self-proclaimed digital nomad capital of the world. It was a vibrant community willing to give solid advice and share their success stories. We also enjoyed meeting up with the never-ending stream of travel writers & bloggers who passed through Chiang Mai. After nine months, with our visas ready to expire, it was time to move on.
In February 2017 we moved to Da Nang, Vietnam. We live 3 blocks from the beach in the trendy and growing An Thuong area, and we mix with locals, expats and tourists every day. And the sights we see are always surprising and unforgettable.
Standing on a busy street corner for 15 minutes reveals jaw-dropping sights - like a tiny motorcycle sputtering past, impossibly loaded with enough supermarket products to fill a minivan.
We see the Banh Bao (pork bun) vendor riding past with an open fire blazing on the back of his motorcycle, keeping the buns hot & steamy in his tiny oven. We still can't figure out why their scooters don't explode.
I love watching the "fruit & vegetable cart ladies". These intrepid women wheel their rickety carts and bikes along Da Nang's busy streets, dodging motorcycles, cars, and buses all the while yelling out "Get your fresh fruit and vegetables here!" (in Vietnamese, of course). It's not something we're likely to see on Seattle's quiet, manicured streets!
Hot and tired as they may be, the "cart ladies" and their sisters, the "sunglass ladies", always smile and are happy to pose for photos. I take my hat off to these hard-working women!
After 18 months we're still in Da Nang. We use it as a base to visit other countries in SE Asia. Life is good here, and travel writing has helped make this possible. We hope that you too get to travel destinations you love!


---
Travel Writing & Photography Retreat
December 9-15
Hoi An, Vietnam
We're pleased to announce that registration is open for our Travel Writing & Photography Retreat in Hoi An, Vietnam, December 9-15th.

This unique destination retreat includes creative travel writing and photography workshops.  You'll learn the skills you need to be a successful travel writer and how to produce quality photographs to help you tell your story.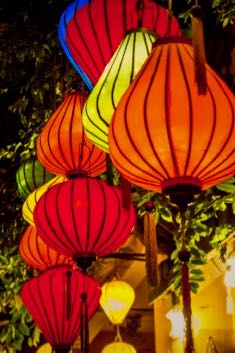 The ancient town of Hoi An, Vietnam was a SE Asian trading port in the 15th through 19th centuries and is a UNESCO World Heritage site. The town continues to thrive today as a trading port, center of commerce and tourist destination. 

Hoi An is especially loved for its beautiful lanterns that decorate the streets by day and magically transform the town into a colorful wonderland every night. 

At the retreat you'll learn the craft of travel writing while touring this extraordinary destination.  No experience is necessary! Just bring an open mind, a laptop, or simply pen and paper.  Your sense of curiosity and creative juices will flow no matter which tools you use.

We'll explore the fascinating local attractions and experience true Vietnamese culture — all while learning the craft of travel writing and photography from a seasoned travel journalist and photographer.

We'll spend three hours each day in classroom instruction including writing and photography activities.  The rest of the time you're free to explore Hoi An, relax with a spa treatment, go on a bike tour or practice your writing and photography.

Join us in Hoi An this December for an unforgettable experience!

LEARN MORE AND REGISTER

People have been asking . . .
"What's the difference between the Seattle Master Class and the Travel Writing & Photography Retreat in Hoi An, Vietnam?"

Here's the short answer:

- The Travel Writing & Photography Retreat in Vietnam is a one-week creative travel writing and photography event 100% focused on improving your writing and photography skills. It's a relaxed, vacation-like retreat with lessons each morning, a cooking class mid-week, a tour around the ancient town of Hoi An, some group meals, two photography shoots and lots of time to practice your writing and your photography. We call it a "retreat" to make it clear you'll have time to explore, relax, and practice your creative skills.

- The Seattle Master Class is a 3-day intensive workshop focused on selling your articles, getting paid, working with editors and getting comps. We spend 75% of the Master Class on these topics. The other 25% is spent on creative travel writing and success stories. We meet for 8 hours each day in information-packed sessions.

Each class serves a different purpose. There is very little overlap between the two classes.

If you have further questions, please ask. We'll be happy to hear from you. Or, if you're ready register for the Travel Writing Retreat click here.

---
This Week's Featured Post
Chuck Warren's Success Story
Breaking into freelance magazine writing is something many people aspire to do but never quite figure out. Here's how Chuck Warren used his knowledge and experience in the boating industry and made it look easy.

It's an inspirational read for anyone thinking about entering the competitive field of freelance magazine writing.

Here's Chuck Warren's story on how he made the transition from unpublished wannabe to regular freelance magazine writer . . .

READ THE ARTICLE

---
Upcoming Posts
July 16:Our Latest Success Story: Chuck Warren
July 23: The Five Most Common Novice Travel Writing Mistakes
July 30: Writing For Travel Trade Magazines
August 6: Earning Tips for Travel Bloggers
August 13:Following Up On Queries



---
We've Been In The News
Here's my latest guest post in TravelWritersExchange.com about how to spot bad magazine editors & how you know when your editor is good at their job. You'll find a handy checklist in this article that will help you assess the editors you work with.

Read the article on Travel Writers Exchange

---
How to Resell Your Travel Articles
Resell your work in US & around the world. I do this all the time. Resell your stories to the same type of magazines in different countries. Here's how I resell my articles and get a bigger bang for my buck. Here are links to my articles about Reselling, Repurposing, and Repackaging your articles.


Five Ways to Sell Your Articles
Earn More - Sell Your Articles Around the World
The Art of Reselling Your Articles

---
Inspirational Travel Quote of the Week
---
Featured Book of the Week
THE COMPLETE GUIDE TO QUERY LETTERS FOR TRAVEL WRITERS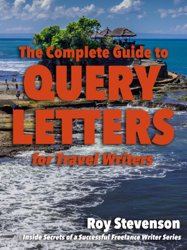 Our best-selling eBook shows you everything you need to know about crafting compelling query letters to sell your travel articles to magazine editors. Available in PDF format, here:

Well-written query letters convince magazine editors that you have an exciting travel story their readers will absolutely love.

In ten years of travel writing I've had more than 1,000 stories published in 200 magazines, journals, newspapers, in-flights, on-boards, specialty magazines, and travel websites – and they all started with a query letter.  I know how to write killer query letters that work, and I wrote this eBook to show you how to do it.

This is different from all other query letter books because you get 20 sample query letters that worked for me. These are actual query letters I used successfully to get articles published in print magazines.

Each sample query letter comes with a clear explanation of the key things that sold the idea successfully. And you can use my samples to create a template for your own query letters, using the same words and layout.

BUY THE BOOK (PDF version)

Here's renowned travel writer & blogger Chris Backe's review of my Query Letter eBook:

"Pitch letters can sometimes feel like the secret sauce of the blogging world. Many folks have a template or two they use, but few share them as openly as Roy has here. Call this what it is – a master-class of sales writing to get into magazines and newspapers."

"The book itself is clean, complete, yet concise enough to be read in a single sitting. Roy's real-world experience and credentials underscore the opening chapters, which reads like common sense should – if it were still common sense. It's up-to-date with the way things actually work here in 2015 (not the way we want them to work). A two-page template is the appetizer, with twenty query letters written by him that resulted in an article placement as the main course.

You'll soon notice the patterns used and feel empowered to try it yourself. Note that some lateral thinking is rewarding – and that tailoring your pitch to ensure that magazine's angle is taken care of is paramount. Highly recommended."

NOW AVAILABLE IN PRINT PAPERBACK and Kindle on amazon.com.

PURCHASE ON AMAZON

All reviews of our Query Letters for Travel Writers book on Amazon.com are 5-Star! You can read them at the amazon link above (on amazon.com scroll down to see reviews).
---
Friend me on Facebook
My Facebook page is about freelance travel writing. I frequently post about:
• travel writing & blogging conferences,
• links to other well produced travel websites and blogs,
• links to my travel articles,
• travel writing themes,
• links to reputable travel writer's groups, associations, and newsletters,
• magazine covers stories and back stories,
• links to resources pages,
• links to travel writing archives,
• links to coaching and mentoring resources,
• and plenty of other useful information to get you up to speed.



Link to Roy's Personal Facebook page
---
Please share the e-zine with friends, family or anyone you know who's interested in travel writing. They can sign up for the newsletter and get free marketing tips each week at this link:

Sign up for my weekly marketing tips

That's all for this week.

Until next week, just keep pitching!

Roy

Roy Stevenson
Pitch Travel Write
www.pitchtravelwrite.com













---