Greetings Fellow Travel Writers and Bloggers!
Linda & I just returned from a one-week press trip of Anchorage, Alaska, courtesy of Visit Anchorage. Wow! What a tour!
We got to fly over a glacier in a helicopter and then landed on the glacier and explored its natural ice sculptures.
We also went sledding with Siberian Husky mush dogs (experienced Iditarod dogs!) across the top of the glacier. These dogs love to run.
It was a blast!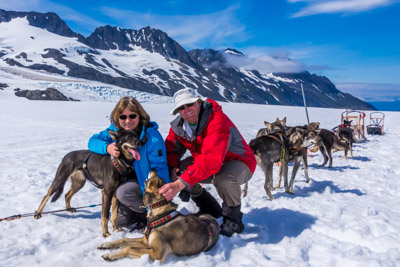 We did a Segway tour around Lake Hood where we watched seaplanes take off every 2 minutes, and took a scenic train ride to Whittier, where we boarded a catamaran and cruised around to view 26 glaciers. Yes, that's right—we actually saw 26 glaciers! That's a lot of ice.

We also visited several historic gold mining sites, and our panning and sluicing efforts turned up plenty of real gold and silver flakes, although not enough to retire on.

Then, of course, there were our luxury accommodations: the Hilton and the Marriott in Anchorage, and two nights at Alyeska Resort, Alaska's finest luxury hotel. We received massages, and went swimming and hiking. Oh, yes, we had a fine dining experience at their Seven Glaciers Restaurant high atop Mt. Alyeska, with a magnificent view of 7 glaciers.

Our overnight stay in one of Knik River Lodge's immaculately appointed log cabins was another highlight. Twice we saw moose grazing along the road and in ponds, and we were able to get close to them (in our car, of course). We did a bunch of other exciting things too, but you get the idea.

I tell you about this press trip because you can do the same thing and go on similar press trips for free, just by rounding up a few travel writing assignments.

To prove that I walk the walk, between May and September this year I'll have been on seven press trips and Fam tours to places like Virginia's beautiful Blue Ridge Mountains; Eugene, Oregon; Reno, Nevada; the Yukon Territory, Canada; Nashville, Tennessee; and of course, Anchorage, Alaska.

These trips include airfare, accommodations (often high end luxury), meals, complimentary entry to tourist attractions, and in some places, car rentals or personal drivers and guides. The only spending I do is for souvenirs and incidental spending.

You can learn how to get these press trips—step-by-step—in my book How to Land Press Trips and Fam Tours. We're offering it at a 20% discount from today until midnight on Sunday, July 19th.

This book will save you thousands of travel dollars if you follow my advice. Use Discount Code: PTFT20 to get your 20% off discount.

How to Land Press Trips and Fam Tours will show you how to use your travel writing skills and credentials to request free or discounted travel, meals, tours, accommodations, and entry into museums and tourist attractions.

Whether you're just starting out in travel writing—or have some experience and want to land more press trips—you'll find valuable resources to help you in this comprehensive 75-page guide. 

Today's featured article is also about the same topic, "Wrangling Complimentary Travel Perks", and gives you a taste of what you'll find in my book.

Enjoy!
---
Featured Article:
Wrangling Complimentary Travel Perks
In the early days of my travel writing career, I just wanted to get published. Getting travel perks wasn't even on my mind. Getting paid was more important to me, so I set about to figure out how to get the most out of each article I wrote in every genre including travel.

As I began doing more and more travel, I realized that it wasn't possible to earn enough from writing to pay for all the places I wanted to visit, so learning about travel perks became more important.

Although I was a little slow in taking advantage of complimentary travel available to travel writers, I'm glad my focus was on getting published first. Because getting your articles published, or securing assignments, is the key to complimentary travel.

Many aspiring travel writers I meet are excited about the travel perks - it's the main thing that got them into this game. But plenty of writers never seem to get their career off the ground. They struggle for a year or two and then drop out because they seldom, if ever, get their articles published.

I help travel writers with both of these things: getting published and learning how to use your assignments to request complimentary travel.

One of my favorite pastimes is posting news about my travels on Facebook. Inevitably, what follows is a deluge of questions from my travel writing friends asking about my destination, my hosts and how I got such a cool trip.

Here are some of the questions that writers have asked about applying for comps. My answers will clarify the tenuous process of requesting complimentary travel, so that you can enjoy some of the fine fruits that travel writing can provide.

Continue reading the article ...


---

Please share this e-zine with friends, family or anyone who may be interested in travel writing and can benefit from some free marketing and travel writing information.


They can sign up for this e-zine at this link.
---

'Friend' Me!
If you haven't already done so, please 'Friend' me (Roy Stevenson Freelance Writer) on Facebook. My posts are generally travel writing-related and I try to keep it fun.

My Saturday morning 'Where's Roy' Facebook post has been particularly popular! I post a travel photo—usually with me in it—and you have to guess where the heck I am. A few friends and subscribers have proved particularly adept at this.

That's all for now.

Until next time, you keep pitching....

Roy

Roy Stevenson
Pitch Travel Write
www.pitchtravelwrite.com


Please note: Some products mentioned in this e-zine may result in my receiving a small referral fee if you decide to purchase the product. I only recommend products and services that I believe are high quality and can help you be more successful as a freelance writer. Please let me know if you have any questions.
---