Greetings Fellow Travel Writers and Bloggers!
Happy Independence Day to all our American subscribers. We hope you have a safe and enjoyable holiday.
Also a warm welcome to all our new subscribers. Thanks for signing up for my weekly marketing tips and for giving our website a test drive. We're happy you joined us!


---
At Home in Chiang Mai
We've been in Thailand for one month now. Our weeks pass by with exciting new sights, smells and sounds as we get settled in to our new home in Chiang Mai, Northern Thailand.

Linda and I love Thai food! We have not grown tired of delicious green and red curries and fresh desserts like mango sticky rice. The variety of Thai food is truly staggering and goes way beyond curries — but more about that in a future post!

Here's a photo of Linda hard at work scraping the meat out of a coconut (she takes this very seriously). And salivate over my enticing photos of red duck curry and mango sticky rice.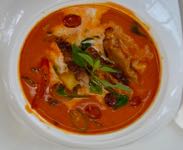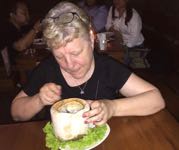 ---
New Travel Writing Workshop!
The Complete Travel Writing, Marketing,
and Photography Workshop
Chiang Mai, Thailand
October 23-29, 2016


Last February, we hosted our first Travel Writer's Workshop in Seattle. It was a smash hit with 16 enthusiastic participants!
We're hosting a new workshop in late October here in Chiang Mai, Thailand. Besides being a wonderful destination with an exotic culture, culinary delights, and a vast array of sumptuous luxury spas – we're expanding the curriculum to include travel writing, marketing, and photography.
We're busy checking out Chiang Mai's best luxury lodging and spas so participants will be pampered in style and comfort. You. Will. Love. This. Workshop!
And we're planning 7 days of exciting excursions with travel writing, marketing and photography instruction built into the agenda.
Some of the events and excursions we're planning ...

• Meet and greet dinner and drinks on Sunday night to get acquainted.

• Two relaxing and pampering spa sessions in boutique spas. Whether it's a traditional Thai body massage, a relaxing foot massage, or maybe a facial and aromatherapy oil body scrub – you decide.

• Try your hand at a Thai cooking class at an organic farm where you'll be cooking up authentic soups, noodles, curries and desserts – and enjoying the meal afterwards.

• Practice your interviewing skills during a "Monk Chat" with a table full of young Buddhist monks at a local temple. While you're getting your questions answered the young monks get a chance to practice their English. Win-win.

• Visit the two most important temples in Chiang Mai and get some hands-on advice on lighting and landscape from a local professional photographer.

• Visit an elephant sanctuary and help feed and bathe these gentle giants.

• Every evening enjoy a new dining venue with world famous and delicious Northern Thai cuisine (and much more …)

• Experience authentic Thai culture exploring Lanna architecture and a hands-on photography workshop on framing and composition.

• Visit handicraft markets, tour historic old town, and enjoy traditional Thai dancing.

• Although the program will be packed with things to do, you'll still get some time to explore Chiang Mai on your own, riding around in a tuk-tuk, browsing the markets and, of course, shopping.


If you've never been to Thailand and always wanted to visit - or it's time to come back to this well-loved place in northern Thailand - here's your chance to do it with a group of like-minded travel writers and photographers.
In order to guarantee a quality experience for everyone and allow time for lots of interaction between hosts, guides and participants, we're limiting registration to 10 people.
Watch for more details coming soon when we open up registration …
If you want to be the first to hear when registration opens and get on our waiting list, send us your email address at this link:
Yes, please let me know when registration opens ...
---
Featured Post: The 2 Most Asked Questions About Simultaneous Queries
This week's featured post addresses two thorny questions about simultaneous queries:

1. What do editors think about simultaneous queries? and

2. Should I Customize My Query for Each Magazine?

I receive email questions like this every week and decided to share my replies with everyone in this post. Here's my take on these questions:

Read the article … Simultaneous Queries - the 2 most asked questions

---
Travel Writer's Associations
Last week's article about the Top Five Travel Writer's Associations drew lots of email responses, some from people wondering why their group wasn't listed.

Choosing only the top 5 means I couldn't list every organization. But I gave careful thought when compiling this list based on a number of criteria including value (benefits) vs. cost of membership and reputation in the broad travel writing community.

I also tried to list a range of organizations that serve a broad range of travel writers. I wanted to list some associations beginners could join and others that require experience (bylines).

These are 5 organizations I can confidently recommend to travel writers based on this criteria along with input from other travel writers.

I'd like to mention one correction to the article thanks to subscriber and writer, Katherine Rodeghier. She updated us on new developments with SATW.

Here's what she said ... "SATW recently loosened its process for membership. Sponsors are no longer required and most applications are processed through staff at SATW's headquarters than through a membership committee, which often takes less time. Applicants still must have a significant amount of points as outlined in this chart."

SATW criteria - pdf file will download when clicked

In case you missed last week's post about travel writer's associations, here's the link:

Travel Writers Associations - which one is right for you?
---
Don't forget to watch my Facebook posts for short photo stories about our new life in Thailand. Go here to "friend" me or just snoop around my Facebook site—it has some interesting travel writing tips, too: Facebook link to Roy's account
---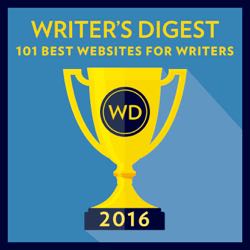 ---
Please share this e-zine with friends, family or anyone you know who is interested in travel writing. They can get free marketing and travel writing information by signing up for my e-zine at this link:

Sign up for my weekly e-zine ...

That's all for this week.

Until next week, you keep pitching.

Roy

Roy Stevenson
Pitch Travel Write
www.pitchtravelwrite.com

---