Greetings Fellow Travel Writers and Bloggers!
Exciting Historic Places & Events and Travel Writing Assignments

I have a deep appreciation of historic destinations and never get tired of visiting them and writing about them.
My historic travel assignments have taken me to some jaw-dropping places and events; living history re-enactments, renaissance faires, military vehicle shows, battlefields—even a historic schooner rendezvous in Washington State's Pacific Northwest.
I've clambered through crumbling ancient ruins, drafty majestic castles, atmospheric abbeys and monasteries and chapels, and formidable forts and fortresses. I've toured beautifully preserved medieval cities like Prague and Bruges and Paris and Edinburgh. I've even visited a restored Viking Centre in York, England, and merchant's guild houses in Belgium and England.
I've explored haunting ghost towns, boisterous gold mining towns, shoot 'em up wild west towns, and watched one of America's oldest rodeos. I've written about old hotels and pubs and breweries.
In the subterranean world, I've crept through underground labyrinths in Wales, catacombs in Paris, smuggler's caves in Hastings, England, and gold mines in Wales, New Zealand, Alaska, and Arizona. I've even pushed the button to release Titan missiles to start World War III, from an underground missile centers near Tucson, Arizona. Fortunately, the missile in question had long since been disarmed!
Museums have provided me with some deep insights into history as I've strolled through classic car museums, air & space museums, a missile museum, and a famous World War II English codebreaking centre. I've learned about some of mankind's more bizarre history by gawking at erotic art museums and torture museums!
Then there are the downright weird places I've been to on assignments. These fantastic destinations include a UFO festival, a Victorian operating theatre in London, an aircraft storage "boneyard" in Arizona, and plenty of cemeteries.
All these places and events were steeped in history. They've all preserved their history superbly, whether through static museums displays or realistic and violent battle re-enactments.
Which leads to this week's featured post . . .


---
This Week's Featured Post
Writing Historical Travel Articles
Do you stand in historic places and find yourself in awe? Can you visualize what happened there? If this describes you, then writing historical travel articles can be an excellent genre to pursue.

If you want to break into travel writing and enjoy visiting historic places, you can combine your interests and sell travel articles about historic places and events.

There's an abundance of history and travel periodicals on the magazine racks. There are hundreds of magazines looking for historic destination pieces.

This is not an exaggeration!

On our recent trip to a Seattle Barnes & Noble bookstore, we pulled 53 history magazines off the magazine rack and photographed their covers. And if I look beyond this single bookstore, I could easily track down another 100 history magazines from Writer's Market, the Internet, and at our local library.

It seems that few other writers have figured out that writing historical travel articles are easy sales. Instead of writing your next story about your Weekend In the Bahamas or Top Ten Lists of Things to Do in Iceland, try your hand at writing a historical travel article.

This is an excellent opportunity for aspiring travel writers!

Here's how to go about pitching, selling, and writing historic destination travel articles.

READ THE ARTICLE

---
Upcoming Posts
July 9: Adding Spice & Life to Your Travel Articles
July 16:Our Latest Success Story: Chuck Warren
July 23: The Five Most Common Novice Travel Writing Mistakes
July 30: Writing For Travel Trade Magazines



---
We've Been In The News
A fellow travel writer quotes me on how we should behave on our press trips. I've seen travel writers behave in ways that have made the rest of the press team cringe! When you go on press trips, don't be "the one".

Here's the link to her short article.

Link to "Press trips etiquette"

---
How to Build Your Travel Writer's Platform
In today's competitive travel writing arena, building your brand and your writer's platform are essential elements for your success.

Here are three articles in which I address the steps you need to start building your platform.


Building a Professional Website for Freelance Writers
Four Reasons to Get Published on Travel Websites
How to Get Testimonials from Editors and CVBs

---
Inspirational Travel Quote of the Week
---
Get on the interest list for The 2019 Complete Travel Writing & Marketing Master Class
We've just wound up our 2018 master class, in Seattle. We believe our Travel Writing & Marketing Master Class is the BEST of its kind, ANYWHERE.

Many of our participants had previously taken other travel writing workshops yet felt that these workshops fell short in preparing them to enter the freelance travel writing arena and get their stories published and be paid for them.

Even by the second day, several of our participants commented to me that our master class "took it to a whole new level."

I'd like to share with you a couple of comments from participants in last month's class:

"This weekend was one for the books! It was an incredible honor to be a part of Roy's world-class marketing conference and I'm eager to see how my fellow classmates and I crush it!" Jessica Pickett

"Home and ready to go to Barnes & Noble bookstore this morning. Thanks so much to Roy & Linda for this amazing weekend and thanks to all the participants for your support and generosity with advice. Looking forward to your success stories!" Mary Lou Osmond

If you want a no-fluff, no-hype class that walks you through the steps necessary to pitch and write for reputable paying print magazines, you should seriously consider attending our April 2019 Seattle class.

To see the rest of the comments from this year's participants and to sign up for the 2019 Master Class Interest List, click on the link below:

SIGN UP FOR THE INTEREST LIST
---
Featured Book of the Week
THE COMPLETE GUIDE TO QUERY LETTERS FOR TRAVEL WRITERS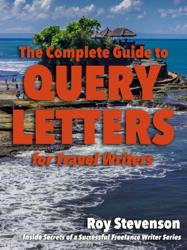 Our best-selling eBook shows you everything you need to know about crafting compelling query letters to sell your travel articles to magazine editors. Available in PDF format, here:

Well-written query letters convince magazine editors that you have an exciting travel story their readers will absolutely love.

In ten years of travel writing I've had more than 1,000 stories published in 200 magazines, journals, newspapers, in-flights, on-boards, specialty magazines, and travel websites – and they all started with a query letter.  I know how to write killer query letters that work, and I wrote this eBook to show you how to do it.

This is different from all other query letter books because you get 20 sample query letters that worked for me. These are actual query letters I used successfully to get articles published in print magazines.

Each sample query letter comes with a clear explanation of the key things that sold the idea successfully. And you can use my samples to create a template for your own query letters, using the same words and layout.

BUY THE BOOK (PDF version)

Here's renowned travel writer & blogger Chris Backe's review of my Query Letter eBook:

"Pitch letters can sometimes feel like the secret sauce of the blogging world. Many folks have a template or two they use, but few share them as openly as Roy has here. Call this what it is – a master-class of sales writing to get into magazines and newspapers."

"The book itself is clean, complete, yet concise enough to be read in a single sitting. Roy's real-world experience and credentials underscore the opening chapters, which reads like common sense should – if it were still common sense. It's up-to-date with the way things actually work here in 2015 (not the way we want them to work). A two-page template is the appetizer, with twenty query letters written by him that resulted in an article placement as the main course.

You'll soon notice the patterns used and feel empowered to try it yourself. Note that some lateral thinking is rewarding – and that tailoring your pitch to ensure that magazine's angle is taken care of is paramount. Highly recommended."

NOW AVAILABLE IN PRINT PAPERBACK and Kindle on amazon.com.

PURCHASE ON AMAZON

All reviews of our Query Letters for Travel Writers book on Amazon.com are 5-Star! You can read them at the amazon link above (on amazon.com scroll down to see reviews).
---
Friend me on Facebook
My Facebook page is about freelance travel writing. I frequently post about:
• travel writing & blogging conferences,
• links to other well produced travel websites and blogs,
• links to my travel articles,
• travel writing themes,
• links to reputable travel writer's groups, associations, and newsletters,
• magazine covers stories and back stories,
• links to resources pages,
• links to travel writing archives,
• links to coaching and mentoring resources,
• and plenty of other useful information to get you up to speed.



Link to Roy's Personal Facebook page
---
Please share the e-zine with friends, family or anyone you know who's interested in travel writing. They can sign up for the newsletter and get free marketing tips each week at this link:

Sign up for my weekly marketing tips

That's all for this week.

Until next week, just keep pitching!

Roy

Roy Stevenson
Pitch Travel Write
www.pitchtravelwrite.com













---