Greetings Fellow Travel Writers and Bloggers!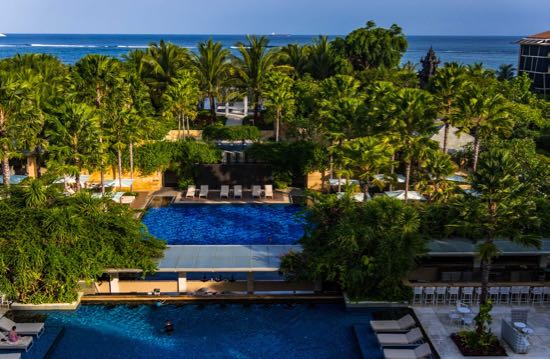 I write this looking down on a long blue swimming pool, surrounded by gently swaying palm trees, and flanked by giant ladies at Bali's gorgeous Mulia Resort.

Much as famous adventurer Henry Stanley explored the dark interior of the African continent in the 1870s, Linda & I have come to Bali to explore the luxury interior of this mysterious tropical island, resort by resort and villa by villa. 

We started our Island Of The Gods odyssey two days ago. The Mulia Resort is the first of eleven luxury resorts, villas and boutique hotels that we will stay at over the next month.

Conde Nast Traveler has ranked the Mulia Resort as the Favorite Beach Resort in The World. TripAdvisor classifies it as one of the Top Luxury Hotels in Indonesia, and VIP International Traveller ranks it as one of the Most Beautiful Honeymoon Hotels. Collectively, the three Mulia properties collectively boast more than 700 rooms, suites & Villas. 

We're awestruck by how grand everything is - giant statues, huge columns throughout the resort, and gigantic doors. It feels like we're staying in a palace or a modern day castle.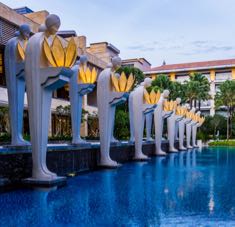 In 15 minutes, we'll tour around the Mulia properties with their media rep. We'll take an electric cart - the property is too big to walk. Then we'll have lunch at the Table 8 restaurant; and later today we're scheduled for Afternoon Tea at The Bar.
For 29 days, we'll be staying in Balinese villas & resorts. Many are beach resorts but some are perched high up over tropical river valleys, and looking down over lush green rice fields, so there's a nice variety of scenery around the island.
We'll eat spicy and flavorful culinery delights, enjoy exotic spa treatments, and when there's time, explore the island on private guided tours. Travel writing's a dirty job, but someone's got to do it! We'll be working the entire month, but our office environment will be at luxury standards.
One of the best things about travel writing is that once you've figured out how to land these plush assignments, you can live like royalty - at least for a few days or weeks.
My Facebook page will have many more details in my daily posts. If you're not already a "friend", you can find the link toward the end of this newsletter.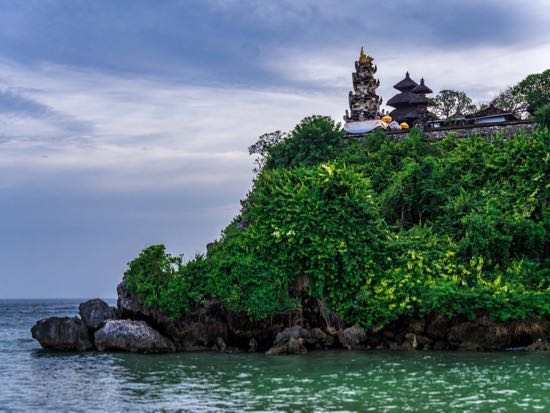 ---
This Week's Featured Post
When The Stars Align: Articles and Publications Destined for Each Other
Every week I receive at least one email from a travel writer asking, "Can you help me find a publication for my story?" My standard reply is this: "Querying a single magazine will, inevitably, end in disappointment."

Although you may think a particular magazine is a perfect fit, that's not usually the way freelance travel writing works. Unless you can get inside the editor's head, you'll never know who wants your story until you send your pitch.

But sometimes the stars align. There have been times when I've barely had to lift a finger to sell my stories. I call these "slam-dunk" stories.

Here's how it works. When you're figuring out which magazines to pitch, some magazines simply leap off the page. Your list screams "me, me, me". Even Homer Simpson would be able to see the strong connection between your story and the publication. Duh!

When this happens to me, I go ahead and query these magazines, of course, along with all the others. Numerous times I've been thrilled to receive acceptance emails from the editor saying, "We'd like to buy your story".

This post lists a few of my perfect matches (article + magazine) where the stars aligned. In these cases, the magazine and my story seemed like obvious partners. And they worked out. Easy money!

There's also some advice about how to make these matches, and how often you can depend upon them.

READ THE ARTICLE

---
Upcoming PitchTravelWrite Feature Posts
February 5: The Ultimate 2018 List of Travel Writing Workshops
February 12: Making Hard Decisions: Know When to Walk Away from a Story
February 19: The Ultimate 2018 Travel Writing Groups & Special Events
February 26: The Secret to Freelance Travel Writing Success


---
The Best Travel Writing & Marketing Workshop Anywhere!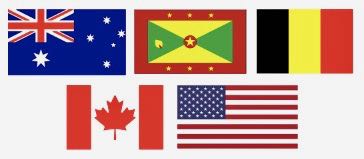 Join travel writers from the U.S., Canada, Grenada, Australia, & Belgium in our Seattle Travel Writing & Marketing Master Class.

Our U.S. attendees are from all over the states: Utah, Washington State, Louisiana, Arizona, California, Ohio, New York, & Colorado. 

Why are aspiring travel writers traveling from all over the world for the Master Class? 
Because it's the BEST travel writing class, ANYWHERE. Seriously!

You can still save $200 off the regular price of this workshop when you use discount code LJD2 at checkout.

We only have a handful of seats left - snag one of them today!

REGISTER HERE


---


Testimonials from previous workshops:

"I absolutely vouch for this pioneer of freelance writing! Roy has a great reputation and this was validated for me while attending his Seattle Travel Writing & Marketing Master Class, early April! Excellent strategies and instruction. Roy not only has a huge stack of diverse bylines that show you it can be done - he also TELLS you how!
Caroline Wheeler, Master Class Attendee, April 2017

"This workshop has been very valuable to me because of the building blocks Roy presents. I especially enjoyed the intimacy of the workshop. You provided plenty of opportunities for us to have one-on-one sessions. The "Links-in-the-chain" strategy provided much insight. In addition, the premise of sending out query letters to multiple magazines is brilliant!"
Barbara Wertz, Master Class Attendee, April 2017

I cannot say enough about how valuable this workshop has been. Roy is a wealth of knowledge and just a joy to work with! I love his enthusiasm, encouragement, and passion for helping new travel writers."
Pam Baker, Master Class Attendee, April 2017

Get one of the few remaining seats. Use discount code LJD2 to save $200.
Sign Up Here ...


---
Most Popular Posts
How to Find Press Trips for U.S. and International Destinations
Where Travel Writers Can Get Published: 16 Places to Find Sales Leads
12 Characteristics of Successful Travel Writers
Step Up Your Freelance Writing for the Fitness Markets
Which Travel Writers Association is Right for You?
Seven Tips to Improve Your Writing Style
Travel Writing for Newspapers: Where to Look for Opportunities
---
Inspirational Travel Quote of the Week
---
New Books Coming in 2018!
We'll be publishing several more freelance travel writing books this year. Watch for our new reference and resource books on ...

• Find Your Niche: For Travel Writers & Other Freelance Magazine Journalists
• Dreaming Up Travel Story Ideas That Sell
• How to Break into the Food, Wine, & Beer Travel Writing Market
• Rock Star Travel Writers: How Elite Travel Writers Sell Their Stories to Top Shelf Travel Magazines
• How to Break into the Military & History Magazine Market


Many of these new books will include samples query letters that actually garnered me published and paid writing assignments in print magazines, and sales leads for those specific niches.
---
Our Featured Book of the Week
HOW TO BREAK INTO THE LUXURY TRAVEL WRITING MARKET: A HANDBOOK FOR TRAVEL WRITERS & BLOGGERS
Would you like to stay at luxury resorts, villas, and lodges—for free? How about being treated like royalty in high-end resorts?
Would you enjoy personalized tours with your own guide and driver? Does being pampered with lavish treatments in some of the world's most beautiful spas sound good to you?
Would you enjoy eating at some of the finest restaurants in the world—for free?
Wine tasting at some of the world's most gorgeous boutique wineries?
My 12-chapter, 130-page manual will walk you, step-by-step, through the luxury travel writing process. You'll learn how to get luxury travel assignments and leverage them to land luxury travel trips. I've used these techniques to land assignments at dozens of the finest luxury resorts and spas in the world.
This manual contains an up-to-date list of 150+ print magazines and travel websites that publish luxury travel articles. It's the most comprehensive list of luxury magazine outlets you'll find ANYWHERE. Having immediate access to these lists alone is worth the price of the eBook, saving you hundreds of hours of research.

BUY THE BOOK


---
Resources for Travel Writers
Books and Reference Guides:
The Art & Craft of Travel Writing

Beginner's 3-pack Reference Guides

The Complete Guide to Query Letters for Travel Writers

100 Print Magazines that Want to Publish Your Articles

Fifty Websites that Want to Publish Your Travel Stories

Advanced Travel Writing 2-Pack Reference Guides

How to Land Press Trips and FAM Tours

How to Break Into the Luxury Travel Writing Market

The Complete Guide to Marketing and Selling Your Travel Articles

Digital Bookstore - Guides, Manuals and Special Reports

---
Friend Me on Facebook:
My Facebook page is about freelance travel writing. I frequently post:
• travel writing & blogging conferences,
• links to other well produced travel websites & blogs,
• links to my travel articles,
• travel writing themes,
• links to reputable travel writer's groups, associations, and newsletters,
• magazine cover stories with the back stories about my published articles,
• links to resource pages,
• links to travel writing archives,
• links to coaching & mentoring resources,
• and plenty of other useful information to get you up to speed about travel writing.



If you haven't 'friended' me yet on Facebook, please feel free to do so here:

Link to Roy's Personal Facebook page

---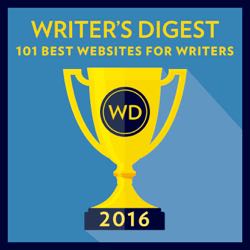 PitchTravelWrite.com was named in 2016's Writer's Digest 101 Best Websites for Writers list.

We're the ONLY travel writer's website on the list! We urge you to forward our newsletters on to your friends that might be interested in taking up travel writing.


---
PitchTravelWrite.com Testimonials
"As a writer, pen to paper, words on the page and developing ideas are not my obstacles, but rather the continued motivation to seek outlets for my stories. Roy Stevenson inspires, encourages, and ignites the fires of enthusiasm to continually push forward into the often-quiet echoes of the publishing world.
Roy has championed my stories and my queries, when I myself had doubts. I am over the moon with the results and feel prepared for my future as a writer on any subject I may choose.
He also helped me write my About page which I believe is the most influential piece when editors consider my stories."

Sincerely,
Jennifer Trandell,Freelance Writer & Photographer
https://thebotanicaljourney.com/pages/about-the-author http://www.afar.com/magazine/where-to-get-a-glimpse-of-the-golden-age-of-baja


---
Please share this e-zine with friends, family or anyone you know who is interested in travel writing. They can get free marketing and travel writing information by signing up for my e-zine at this link:

Sign up for my weekly marketing tips ...

That's all for this week.

Until next week, just keep pitching!

Roy

Roy Stevenson
Pitch Travel Write
www.pitchtravelwrite.com

---