Greetings Fellow Travel Writers and Bloggers!
... and welcome to all new subscribers!


Yesterday we returned from Siem Reap, Cambodia, to our 'home' in Chiang Mai, Thailand. For the past ten days we've been on location, scouting around Siem Reap and exploring the nearby ancient city of Angkor for our 2017 Travel Writing & Marketing Destination Master Class in Cambodia (October 22-29).
Oh the sacrifices we make to bring you a luxury destination workshop!

We clambered through the majestic Angkor Wat temple and then gazed in awe at the 49 enormous and enigmatic stone faces in Angkor Thom's world renowned Bayon. We let our imaginations run wild in Ta Prohm's mysterious maze of courtyards, half expecting to see fierce Hanuman monkey warriors and Naga snake gods emerging from this atmospheric temple's superb wall carvings.
We've also selected one of Siem Reap's finest and most exclusive luxury hotels for our workshop home base. For the 'foodies', we've chosen several fine restaurants to give our attendees a range of tastes from authentic Khmer to upscale, contemporary interpretations of Asian cuisines.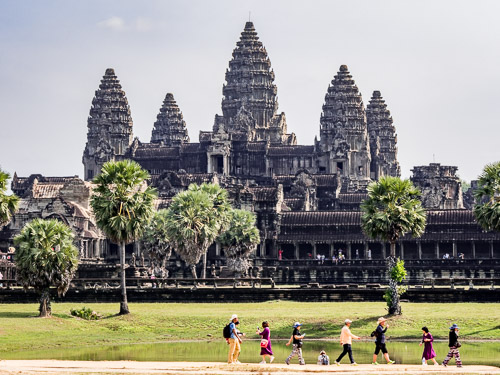 And Speaking of Travel Writing & Marketing Workshops ...
You don't have to travel to Cambodia or wait until October to attend our Master Class.
If you've decided to make 2017 your year to break into travel writing, our Travel Writing & Marketing Master Class coming up in April 2017, in Seattle, will help you launch your career in this exciting field.

We'll show you—step-by-step—exactly how to break into print and online media and get paid for your travel writing. You'll learn the same secrets I've used to get more than 1,000 stories published in 200+ regional, national, and international magazines, specialty publications, in-flights, on-boards, newspapers, and travel websites.

And, I'll tell you how I've scored thousands of dollars worth of complimentary travel perks at exotic resorts and fine dining restaurants. I'll show you how to parlay your travel writing assignments into luxury tours with personal travel guides, and even free transportation.

But you'd better hurry up and register for this class. We only started advertising two weeks ago and it's already half full!

We've extended our $300 discount for another week and you can register here ...


SIGN UP NOW AND SAVE $300 ...


Interested in a payment plan?
If you'd rather not pay in full now, we've set up a payment plan option. You can reserve your seat with 1/3 down now, and make 2 more payments between now and the end of March. With the current discount, that means you can reserve a seat for as little as $399!

Go to this link for the details: Seattle Master Class Payment Plan Page


My Travel Writing & Marketing Master Class is completely unique. You won't find another like it anywhere else.

A bold claim, you might think, but we can prove it. It's the only workshop that focuses on how to market and sell your travel articles to print and online magazines.

My mantra is, "If you can't sell your stories, you don't get to write them". The dropout rate among novice travel writers is abysmal—99%. Few beginners manage to sell even one of their travel stories because marketing is by far the most difficult skill in the freelance travel writing game.

It's also the only class available that tells you, in detail, how to get those coveted press trips – or organize your own. You'll leave with full knowledge of how to get the travel perks you need to enjoy yourself at your destination.

Want to see what attendees are saying about our Master Class?

"Roy's step-by-step approach to marketing leaves no stone unturned. This was an awesome brain dump, and gave us so much information to help us get started."
-Sarita Simmons


"This was a step-wise path I can easily follow. It wasn't pie-in-the-sky. I can do this."
-Karen Gordon


"Roy's energy and humor, mixed with rigor are an excellent mix".
-Mike McMaster


"Roy's candor and sense of humor fueled the weekend. Roy doesn't sugar coat anything."
-Satisfied Class Attendee 2016

"No one teaches about marketing and selling like Roy Stevenson."
-Claudia Looi


"Roy's presentations inspire."
-Kate Fitzgerald


Read more testimonials and learn about the workshop:
The Complete Travel Writing & Marketing Master Class, Seattle, 2017

---
Inspirational Travel Quote of the Week
"We travel to bring what little we can, in our ignorance and knowledge, to those parts of the globe whose riches are differently dispersed. And we travel, in essence, to become young fools again—to slow time and get taken in, and fall in love once more."
- Pico Iyer,
Essayist, Novelist, Travel Writer

---
This Week's Featured Post:
Why Roundup Travel Stories Are the Most Fun to Write
... and why you should write them, too.
I'm often asked, "What are the best travel stories to write?" 
By far, my favorite travel stories are roundup pieces. What's so great about roundups?  There's something for everyone! These high-level descriptions, or "roundups", of what a destination has to offer provide enough variety and something of interest for everyone. 
 Roundups are easy to write because you don't have to do much in-depth research.  Usually a sentence or two—or a paragraph or two—about each tourist attraction will suffice.  Because of this, round-up stories practically write themselves. 

But roundups have other great perks too. Read on to find out how they can benefit you . . .

Roundup Travel Stories are the Most Fun to Write

---
Have You Planned Your Travel Calendar for 2017?
Have you planned your travel writing calendar for 2017 yet? We at PitchTravelWrite.com spent days preparing lists of:


24 Travel Writing and Blogging Conferences
11 Travel Writing and Blogging Workshops
11 Special Travel Writing Groups, Meetings & Events
5 Travel Shows (and a link to access many more)

Get organized now: Use these lists to plan your travel writing & blogging events for 2017.


---
Resources for Travel Writers
Beginner's 3-pack Reference Guides

The Complete Guide to Query Letters for Travel Writers

100 Print Magazines that Want to Publish Your Articles

Fifty Websites that Want to Publish Your Travel Stories

Advanced Travel Writing 2-Pack Reference Guides

How to Land Press Trips and FAM Tours

How to Break Into the Luxury Travel Writing Market

The Complete Guide to Marketing and Selling Your Travel Articles

Digital Bookstore - Guides, Manuals and Special Reports

---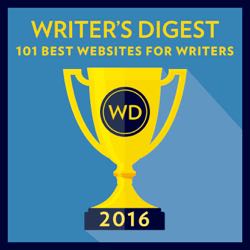 PitchTravelWrite.com was named in 2016's Writer's Digest 101 Best Websites for Writers list.

We're the ONLY travel writer's website on the list! We urge you to forward our newsletters on to your friends that might be interested in taking up travel writing.

PitchTravelWrite.com Testimonials

"I think you should know that I have been sending your link to many a travel journalist as your site is one of the most helpful I've seen to date. I even sent it to my sister who writes mostly about gardens and she was totally blown away by the amount of information you are giving away for free." —Karen Leperi, Freelance Travel Writer

"This site is more like a book than a website. It is one of the best (if not THE best) travel-writing sites I've seen in a long time. It is packed! And most of the articles will be useful to any freelancer, not just travel writers." —Moira Allen Anderson, Writing- World.com


---
Please share this e-zine with friends, family or anyone you know who is interested in travel writing. They can get free marketing and travel writing information by signing up for my e-zine at this link:

Sign up for my weekly marketing tips ...

That's all for this week.

Until next week, just keep pitching.

Roy

Roy Stevenson
Pitch Travel Write
www.pitchtravelwrite.com

---