Greetings Writers!
Two weeks ago I announced my freelance travel writing coaching and consulting services. The response to my coaching program has been great!
I'm currently helping Jed, Elizabeth, Karen, Marilyn, Tracey, Christine, Mary, Linda, John & Kathleen with their travel story ideas, query letters, and locating markets to sell their stories to. And of course, I'll be giving their articles the once over before they submit them to the magazine editors. Almost all of them purchased multiple packages.
I'm keeping my fees very reasonable for subscribers for another week or so. One writer actually complained that I'm not charging enough for my coaching!
Once my coaching services go public the individual package prices will increase and the combination discounts will be less, so get the subscriber discounts while you can.
I've really enjoyed reading the story ideas the writers have generated so far in our consulting sessions. After doing a little fine-tuning to the story ideas and query letters, I've already turned a couple of my writers loose to send out batches of killer query letters to magazine editors.
Our goal is to get their articles into print first. And, if their stories aren't picked up by print media, we'll use online travel magazines as a backup.
Eventually, all of my writers' stories will be published somewhere. And, once they receive an acceptance letter or two, I'll be giving them advice on how to parlay their travel stories into comp entries to tourist attractions and free tours—and where appropriate, accommodations and meals.
A few of the writers purchased my coaching services in advance in order to secure the reduced introductory rates. As a result, I am opening up a few more coaching spots to subscribers.
In about a week or so my coaching services will go public. This means they will be posted on PitchTravelWrite.com for the world to see. I anticipate a big response. This is a reminder that if you need my coaching services and want the reduced rates, now is definitely the time to sign up.
Here's the subscriber link...

---

Last week's article, "Using Travel Trade Shows to Land Press Trips" was very popular with subscribers. A heartfelt thanks to the writers who emailed me and told me how much they appreciated that post. I appreciate your feedback, and am happy so many people found it useful. Several of you reported that you've already registered for travel trade shows after reading the article. I wish you good hunting and hope you pick up some Fam Tours! Thanks for taking the time to send your comments.
This week's featured article is about following up on your query letters with editors. Here's my best answer to the question "when should I follow up with an editor about my query letter?" You'll need to read the article to find out …
Featured Article:
When to Follow Up with Editors About Your Queries
Freelance travel writing is mysteriously shrouded in a whole litany of rules and do's and 'don'ts. In my experience, I believe that many of these rules are not necessarily constructive and many are downright counterproductive.

Some are just a waste of time.

In that latter category is the rule "you should always follow up on your queries with a magazine editor".

While perusing several books on freelance writing, I noticed all the experts said to contact the editor about 2-4 weeks after you've sent your query. The purpose of doing this is to remind the editor of your query and see if they're interested in your story.

For those of you who read my posts regularly, you know marketing magazine articles is my thing. I've discussed the practice of following up on queries with many of my travel-writing peers on press trips. We're in vans and busses a lot, so naturally we like to talk shop and pick each other's brains.

Without exception, my peers all tell me that, over the years, they've picked up one or two stories this way. It seems that occasionally the editor has had his or her memory jolted about the pitch, and then accepted it for publication. But it doesn't happen often.

I consider the practice of following up on queries a waste of time, for several reasons:


Continue reading the article ....

---
Featured Travel Blogger:
Angela Corrias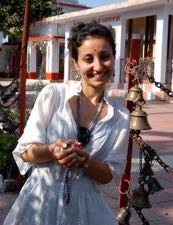 Angela Corrias has been blogging for six years, four of them with her travel blog, Chasing the Unexpected.

With her blog, Chasing the Unexpected, she gives space to little known places or lesser known aspects of more famous destinations. She likes to dig deeper into the traditions of a place, the society, history and people who inhabit a place.

Angela writes about her own experiences. When she travels, she enjoys spotting those small, almost unnoticeable moments that reveal much of the lifestyle in a city, town or country. She finds that these are the experiences that help her shape her own thoughts, create her own memories and help her be inspired to write about a place.

Learn more about Angela's blog and her advice to aspiring bloggers….

---
Please share this e-zine with friends, family or anyone who may be interested in travel writing and can benefit from some free marketing and travel writing information.

That's all for now.

Until next time, you keep pitching....

Roy

Roy Stevenson
Pitch Travel Write
www.pitchtravelwrite.com


Please note: Some products mentioned in this e-zine may result in my receiving a small referral fee if you decide to purchase the product. I only recommend products and services that I believe are high quality and can help you be more successful as a freelance writer. Please let me know if you have any questions.
---