Greetings Fellow Travel Writers and Bloggers!
... and welcome to all new subscribers!


Good Morning (from) Vietnam!

We've moved to Da Nang and managed to settle into our new apartment already. We're having a blast exploring the neighborhood and meeting some of the friendly people around town.

Here's a snap of me with me with a local traffic director, resplendent in his spiffy light gold uniform. I asked to buy his hat, but he wasn't interested.

Many of our friends have asked us, "Why Da Nang?"

We chose it because this bustling city of 1.07 million is appearing on travel writer's and tourist's and digital nomad's radars. It's also not as congested as Saigon or Hanoi, and the maritime climate here is moderate—especially compared with Chiang Mai, Thailand, from whence we've just moved.

Da Nang also has beautiful beaches and an abundant supply of hip coffee shops!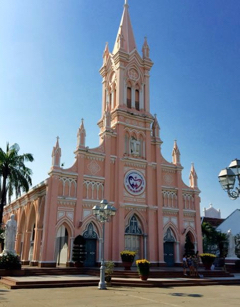 As Vietnam's third largest city, Da Nang's been getting good press lately as a happening place with many interesting tourist attractions including the Han Riverfront promenade (complete with music), a Dragon Bridge (which breathes fire on Saturday & Sunday nights), and the world class Museum of Cham Sculpture.
Da Nang also boasts the scenic Marble Mountains, a fascinating Cao Dai temple, the pink Danang Cathedral (directly opposite our apartment), the mysterious Phap Lam Pagoda, and several markets. It's also the site of the China Beach TV series (1988-91).
Within easy driving distance is the UNESCO World Heritage town of Hoi An, easily Vietnam's most atmospheric town; the Cham ruins at My Son; Nha Trang and Hue. We have some exploring to do!
We're here for at least 6 months, and if we really like it, considerably longer. If your travels happen to bring you to Danang, be sure and get in touch and we'll meet you for coffee somewhere in the neighborhood.
In the meantime, we'll keep you posted on our adventures in this fun place.

---
Workshop Updates:
We have a very excited group of aspiring travel writers who'll be traveling to Seattle April 7-9 to attend our 3-day Master Class. Many are also participating in the creative travel writing class on April 6th with Nick O'Connell.

We still have a few seats remaining in both classes – and we want to fill them! This is the only class we're holding in the U.S.A. in 2017, so if you want to break into travel writing this year, this is the right workshop and the right time.


Register here for The Complete Travel Writing & Marketing Master Class, April 7-9

We're honored to have our Travel Writing Master Class listed as the #1 travel writing workshop in Travel Writers Exchange!

Travel Writers Exchange editor, Trisha Miller, has our workshop listed as the Editor's Choice, at the top of the list. We're listed ahead of some mighty fine workshops, so thank you Trisha!

Travel Writers Exchange Top 10 Workshops

Here's what Trisha has to say. 


"Seminars about the craft of travel writing are a dime-a-dozen. But until now, there's never been a workshop specifically designed to show you how to sell your travel stories . . . Most travel writers and bloggers struggle with querying and pitching their travel stories. And they have very little idea where to sell their articles. The Complete Travel Writing & Marketing Master Class will radically improve your sales and marketing learning curve, and you'll sell more travel articles."

You can also still get a seat in the April 6th Creative Travel Writing class with Nick O'Connell.

I highly recommend this class for everyone who wants to take their travel writing to a whole new level.

Have you been procrastinating about taking up travel writing because you're concerned that your creative travel writing is not publishable? If so, this is the right class for you!

On April 6, the day before our Travel Writing & Marketing Master Class, we're offering a 1-Day Creative Travel Writing Class with Nick O'Connell.

If you want to hone your creative writing skills for an entire day, this one-day class with Nick O'Connell is the perfect forum. Nick is one of the finest travel writing instructors in the U.S.A.

Get all the details about Nick's workshop here:


Register here for the Creative Travel Writing Class with Nick O'Connell on April 6


"Bring a Friend" Special Expires Tomorrow!
Don't forget, the "Bring a Friend for Half Price" special ends at midnight on February 28th.

Register now so you don't miss out on this opportunity . . .

Yes! Register Me and My Friend ...

---
Inspirational Travel Quote of the Week
"When overseas you learn more about your own country, than you do the place you're visiting."
- Clint Borgen, Founder and President of The Borgen Project, aimed at reducing global poverty.
---
This Week's Featured Post:
3 Ways to Up Your Travel Writing Game
Last week's article focused on six ways to speed up your transition from novice to veteran travel writer, and earn more by spending a little money up front. This week the focus is on getting more social – and I'm not talking about social media.

Here are three of the best ways to up your travel writing game and meet people in your industry who can help you be more productive and more profitable …

Read the article: 3 Ways to Up Your Travel Writing Game

---
Have You Planned Your Travel Calendar for 2017?
Have you planned your travel writing calendar for 2017 yet? We at PitchTravelWrite.com spent days preparing lists of:


24 Travel Writing and Blogging Conferences
11 Travel Writing and Blogging Workshops
11 Special Travel Writing Groups, Meetings & Events
5 Travel Shows (and a link to access many more)

Get organized now: Use these lists to plan your travel writing & blogging events for 2017.


---
Resources for Travel Writers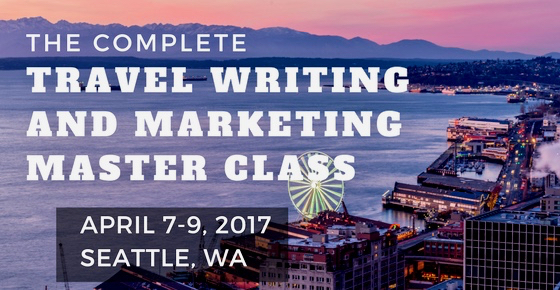 Books and Reference Guides:
Beginner's 3-pack Reference Guides

The Complete Guide to Query Letters for Travel Writers

100 Print Magazines that Want to Publish Your Articles

Fifty Websites that Want to Publish Your Travel Stories

Advanced Travel Writing 2-Pack Reference Guides

How to Land Press Trips and FAM Tours

How to Break Into the Luxury Travel Writing Market

The Complete Guide to Marketing and Selling Your Travel Articles

Digital Bookstore - Guides, Manuals and Special Reports

---
Friend Me on Facebook:
If you haven't 'friended' me yet on Facebook, please feel free to do so here:
Link to Roy's Personal Facebook page

---
Are you looking for an entertaining and expert guest speaker at your next writing conference?
I frequently speak at travel writing and writing conferences about breaking into freelance writing, selling & marketing freelance articles, and establishing your writer's platform.

If you'd like to book me for a speaking engagement about how I've managed to get more than 1,000 articles published in 200+ magazines, specialty journals, newspapers, in-flights, on-boards, and custom publications, please send me a note at Roy_Stevenson@hotmail.com.

---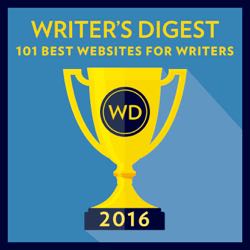 PitchTravelWrite.com was named in 2016's Writer's Digest 101 Best Websites for Writers list.

We're the ONLY travel writer's website on the list! We urge you to forward our newsletters on to your friends that might be interested in taking up travel writing.

PitchTravelWrite.com Testimonials

"I think you should know that I have been sending your link to many a travel journalist as your site is one of the most helpful I've seen to date. I even sent it to my sister who writes mostly about gardens and she was totally blown away by the amount of information you are giving away for free." —Karin Leperi, Freelance Travel Writer

"This site is more like a book than a website. It is one of the best (if not THE best) travel-writing sites I've seen in a long time. It is packed! And most of the articles will be useful to any freelancer, not just travel writers." —Moira Allen Anderson, Writing- World.com


---
Please share this e-zine with friends, family or anyone you know who is interested in travel writing. They can get free marketing and travel writing information by signing up for my e-zine at this link:

Sign up for my weekly marketing tips ...

That's all for this week.

Until next week, just keep pitching!

Roy

Roy Stevenson
Pitch Travel Write
www.pitchtravelwrite.com

---