Greetings Fellow Travel Writers and Bloggers!
As you read this we're winging our way from Bali, Indonesia, to Singapore, for an overnight stay before we return to our "home" in Da Nang, Vietnam. Since last Monday's newsletter, we've stayed at the Wyndham Tamansari Jivva Resort at Lepang Beach, the Santai at Umalas, and finally, the Amala in Seminyak. —some of Bali's finest, most indulgent properties.

The eleven plush resorts in the past month have ranged from health & wellness retreats to lavish, over-the-top palaces where you'd expect to find movie stars sipping champagne. The gentleman sitting next to us at lunch, at one resort, owns the Aston Villa Football Club, one of the U.K.'S most renowned soccer clubs.

Naturally, the PR professionals representing these luxury properties wanted us to have the best possible experiences, so we've been treated to countless relaxing Balinese massages, 24-hour butler service, superb meals and special in-room dining, VIP treatment & property tours, private villas & swimming pools, yoga lessons, private cooking classes, and other neat perks.

You're probably wondering, "How did they swing this epic luxury gig?" The answer is simple. We offered the resorts enticing assignments to showcase their properties and amenities while hosting us for a few days.

Does this life sound good to you? Would you like to have these sorts of luxury travel writing assignments? I show you how to arrange these gigs in two of my best-selling handbooks, How To Break Into The Luxury Travel Writing Market, and How To Land Press Trips & Fam Tours.

This is the second time we've done a month-long excursion to Bali's luxury resorts & villas. In January 2013, we did an almost identical tour for 28 nights at 12 villas—just for writing a few stories about them!

My advice and techniques are repeatable. We've used exactly the same principles and steps outlined in my two handbooks to score a complimentary cruise down France's picturesque Burgundy Canal in a boutique luxury hotel barge, and a wine cruise on Washington State's Salish Sea. These techniques enabled me to tour Baden-Baden & Wiesbaden, Germany's two renowned spa cities frequented by the rich & famous.

Using the same process, we've stayed at a replica wild west luxury ranch near Tombstone, Arizona, and toured five more of Arizona's finest resorts & spas. We've had luxury spa treatments & hotels in Rotorua, New Zealand, and toured the Pacific Northwest's finest luxury lodges. We've stayed in New Zealand's most expensive luxury villa in Queenstown & hiked that country's Queen Charlotte Track, staying in luxury lodges along the way.

These luxury travel gigs are attainable with some hard work & planning, even for novice writers with only a few bylines to their name.

This week only, to celebrate the conclusion of our luxury trip, we're featuring our Advanced Travel Writer's Two-Pack at 25% off the regular individual prices. When you use discount code LX25 you will save a total of 25% off these two books How to Land Press Trips and How to Break into the Luxury Travel Writing Market.

The Advanced Travel Writing 2-Pack

To learn about and land luxury tours like these click the link above, or look for the Advanced-Pack sale announcement later in this newsletter.


---
This Week's Featured Post
Luxury Travel Writing: My Story and How You Can Do It Too
After returning from a luxury travel writing assignment, when I tell other writers about the trip, they always ask how I managed to do it.  

In this post I tell my story about how I first got into luxury travel writing, and the steps you can take to pull together a luxury trip.

READ THE ARTICLE
---
Upcoming Posts
March 5: A Travel Writing Reality Check
March 12: The Ultimate 2018 List of Travel Writing Groups
March 19: The Secret to Freelance Travel Writing Success
March 26: How Do You Know When Your Travel Article is Ready to Submit?

---

We've only got a few seats left in our Master Class and we're running our "bring a friend for half price" special until the remaining seats are taken.

This means when you register, you can also register a friend (or spouse, or uncle, or cousin …) for half price. This is a savings of almost $750!

"Friends" in past classes included husbands, wives, sisters, brothers, and friends. We only need a couple people to take us up on this offer to fill the class – so sign up now and save big!


We have people from five countries attending our travel writing & marketing master class . . . and we only have a handful of seats left!
 Join travel writers from Canada, the U.S., Grenada, Australia, & Belgium in our Seattle Travel Writing & Marketing Master Class.

Our U.S. attendees are from ALL over: Utah, Washington State, Louisiana, Arizona, California, Ohio, New York, & Colorado. 

Why are aspiring travel writers traveling from all over the world for the Master Class?
 Because it's the BEST travel writing class, ANYWHERE. Seriously!

Come alone and make new friends, or bring a friend along - either way, join us in Seattle in April!

Sign up for the Master Class

---
Here's what husband and wife team, Pam & Gary Baker, had to say about last year's Master Class:
"We attended Roy's Master Class in Seattle last April. We had just flown in from Europe the night before and I worried I would be too jet lagged to stay awake during the workshop. But the excitement of the class and the tremendous information kept me awake all day long!
You will learn things in the class that you won't get from books. And you'll make friends, too, that have the same goals. You'll continue to stay in touch and encourage each other and cheer your successes. A network is important! If you haven't signed up for Roy's class this April, you need to do it now before it's sold out!"
Pam & Gary Baker, Master Class Attendees, April 2017

Sign Up Here ...

---
We've Been In The News
In this guest post, I talk about how to land those crucial letters of assignment, for your complimentary travel.

Read the Guest Post

---
Selling & Reselling Your Articles
Here are links to four articles about how to resell, repurpose, & repackage your travel articles. It's how I stretch my articles into multiple publications by reselling them. I've made good money and greatly expanded my bylines doing this. Try it!

5 Ways to Sell Your Articles
Earn More - Sell Your Articles Around the World
Reselling Your Articles (The Art of Reprints & Rewrites)
Reselling Your Articles - 3 Tricky Situations


---
Inspirational Travel Quote of the Week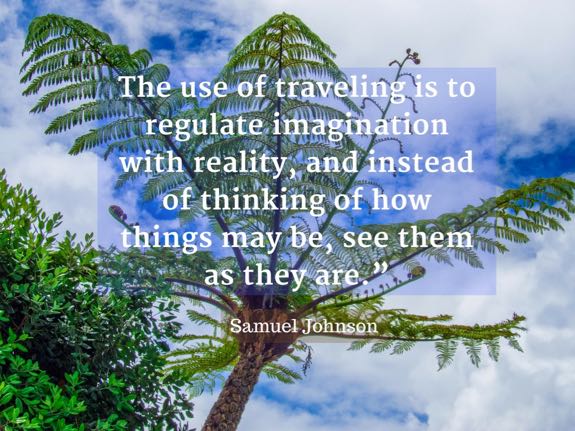 ---
Featured Book of the Week
Advanced Travel Writer's Two-Pack Reference Guides
Take your travel writing career up a few notches with our two advanced reference guides.
In How to Land Press Trips and Fam Tours you'll learn about how to use your assignments to request free and low-cost travel. You'll also get all the resources successful travel writers have at their fingertips to network with the right people and have DMOs clamoring to invite you to visit their region.
If luxury is your preferred style of travel, How to Break into the Luxury Travel Writing Market will help you move quickly into this market. And it gives you a ready-made list of magazines and websites interested in publishing luxury articles.
Save 25% off the Advanced Pack this week only. By purchasing these books together you normally save 10% - and this week we're offering an additional 15% off - for a total savings of 25% when you use discount code LX25.

BUY the Advanced Travel Writing 2-Pack

---
Friend me on Facebook
My Facebook page is about freelance travel writing. I frequently post about:
• travel writing & blogging conferences,
• links to other well produced travel websites and blogs,
• links to my travel articles,
• travel writing themes,
• links to reputable travel writer's groups, associations, and newsletters,
• magazine covers stories and back stories,
• links to resources pages,
• links to travel writing archives,
• links to coaching and mentoring resources,
• and plenty of other useful information to get you up to speed.



Link to Roy's Personal Facebook page
---
Please share the e-zine with friends, family or anyone you know who's interested in travel writing. They can sign up for the newsletter and get free marketing tips each week at this link:

Sign up for my weekly marketing tips

That's all for this week.

Until next week, just keep pitching!

Roy

Roy Stevenson
Pitch Travel Write
www.pitchtravelwrite.com













---