Greetings Fellow Travel Writers!
While the rest of the country has been suffering through some wickedly cold weather, we've had it pretty good here in Seattle. A few days ago I was walking around in a T-shirt, and it was 63 degrees. Today it's only in the mid-50's but that seems balmy compared with other parts of the country. We're feeling grateful.
More about travel shows...
Just a reminder and invitation to those of you who live in and around Seattle: the upcoming Seattle Golf & Travel Show and the Travel Trips & Adventures Expo, will be held at CenturyLink Field, February 27-March 1.
This is Seattle's biggest travel show. I can't count how many Fam Tours and Press Trips I've scored from this extravaganza in the past. Hope to see you there.
And for those of you in other places, we've added information about travel shows in these cities:
Washington DC (March 7-8), Las Vegas (March 10-12), Tucson (March 15-17), Philadelphia (March 21- 22), Orlando (September 15-17), Chicago (January 23-24, 2016), Dallas (January 30-31, 2016), San Francisco (March 5-6, 2016).

Click here for more information about all of these upcoming travel shows ...

My sincere thanks to everyone who purchased my latest eBook, How To Break Into the Luxury Travel Writing Market. I look forward to hearing about your successes as you score those luxury travel gigs based on what you've learned from my eBook.
Also - welcome to my latest coaching clients! I'm having a great time getting to know all these talented writers and we're having a lot of fun working together already. I'll keep you posted on their successes as we move forward.

Today's article talks about the importance of freelance travel writers establishing business practices. When you amp your travel writing up from a hobby to a business, it's time for you to think through some business policies and make your own rules.
This may not sound very glamorous and it might cost you a little time up front—but it will pay off when you encounter some of the typical glitches that crop up in freelance writing. And you will encounter problems.
Things like, what will you do when an editor has not paid you? Or, what are you going to tell your friends when they ask you to coach their kid's sports teams? (Seriously, this happened to me. A friend assumed that as a freelance writer, I sit around doing nothing and have lots of free time!)
And how do you handle an editor who calls you with an assignment, but you don't have any interest in the assignment? Do you do suffer through it? Or do you say no?
This article will give you lots of topics to consider - and some things you probably haven't thought about. I encourage you to use it as a starting point for creating your own business practices…


Featured Article:
What Are Your Business Policies?
Probably the least interesting aspect for most freelance travel writers is the business side of things. We love to travel and we love to write - and then we hope that everything else will take care of itself. But, that doesn't happen unless you're only doing travel writing for free or just for fun.

The business of selling articles is usually my focus. As writers it's important to get published and earn money. But as you get more serious about making money with your writing, it's also important to have a few other business practices in place.

Specifically, you need to have some policies about travel, policies about writing and policies around getting paid.

At this point you might be thinking, "but I'm my own boss - why would I need policies?"

Actually, that's exactly why you need business policies. You are your own boss, but freelance travel writers work for a lot of people. You work for editors. You work for tourist agencies, PR companies, and your hosts at destinations when you write a story about their destination. If you don't have rules (or policies) then someone else's rules just might apply.

It's better to create your own rules.

When you have your own rules, or policies, it conveys professionalism to others. When you are clear about your policies, you can tell someone "This is my policy about …" and you'll sound awesomely confident. You'll inspire trust.

Here are four places where you will want to consider having business policies:

Continue reading the article ...

---
How to Bypass PayPal at Checkout
We're still getting questions about how to place an order without using PayPal. It's handy to know this - whether you're making a purchase on our website or someone else's. It as simple as these 2 steps:


Step 1. Click on "Check Out with PayPal" on the first screen. (I know, it's deceptive but click it anyway. On screen 2 you will bypass it.)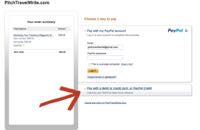 Step 2. Bypass Paypal by selecting "Check out with credit card….." (see red arrow)

That's all there is to it - you'll be asked for your credit card details on the next screen. Good luck!






---

Please share this e-zine with friends, family or anyone who may be interested in travel writing and can benefit from some free marketing and travel writing information.


They can sign up for this e-zine at this link.
---

'Friend' Me!
If you haven't already done so, please 'Friend' me (Roy Stevenson) on Facebook. My posts are generally travel writing-related and I try to keep it fun.

My Saturday morning 'Where's Roy' Facebook post has been particularly popular! I post a travel photo—usually with me in it—and you have to guess where the heck I am. A few friends and subscribers have proved particularly adept at this.

That's all for now.

Until next time, you keep pitching....

Roy

Roy Stevenson
Pitch Travel Write
www.pitchtravelwrite.com


Please note: Some products mentioned in this e-zine may result in my receiving a small referral fee if you decide to purchase the product. I only recommend products and services that I believe are high quality and can help you be more successful as a freelance writer. Please let me know if you have any questions.
---