Greetings Fellow Travel Writers and Bloggers!
. . .from sunny Bali, The Tropical Island of the Gods!
Many of you have expressed concern about how Linda & I are holding up under the stress of staying at eleven high end luxury resorts & villas in Bali, Indonesia.
We appreciate your kind words of support, and we'd like to reassure you all that we're fine, and soldiering on. We've faced a formidable conveyer belt of gourmet food, beautiful Balinese villas and lush tropical settings, private swimming pools, countless massage treatments, lively markets, and some of the world's finest coffee, and we've survived.
As we conclude our work here at resort #9, I'd like to share with you a day in the life of a travel writer on a luxury travel assignment. It's not actually all play and no work. Here goes . .

5:30 am: Roy rises and does social media posts about the luxury resorts.
6:15 am: Linda rises, does morning photo shoot around resort.
8:00 am: Breakfast buffet at Wyndham Tamansari Jivva Resort.
9:30 am: Swim & lounge around at pool. Business meeting in pool. Roy reads book on iPad & has nap (the yin) while Linda splashes around in water and takes photos from her in-pool vantage point.
12:00 pm: Roy does workout in resort fitness center (the yang) while Linda downloads photos (from 3 cameras).
2:00 pm: Lunch at Jivva Beach Club Restaurant.
Our Menu: Oysters Rockefeller, Seafood Gyoza, Seafood platter (Roy), Nasi Goreng (Linda), Strawberry cheesecake, coffee milkshake with ice cream, paradise fruit & yogurt smoothies (2!). We even remember to photograph our food before we dig in. The Balinese staff, meanwhile, wonder what the heck we're doing.
4:30pm: Nap. Hey, we're tired, ok?
5:00 pm: Linda processes the photos so far for this resort.
6:30 pm: Roy writes intro to tomorrow's PitchTravelWrite newsletter.
6:30 pm: Linda does sunset and twilight photoshoot.
7:30 pm: Linda downloads last batch of photos to process tomorrow before we leave for the next resort.
8:30 pm: Fine dining at resort restaurant.
10:00 pm: Roy writes up resort description.

If you'd like to check out our sweet Balinese luxury resort & villa gig, please drop by my Facebook page for my daily Luxury Resort posts. I'll show you our resorts and villas, the gourmet food we're enjoying, the massage spas, and much more. You'll find my Facebook URL toward the end of this newsletter.


---
This Week's Featured Post
How Do You Define Luxury Travel?
Luxury travel is one of the fastest growing forms of travel, and that makes it full of travel writing opportunities.  Our first thoughts of luxury usually settle upon spas and resorts. Fortunately, luxury travel is much more diverse than that.

I didn't always write for the luxury market, and not everything I write today is for this market.  Early on, I was thrilled when someone provided me with hosted accommodation of any sort.  



But eventually, I came to the conclusion that if you're going to the trouble of traveling to a place and working while you're there, you may as well stay in luxurious places and then write about them. 

What's so great about writing about luxury travel?  If you've been following my Facebook posts while we're here in Bali, you already have a pretty good idea.

Here are a few more things that come to mind - and why it's important to define luxury so that you can sell your stories:

READ THE ARTICLE
---
Upcoming Posts
February 26: Luxury Travel Writing: My Story and How You Can Do It Too
March 5: A Travel Writing Reality Check
March 12: The Ultimate 2018 List of Travel Writing Groups
March 19: The Secret to Freelance Travel Writing Success

---

We've only got a few seats left in our Master Class and we're running our "bring a friend for half price" special until the remaining seats are taken.

This means when you register, you can also register a friend (or spouse, or uncle, or cousin …) for half price. This is a savings of almost $750!

"Friends" in past classes included husbands, wives, sisters, brothers, and friends. We only need a couple people to take us up on this offer to fill the class – so sign up now and save big!


We have people from five countries attending our travel writing & marketing master class . . . and we only have a handful of seats left!
 Join travel writers from Canada, the U.S., Grenada, Australia, & Belgium in our Seattle Travel Writing & Marketing Master Class.

Our U.S. attendees are from ALL over: Utah, Washington State, Louisiana, Arizona, California, Ohio, New York, & Colorado. 

Why are aspiring travel writers traveling from all over the world for the Master Class?
 Because it's the BEST travel writing class, ANYWHERE. Seriously!

Come alone and make new friends, or bring a friend along - either way, join us in Seattle in April!

Sign up for the Master Class

---
Here's what husband and wife team, Pam & Gary Baker, had to say about last year's Master Class:
"We attended Roy's Master Class in Seattle last April. We had just flown in from Europe the night before and I worried I would be too jet lagged to stay awake during the workshop. But the excitement of the class and the tremendous information kept me awake all day long!
You will learn things in the class that you won't get from books. And you'll make friends, too, that have the same goals. You'll continue to stay in touch and encourage each other and cheer your successes. A network is important! If you haven't signed up for Roy's class this April, you need to do it now before it's sold out!"
Pam & Gary Baker, Master Class Attendees, April 2017

Sign Up Here ...

---
We've Been In The News
In this interview by Charles McCool, Roy tells about his life as a travel writer.

Link to the McCool Travel Interview with Roy Stevenson

---
Selling & Reselling Your Articles
Here are links to four articles about how to resell, repurpose, & repackage your travel articles. It's how I stretch my articles into multiple publications by reselling them. I've made good money and greatly expanded my bylines doing this. Try it!

5 Ways to Sell Your Articles
Earn More - Sell Your Articles Around the World
Reselling Your Articles (The Art of Reprints & Rewrites)
Reselling Your Articles - 3 Tricky Situations


---
Inspirational Travel Quote of the Week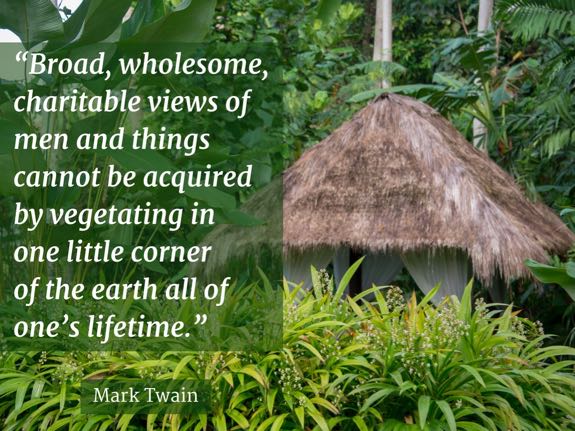 ---
Featured Book of the Week
The Art and Craft of Travel Writing: How to Develop Your Craft, Hone Your Skills, Avoid Mistakes, Work Smarter, and Be More Successful
This book will help you hone your travel writing skills and get more stories published. We'll show you how to allocate your writing time for maximum efficiency, and exactly what you need to do to break into the competitive travel writing market.
The five sections cover . . .
The Craft of Travel Writing
Things That Go Wrong in Travel Writing
Keys to Success in Travel Writing
Working Smarter
Goal Setting for Your Travel Writing


BUY THE BOOK: The Art & Craft of Travel Writing

---
Friend me on Facebook
My Facebook page is about freelance travel writing. I frequently post about:
• travel writing & blogging conferences,
• links to other well produced travel websites and blogs,
• links to my travel articles,
• travel writing themes,
• links to reputable travel writer's groups, associations, and newsletters,
• magazine covers stories and back stories,
• links to resources pages,
• links to travel writing archives,
• links to coaching and mentoring resources,
• and plenty of other useful information to get you up to speed.



Link to Roy's Personal Facebook page
---
Please share the e-zine with friends, family or anyone you know who's interested in travel writing. They can sign up for the newsletter and get free marketing tips each week at this link:

Sign up for my weekly marketing tips

That's all for this week.

Until next week, just keep pitching!

Roy

Roy Stevenson
Pitch Travel Write
www.pitchtravelwrite.com













---