Greetings Fellow Travel Writers and Bloggers!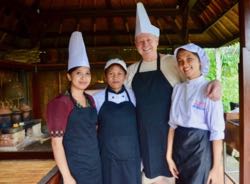 We arrived in Bali on January 27, with the mission of staying at, and writing about, eleven high end luxury resorts & villas. I write this from a gorgeous traditional Balinese villa in our seventh resort, the Bagus Jati health & wellbeing retreat, 20K north of the hip town of Ubud.
Since last week's newsletter, we've stayed at The Samata Villas in Bali's upscale Sanur district, the very private Planta Villa in Canggu (pronounced "changoo"), and here at the Bagus Jati.
In the past 48 hours at Bagus Jati, our treatments have included a Balinese relaxing massage "with exotic warming oils" in the spa. Then, my body was liberally anointed with a tasty ground mixture of ginger and cloves, wrapped in banana leaves, and I was left to marinate for a half hour. It made me feel all warm & tingly!
This morning I twisted like a pretzel through a 1 hour yoga session with 7 women - all of whom were far more lithe (and younger) than me. And, no, I didn't wear yoga tights!
We've had lots of green-ish health drinks with ingredients like cucumber, spinach, kale, mint. The food in the resort's Surya Restaurant is divine, and you can choose from a lengthy menu of healthy dishes, Indonesian selections and basic dishes like bacon & eggs.
Bagus Jati also treated us to a fun cooking lesson, where we picked various herbs & vegetables from their organic garden and then cooked up a Balinese Lawar Pakis (Fern Tip Salad in garlic Dressing), a Vegetable & Tofu Curry, and Dadar Gulung (Balinese crepes with Palm Sugar).
If you'd like to check out our sweet gig as luxury travel writers here in Bali, please drop by my Facebook page for my daily Luxury Resort post. I'll show you our resorts and villas, and the gourmet food we're enjoying. You'll find my Facebook URL towards the end of this newsletter.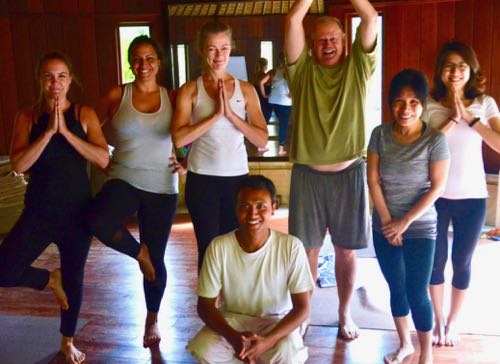 ---
This Week's Featured Post
2018 Ultimate List of Travel Writing & Blogging Workshops
If there's a travel writing workshop worth attending, we've got it on our list. All others are pretenders. There's a solid variety of workshops here that cater for all levels, from novice travel writers up to veteran travel writers at the top of the pyramid.

These eleven workshops will be held around the world, from London to New York, and from Vietnam and Italy to Australia.

GO TO THE LIST ...

---
Upcoming PitchTravelWrite Feature Posts
February 19: Unusual Places on Travel Writing Assignments
February 26: The Ultimate 2018 Travel Writing Groups & Special Events
March 5: Travel Writing Reality Check
March 12: The Ultimate 2018 List of Travel Writing Groups


---
The Best Travel Writing & Marketing Workshop Anywhere!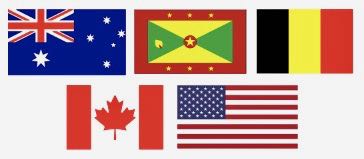 Join travel writers from the U.S., Canada, Grenada, Australia, & Belgium in our Seattle Travel Writing & Marketing Master Class.

Our U.S. attendees are from all over the states: Utah, Washington State, Louisiana, Arizona, California, Ohio, New York, & Colorado. 

Why are aspiring travel writers traveling from all over the world for the Master Class? 
Because it's the BEST travel writing class, ANYWHERE. Seriously!

We only have a handful of seats left - snag one of them today!

REGISTER HERE


---
Testimonials from previous workshop attendees:
"We attended Roy's Master Class in Seattle. We had just flown in from Europe the night before and I worried I would be too jet lagged to stay awake during the workshop. But the excitement of the class and the tremendous information kept me awake all day long!
You will learn things in the class that you won't get from books. And you'll make friends, too, that have the same goals. You'll continue to stay in touch and encourage each other and cheer your successes. A network is important! If you haven't signed up for Roy's class this April, you need to do it now before it's sold out!"

Pam & Gary Baker, Master Class Attendees, April 2017

Get one of the few remaining seats!

Sign Up Here ...


---
Most Popular Posts
How to Find Press Trips for U.S. and International Destinations
Where Travel Writers Can Get Published: 16 Places to Find Sales Leads
12 Characteristics of Successful Travel Writers
Step Up Your Freelance Writing for the Fitness Markets
Which Travel Writers Association is Right for You?
Seven Tips to Improve Your Writing Style
Travel Writing for Newspapers: Where to Look for Opportunities
---
Inspirational Travel Quote of the Week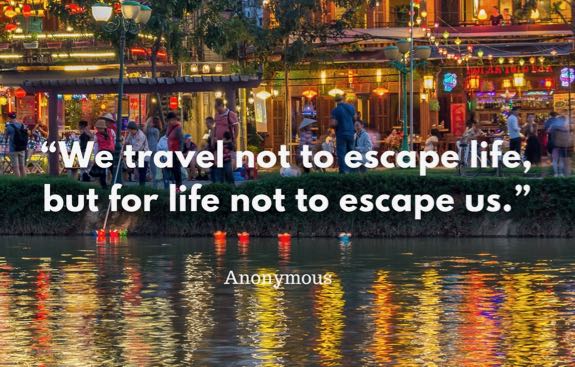 ---
Our Featured Book of the Week
HOW TO BREAK INTO THE LUXURY TRAVEL WRITING MARKET: A HANDBOOK FOR TRAVEL WRITERS & BLOGGERS
Would you like to stay at luxury resorts, villas, and lodges—for free? How about being treated like royalty in high-end resorts?
Would you enjoy personalized tours with your own guide and driver? Does being pampered with lavish treatments in some of the world's most beautiful spas sound good to you?
Would you enjoy eating at some of the finest restaurants in the world—for free?
Wine tasting at some of the world's most gorgeous boutique wineries?
My 12-chapter, 130-page manual will walk you, step-by-step, through the luxury travel writing process. You'll learn how to get luxury travel assignments and leverage them to land luxury travel trips. I've used these techniques to land assignments at dozens of the finest luxury resorts and spas in the world.
This manual contains an up-to-date list of 150+ print magazines and travel websites that publish luxury travel articles. It's the most comprehensive list of luxury magazine outlets you'll find ANYWHERE. Having immediate access to these lists alone is worth the price of the eBook, saving you hundreds of hours of research.

BUY THE BOOK


---
Resources for Travel Writers
Books and Reference Guides:
The Art & Craft of Travel Writing

Beginner's 3-pack Reference Guides

The Complete Guide to Query Letters for Travel Writers

100 Print Magazines that Want to Publish Your Articles

Fifty Websites that Want to Publish Your Travel Stories

Advanced Travel Writing 2-Pack Reference Guides

How to Land Press Trips and FAM Tours

How to Break Into the Luxury Travel Writing Market

The Complete Guide to Marketing and Selling Your Travel Articles

Digital Bookstore - Guides, Manuals and Special Reports

---
Friend Me on Facebook:
My Facebook page is about freelance travel writing. I frequently post:
• travel writing & blogging conferences,
• links to other well produced travel websites & blogs,
• links to my travel articles,
• travel writing themes,
• links to reputable travel writer's groups, associations, and newsletters,
• magazine cover stories with the back stories about my published articles,
• links to resource pages,
• links to travel writing archives,
• links to coaching & mentoring resources,
• and plenty of other useful information to get you up to speed about travel writing.



If you haven't 'friended' me yet on Facebook, please feel free to do so here:

Link to Roy's Personal Facebook page

---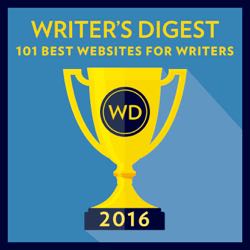 PitchTravelWrite.com was named in 2016's Writer's Digest 101 Best Websites for Writers list.

We're the ONLY travel writer's website on the list! We urge you to forward our newsletters on to your friends that might be interested in taking up travel writing.


---
PitchTravelWrite.com Testimonials
"As a writer, pen to paper, words on the page and developing ideas are not my obstacles, but rather the continued motivation to seek outlets for my stories. Roy Stevenson inspires, encourages, and ignites the fires of enthusiasm to continually push forward into the often-quiet echoes of the publishing world.
Roy has championed my stories and my queries, when I myself had doubts. I am over the moon with the results and feel prepared for my future as a writer on any subject I may choose.
He also helped me write my About page which I believe is the most influential piece when editors consider my stories."

Sincerely,
Jennifer Trandell,Freelance Writer & Photographer
https://thebotanicaljourney.com/pages/about-the-author http://www.afar.com/magazine/where-to-get-a-glimpse-of-the-golden-age-of-baja


---
Please share this e-zine with friends, family or anyone you know who is interested in travel writing. They can get free marketing and travel writing information by signing up for my e-zine at this link:

Sign up for my weekly marketing tips ...

That's all for this week.

Until next week, just keep pitching!

Roy

Roy Stevenson
Pitch Travel Write
www.pitchtravelwrite.com

---