Greetings Fellow Travel Writers and Bloggers!
... and welcome to all new subscribers!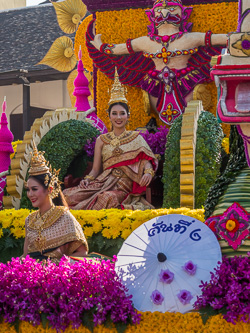 We're beginning to wrap up our time in Thailand. Looking back at our nine months here in Chiang Mai, we can say we've loved every minute of it.

In my time here, I've attended dozens of presentations with the Chiang Mai Writer's and Digital Nomads groups. I thought I knew a lot about running a digital business and about the freelance writing game when I arrived here, but I've been humbled by the talent, knowledge, and enthusiasm of my younger peers.

There are twenty-somethings here supporting themselves through writing avenues. I'd also like to think I've passed on some of my knowledge and experience to them as well.

We've made marvelous friends here — Thai and farang alike, and we'll miss all of them.

We've also had a good look around Northern Thailand and enjoyed immersing ourselves in the graceful Thai culture and people.

Yesterday we watched the annual Chiang Mai Flower Festival Parade. The modest title doesn't really give much of an idea of what this extravaganza is about. This 2.5 hour long parade of elaborate flower adorned floats, jazzy marching bands, baton twirlers, beauty princesses, vintage cars, and other paraphernalia was easily the match of any holiday parade we've seen back home.

But it's time to move on to new pastures. We've done a lot of research and decided Danang is our next stop. It's Vietnam's third largest city (population 1.05 million) and fits our requirements nicely: great internet, a wide variety of restaurants, nice condos, beautiful beaches and plenty of nearby attractions.

We look forward to our new adventures and in a couple short weeks reporting back to you on our life in Danang.


Travel Writing & Marketing Master Class Update
We have a very excited group of aspiring travel writers who'll be traveling to Seattle April 7-9 to attend our 3-day Master Class. Many are also participating in the creative travel writing class on April 6th with Nick O'Connell.

We still have a few seats remaining in both classes – and we want to fill them!

As incentive to the fence sitters out there who are interested in attending, we're extending our $200 discount until February 14. This means you'll pay only $1297.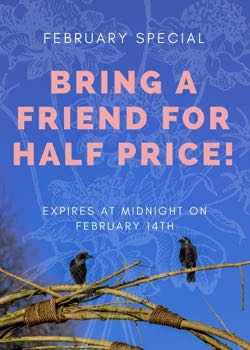 If that's not enough to motivate you, we're inviting you to bring along a second person - friend, spouse, long lost lover, whatever, and your friend will get a whopping 50% discount off the course fee ($649 savings!).
We hope to see you both there!
This is the only time we're holding this class in the U.S.A. in 2017, so if you want to break into travel writing this year, this is the right workshop and the right time for you.

Yes! Register me and my friend for your Master Class in Seattle...
Master Class Testimonial
"Thank you Roy for all your help, education and support. Your writer's Master Class has been extremely helpful and I so enjoyed your class. You have given me the confidence that I need to go forward in my new career as a freelance travel writer, photographer and destination video producer-artist."

Shelley Pittman, Freelance Writer & Photographer
Alumni, 2016 Chiang Mai Master Class

Register here - and don't forget to bring your friend for half-price!


The Complete Travel Writing & Marketing Master Class, Seattle, 2017


---
1-Day Creative Travel Writing Class with Nick O'Connell, April 6th
If you want to focus on your creative writing skills for an entire day, this one-day class with Nick O'Connell is just the right forum to do that.

Our "bring a friend for half price" offer also applies to Nick's 1-day class. When you register, your friend will get 50% off the price. Your friend saves $247.50 off the regular price of $495.

Question: Can I attend this 1-day session even if I don't attend the Master Class?

Answer: Yes, absolutely! This is especially convenient for those of you who live in the Pacific Northwest and can drive in for the day or an overnight trip.

You can get all the details here:

1-Day Creative Travel Writing Class with Nick O'Connell

---
Note: The "Bring a Friend" offer expires at midnight on February 14th.
---
Inspirational Travel Quote of the Week
"I dislike feeling at home when I am abroad."
George Bernard Shaw,
Irish Playwright, Critic and Polemicist

---
This Week's Featured Post:
Quid Pro Quo: Press Trips, Travel Writers and DMO Expectations
So, you're going on a press trip? How exciting! For many travel writers, free travel represents the pinnacle of their efforts.

I have one question for you, before you pack your bags. Have you already sold a story idea or two about the place you're going before heading out the door?

Press trips are one of the coveted perquisites of being a travel writer; going to interesting places and tourist attractions, being chauffeured around with other members of the press, eating at some of the best restaurants in town, finding gifts waiting for you in your upscale hotel room – it's all quite delightful.

But what do tourist and PR agencies expect of you after you've been wined and dined at their expense? If you don't know the answer, this article is for you ...

Read the article ...


---
Have You Planned Your Travel Calendar for 2017?
Have you planned your travel writing calendar for 2017 yet? We at PitchTravelWrite.com spent days preparing lists of:


24 Travel Writing and Blogging Conferences
11 Travel Writing and Blogging Workshops
11 Special Travel Writing Groups, Meetings & Events
5 Travel Shows (and a link to access many more)

Get organized now: Use these lists to plan your travel writing & blogging events for 2017.



---
Resources for Travel Writers
Beginner's 3-pack Reference Guides

The Complete Guide to Query Letters for Travel Writers

100 Print Magazines that Want to Publish Your Articles

Fifty Websites that Want to Publish Your Travel Stories

Advanced Travel Writing 2-Pack Reference Guides

How to Land Press Trips and FAM Tours

How to Break Into the Luxury Travel Writing Market

The Complete Guide to Marketing and Selling Your Travel Articles

Digital Bookstore - Guides, Manuals and Special Reports

---
Are you looking for an entertaining and expert guest speaker at your next writing conference?
I frequently speak at travel writing and writing conferences about breaking into freelance writing, selling & marketing freelance articles, and establishing your writer's platform.

If you'd like to book me for a speaking engagement about how I've managed to get more than 1,000 articles published in 200+ magazines, specialty journals, newspapers, in-flights, on-boards, and custom publications, please send me a note at Roy_Stevenson@hotmail.com.

---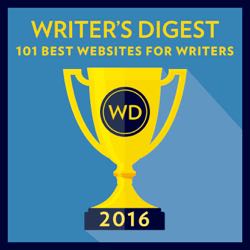 PitchTravelWrite.com was named in 2016's Writer's Digest 101 Best Websites for Writers list.

We're the ONLY travel writer's website on the list! We urge you to forward our newsletters on to your friends that might be interested in taking up travel writing.

PitchTravelWrite.com Testimonials

"I think you should know that I have been sending your link to many a travel journalist as your site is one of the most helpful I've seen to date. I even sent it to my sister who writes mostly about gardens and she was totally blown away by the amount of information you are giving away for free." —Karen Leperi, Freelance Travel Writer

"This site is more like a book than a website. It is one of the best (if not THE best) travel-writing sites I've seen in a long time. It is packed! And most of the articles will be useful to any freelancer, not just travel writers." —Moira Allen Anderson, Writing- World.com


---
Please share this e-zine with friends, family or anyone you know who is interested in travel writing. They can get free marketing and travel writing information by signing up for my e-zine at this link:

Sign up for my weekly marketing tips ...

That's all for this week.

Until next week, just keep pitching!

Roy

Roy Stevenson
Pitch Travel Write
www.pitchtravelwrite.com

---