Greetings Fellow Travel Writers and Bloggers!
. . . and WELCOME to all new subscribers! Thanks for joining us.


We just kicked off our Travel Writing & Photography Retreat in Hoi An! The Meet & Greet was last night and we had lots of fun meeting old friends and making new ones.

We'll be working and playing all week. Class time is in the morning from 9am-12pm, we'll have a couple planned photo shoots and group dinners. Afternoons and evenings are free for everyone to relax and explore this historic town.

Mid-week we'll break from writing for a cooking class. The class includes a boat trip down the Thu Bon River with our chef to the local market, then we'll learn how to prepare 5 Vietnamese dishes. After the class, we sit down in a private restaurant to eat our food; mango salad with prawns, Banh Xeo (crispy pancakes with pork, prawns & bean sprouts), and other local delicacies.

We'll give you an update next week after the retreat is over with some of the highlights.

Editorial: 2018 is Ending - What Happened in Your Travel Writing Life?


The end of the year is a perfect time to reflect on your achievements during 2018 and to work on your 2019 travel writing goals. 

We estimate that 25% of our readers are 'just thinking about' becoming freelance travel writers. A whopping 50% of you categorize yourselves as "new travel writers". The remaining 25% of you have over 3 years of experience in the travel writing game.

You're all going to have vastly different goals.   For 75% of you in the first two categories that are just beginning, we want you to roll your sleeves up and get to work. From our steamy office in Danang, we plan to help make 2019 your travel writing breakthrough year! 

Here's what you can do in the short time that remains in December . . . 

• Write down your travel writing goals for next year. Do you want to get your first article published in paying print media? Or maybe you want to step it up a notch and start getting published regularly, every month. Whatever your goals – write them down.

• Read up on travel writing & freelance writing. (We have some books that will help you with this - and a book sale this week!).

• Read and study the travel articles in your favorite top shelf glossy travel magazine.

• Visit PitchTravelWrite.com and read any articles that interest you. We suggest two or three articles each day.

• Where do you plan to go next year? Write down your 2019 travel itinerary. 

• Once you have your travel itinerary, dream up some travel story ideas to pitch in 2019.   None of these things take very long. And if you do these steps, you'll be way ahead of the game on January 1, 2019!

Note: PitchTravelWrite is winding down the old year and getting ready for the new one. December 17th (next week) will be the final edition of our e-zine for 2018. We'll resume on January 7, 2019

---
This Week's Featured Post
Improve Your Writing: Six Ways to Get Useful Feedback
Do you sometimes wonder how you can improve your writing? 

Like many of the creative arts, one of the biggest challenges you face is getting useful feedback to improve your writing. 

Unless you are in a writer's group that meets regularly to critique each other's work, you simply type and pray. 

One positive sign that your writing is up to snuff is if editors are buying your work and making few changes. 
 No one starts out with fine prose. When I look back at articles from my first couple of years, I cringe at the clumsiness of some of my writing. But we all have to start somewhere, and we don't start at the finish line.

So, how can you improve your writing without taking a class or joining a writers group?

Here are six techniques that I've used to improve my stories.  I think you'll find these techniques easy to implement and very useful for improving your writing over time.

READ THE ARTICLE


---
Coming Soon ...
Have you been thinking about a book purchase for yourself or for your favorite travel writer?

Our holiday book sale will be happening later this week.

Watch for an email on Thursday with your subscriber discount code for our biggest sale of the year!
---
Upcoming Posts
December 17: Twelve Query Letter Mistakes & How to Fix Them
January 7: Why Write For Free?
January 14: Barb Harmon: Another PitchTravelWrite Success Story
January 21: Initiative and Travel Writing


---
Coaching Registration is Open
I can teach you how to sell your travel stories. My specialty as a marketing coach is showing my travel writers how to get their stories published in print media, and then capitalizing on these on these assignments for complimentary travel.

My clients have had tremendous success! Ninety-five percent of them have had at least one story published, and most have had multiple stories published in print media. They've also used their assignments to score complimentary travel. Often the comps were beyond their wildest dreams!

Twice a year I open registration for 5 new coaching clients. Registration opened a few days ago and we'll keep it open until five people sign up - then it closes until mid-2019. I'll start working with my new clients January 1.

If you're ready to move forward with your travel writing career, sign up now while there are still spaces available!

LEARN MORE AND SIGN UP FOR COACHING

---
Pitch Travel Write: Most Popular Links
Pitching Comes Before Writing
A classic novice travel writer's mistake is to write your story and then try to sell it.

I've written three articles about why you should never do this . . .

Five Tips for Why You Should Pitch Before You Write Your Article
Presell Your Travel Stories Before Your Trip
Travel Writing Mistakes and How to Avoid Them

---
Inspirational Travel Quote of the Week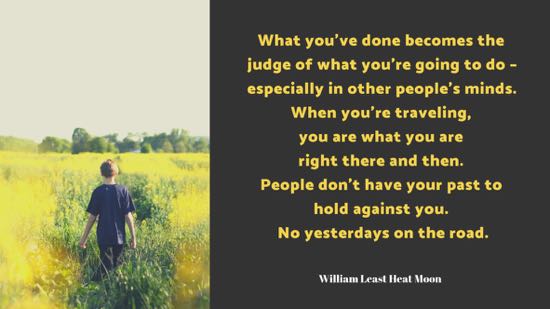 ---
Featured Bundle of the Month
NEW BOOK BUNDLE - CREATIVE PACK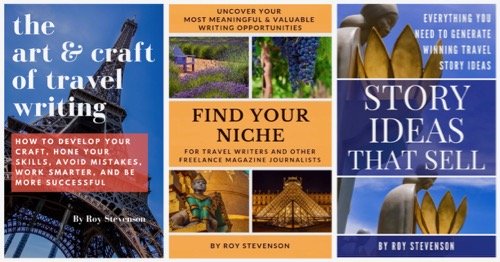 The Creative Pack includes 3 eBooks that are the starting point for every travel writer: dreaming up unique story ideas that you can sell, finding the best writing niches for you based on your interests, passions and experience, and the art & craft of travel writing.

They're the pieces of the puzzle that come before you ever write a query letter to sell your articles to magazine editors.

Story Ideas that Sell guides you along the highly creative path of inventing and discovering potential travel stories to pitch and sell to travel magazines. Conjuring up viable story ideas are the very bedrock of every successful travel writer today.

In this 76-page book I outline my winning system to generate story ideas that sell. Master this first step - and combine it with a great pitch - and you'll soon find yourself immersed in exciting experiences with fascinating people.

In Find Your Niche you'll learn why it's important to write in a variety of genres. It explores the multitude of opportunities available to travel writers and other freelance writers.

It will help you identify the niches that are most interesting and meaningful to you. And you'll learn how to hone in on the most profitable niches.

Full of tips, advice and inspiration, this 85-page book will help you find your niche!

And when it's time to write your articles, The Art & Craft of Travel Writing will guide the way, helping you develop your craft, hone your skills, work smarter and be more successful. This 170-page book is full of ideas, tips and techniques - and it's a handy resource to have by your side to make your stories sparkle.

Buy the Creative Pack and save more than 10% off the individual prices of the books!

BUY THE BUNDLE


---
Friend me on Facebook
My Facebook page is about freelance travel writing. I frequently post about:
• travel writing & blogging conferences,
• links to other well produced travel websites and blogs,
• links to my travel articles,
• travel writing themes,
• links to reputable travel writer's groups, associations, and newsletters,
• magazine covers stories and back stories,
• links to resources pages,
• links to travel writing archives,
• links to coaching and mentoring resources,
• and plenty of other useful information to get you up to speed.



Link to Roy's Personal Facebook page
---
Please share the e-zine with friends, family or anyone you know who's interested in travel writing. They can sign up for the newsletter and get free marketing tips each week at this link:

Sign up for my weekly marketing tips

That's all for this week.

Until next week, just keep pitching!

Roy

Roy Stevenson
Pitch Travel Write
www.pitchtravelwrite.com













---