Greetings Fellow Travel Writers and Bloggers!
. . . and WELCOME to all new subscribers! Thanks for joining us.


We're excited!
Next weekend, nine travel writers from the U.S. and one from Belgium will descend on the UNESCO World Heritage City of Hoi An, just along the road from our place in Da Nang, Vietnam. These writers are participating in our week-long Travel Writing & Photography Retreat, starting December 9.
Hoi An boasts a finely-honed tourist machine. Plenty to do here, ranging from cycling tours around the countryside to visiting a pottery village. You can row in a basket boat through a nipa palm forest, or take a workshop and learn to make lanterns or noodles.
In the UNESCO heritage town of Hoi An, our intrepid writers will find an abundance of coffee shops and a plethora of excellent restaurants (including the famous Morning Glory Restaurant where we'll host one of our group dinners). They can take a sunset boat trip on the Thu Bon River, have foot & body massages, and do some souvenir shopping.
We'll give you an update next week after we meet the travel writers on Sunday evening at our Meet & Greet. We can't wait!

Editorial: Pitch Surefire Travel Stories

Most successful travel writers sell 25% - 40% of the stories they pitch. I sell 90% of the stories I pitch. Why is my success rate so high?
One of the reasons I sell so many travel articles is because I go with the best bets. I prefer to write about destinations that are well received and safe, like Germany, for example. It's just been ranked first in the Anholt-Gfk Nation Brands Index (NBI). The NBI rates the brand image of 50 nations worldwide.
And, conversely, I ignore places that tourists shy away from because of recent natural disasters or that are geopolitical hot spots.
Now, this might all seem like common sense, but some travel writers let their "emotional resonance" with a place override their common sense. They love a place so much they just want to tell everyone about it. It's a natural enough response. But as a travel writer you need to temper your enthusiasm with a business decision. What's the point of pitching a destination story that is not likely to sell?
Tourists, travel agents, and travel magazine editors are, understandably, a fickle lot. Tourists don't want to spend their annual two-week vacation and their hard-earned money visiting a place that has been devastated by an earthquake, for example. Hundreds of thousands of tourists cancelled their travel to Indonesia's Sulawesi and Bali because of the recent earthquakes and the Mount Agung volcanic eruptions.
Ironically, Bali was barely touched by Mount Agung's eruptions, which affected just a small area in the volcano zone. But tourism dropped to about 25% of normal levels because tourists changed their minds. They didn't want to be in a place that could have a cloud of volcanic ash hovering over it, or get stuck there if the airport was affected.
Then there are places where disturbing violence has taken place. I'm willing to bet that tourism in Charlottesville, Virginia, has taken a pummeling since the race riots and the murder of a protestor there in August, 2017. I was there on a press trip a few years ago and loved this immaculate little town and its' historic presidential homes, but now it has an unpleasant aura hanging over it.
Here's another example of a hard-to-sell travel story. About a year ago I declined an enticing 5-day boat cruise press trip around Myanmar's beautiful and remote Mergui Islands. Editors aren't interested in publishing stories about a country where a minority people (the Rohingya) are being persecuted. It doesn't matter that these islands are at the other end of the country. The whole country seems tainted.
And, who really wants to visit Brazil or Nicaragua right now? There are no guarantees that things have settled down in either of those countries and we don't want to risk being caught in the middle of political riots.
Once a place becomes tainted by natural or man-made disasters, it's very difficult to lure the tourists back. And it's difficult to sell these travel stories to magazine editors, no matter how much you personally love the place.
Vacations are supposed to be "feel good" experiences that liberate us from the drudgery of the 9-to-5 existence. Travel magazine editors are well aware of this and they won't buy stories about places facing any kind of turmoil.
It's common sense. Pitch story ideas about places that are friendly, politically stable, and devoid of natural disasters. You'll have better luck selling them.

---
This Week's Featured Post
Fact Checking: It Can Make or Break Your Travel Stories
Fact checking seems like a dull topic meant for historians, documentarians or newspaper journalists. But what if I told you it's one of the most important tasks for freelance travel writers?

What is fact checking? Fact checking ensures the names, statistics, numbers, and any other facts in your article are correct and up-to-date.

Your readers and editors take for granted that your facts are correct – until they aren't. And having just one incorrect fact in your article will destroy your credibility.

Here's my take on the reasons why you should always have your articles fact checked, and five important tips for doing it.

READ THE ARTICLE


---
Upcoming Posts
December 10: Improve Your Writing: Six Ways to Get Useful Feedback
December 17: Twelve Query Letter Mistakes & How to Fix Them
January 7: Why Write For Free?
January 14: Barb Harmon: Another PitchTravelWrite Success Story


---
Coaching Registration Opening Soon
I can teach you how to sell your travel stories. My specialty as a marketing coach is showing my travel writers how to get their stories published in print media, and then capitalizing on these on these assignments for complimentary travel.

My clients have had tremendous success! Ninety-five percent of them have had at least one story published, and most have had multiple stories published in print media. They've also used their assignments to score complimentary travel. Often the comps were beyond their wildest dreams!

Twice a year I open registration for 5 new coaching clients. We'll be opening registration this week for the January intake.

If you're ready to move forward with your travel writing career, put your name on our no-obligation "Interest List". You'll be the first to hear when registration opens.

You can learn more and get on the interest list at the link below ...

SIGN UP FOR COACHING INTEREST LIST

---
Pitch Travel Write: Most Popular Links
Pitching Comes Before Writing
A classic novice travel writer's mistake is to write your story and then try to sell it.

I've written three articles about why you should never do this . . .

Five Tips for Why You Should Pitch Before You Write Your Article
Presell Your Travel Stories Before Your Trip
Travel Writing Mistakes and How to Avoid Them

---
Inspirational Travel Quote of the Week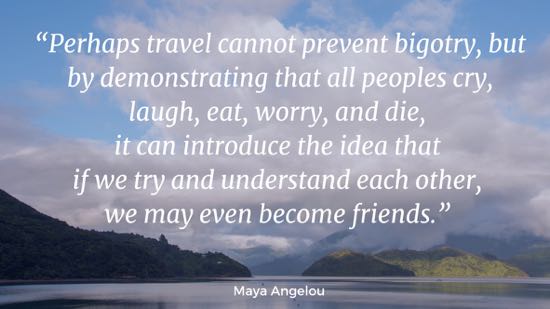 ---
Featured Bundle of the Month
NEW BOOK BUNDLE - CREATIVE PACK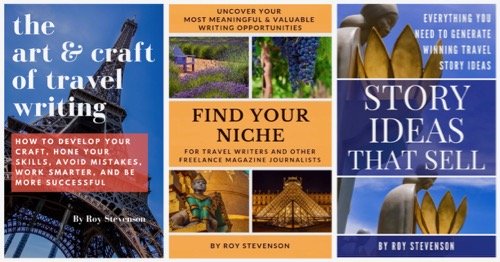 The Creative Pack includes 3 eBooks that are the starting point for every travel writer: dreaming up unique story ideas that you can sell, finding the best writing niches for you based on your interests, passions and experience, and the art & craft of travel writing.

They're the pieces of the puzzle that come before you ever write a query letter to sell your articles to magazine editors.

Story Ideas that Sell guides you along the highly creative path of inventing and discovering potential travel stories to pitch and sell to travel magazines. Conjuring up viable story ideas are the very bedrock of every successful travel writer today.

In this 76-page book I outline my winning system to generate story ideas that sell. Master this first step - and combine it with a great pitch - and you'll soon find yourself immersed in exciting experiences with fascinating people.

In Find Your Niche you'll learn why it's important to write in a variety of genres. It explores the multitude of opportunities available to travel writers and other freelance writers.

It will help you identify the niches that are most interesting and meaningful to you. And you'll learn how to hone in on the most profitable niches.

Full of tips, advice and inspiration, this 85-page book will help you find your niche!

And when it's time to write your articles, The Art & Craft of Travel Writing will guide the way, helping you develop your craft, hone your skills, work smarter and be more successful. This 170-page book is full of ideas, tips and techniques - and it's a handy resource to have by your side to make your stories sparkle.

Buy the Creative Pack and save more than 10% off the individual prices of the books!

BUY THE BUNDLE


---
Friend me on Facebook
My Facebook page is about freelance travel writing. I frequently post about:
• travel writing & blogging conferences
• links to other well produced travel websites and blogs
• links to my travel articles
• travel writing themes
• links to reputable travel writer's groups, associations, and newsletters
• magazine covers stories and back stories
• links to resources pages
• links to travel writing archives
• links to coaching and mentoring resources
• and plenty of other useful information to get you up to speed



Link to Roy's Personal Facebook page
---
Please share the e-zine with friends, family or anyone you know who's interested in travel writing. They can sign up for the newsletter and get free marketing tips each week at this link:

Sign up for my weekly marketing tips

That's all for this week.

Until next week, just keep pitching!

Roy

Roy Stevenson
Pitch Travel Write
www.pitchtravelwrite.com













---