Greetings Writers!
Featured article:
It's the end of the year, and a good time to reflect on where you've been.
So that's what I decided to do for this issue.
My post this week is a light-hearted reflection of some of my favorite travel assignments - complete with lots of photos and only brief descriptions.
I hope it inspires your travel plans for 2015 ...


---
My Best Travel Assignments:
Blissful Travel Writing Gigs That I Really, Really Enjoyed

I'm often asked what are the best travel assignments I've experienced.  This is a tough question to answer after taking seventy six trips since 2009 - and I've enjoyed the whole lot!

But, here are a few of the more memorable writing assignments in the recent past.  They're all different kinds of trips, so it's up to you to decide which ones sound good to you.  I've included links to articles I've written for online travel websites for some of the trips if you want to read more about it.

Here are six of my favorite trips …

Continue reading the article ....
---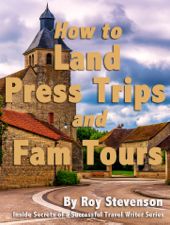 While you're dreaming up your travel plans for next year, don't forget to start making contacts with CVB's and PR agencies to find out their plans for press trips and familiarization tours in 2015. It's never too early to ask them to put you on their lists.

My book How to Land Press Trips and Fam Tours can help you learn how to get on lists for press trips, tell you what conferences to attend to meet CVB's and PR people, and how to write letters to request comps and press rates, and much more. You can read more about it here ...



---

As further inspiration for your travels, I've posted a review of How to Be the World's Smartest Traveler (and Save Time, Money, and Hassle) by Christopher Elliott, a National Geographic travel expert.

After reading this book, I don't see how a travel writer can function efficiently without it. It's as close to a panacea for the multiple problems that crop up while you're traveling, as you'll ever find in print. Full of good advice and better ways to spend your money, it will also save you some frustration and annoyances along the way. Read the book review ...
---
As 2014 comes to a close, I'd like to thank each of you for subscribing to this newsletter
and being part of the PitchTravelWrite community.
I wish for each of you a happy and healthy,
peaceful and prosperous 2015!
---
Please share this e-zine with friends, family or anyone who may be interested in travel writing and can benefit from some free marketing and travel writing information.

That's all for now.

Until next time, you keep pitching....

Roy

Roy Stevenson
Pitch Travel Write
www.pitchtravelwrite.com


Please note: Some products mentioned in this e-zine may result in my receiving a small referral fee if you decide to purchase the product. I only recommend products and services that I believe are high quality and can help you be more successful as a freelance writer. Please let me know if you have any questions.
---