Greetings Fellow Travel Writers and Bloggers!
The holiday book sale last week was a smash hit! A big thank you to everyone who purchased books. I look forward to hearing how you go with the advice you find in these guides.

As you know, I love teaching people how to be successful with travel writing. I meet aspiring writers everywhere - at conferences, on social media, on press trips and through email. And I notice many writers making the same mistakes - things that are deal-breakers when it comes to getting their stories published.

I made a list of the recurring mistakes, and when I stepped back and looked at the list, I realized it would make a good post.

Maybe it's the short days and the long nights at this time of year, but as I wrote, the article just kept getting longer and longer. So I turned it into 3 separate posts, with the first one running in this issue.

This week's article covers 5 general types of errors - blunders that will keep you out of the travel writing game. But it's not necessary to make these mistakes - and I offer up some advice about how to avoid them.

Read the article to find out if any of these things are holding you back and keeping you from getting your story ideas published ...


---
The Complete Travel Writer's Marketing Workshop
Don't forget about the holiday special for The Complete Travel Writer's Marketing Workshop.
Save $250 if you sign up before December 31st.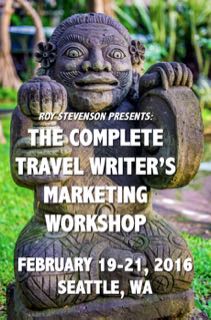 If you can't sell your articles, you don't get to write them.
Most travel writing workshops leave out some important details. They don't show you how to successfully sell your stories so you can get paid and get some travel perks.
If you're looking for a workshop where you will learn how to sell your stories successfully, from pitching and selling your travel articles to requesting comps, my Complete Travel Writer's Marketing Workshop is for you.
Leap past all the beginner writer's mistakes with query letters, working with editors, wrangling travel perks, and the myriad other hurdles that crop up in freelance travel writing.
This is not your everyday, run-of-the-mill travel-writing workshop. It's not for dreamers - it's for people who really want to launch their travel writing business and take it to a new level.
I have intentionally scheduled this workshop early next year so you can use it to plan out your story ideas, get assignments and line up some perks for your 2016 travels - and I will help you do this.
You won't find this kind of guidance anywhere else.
If you enjoy learning in a small, supportive atmosphere, and you like the opportunity to ask questions - and get them answered - this workshop is for you.
Is it time to invest in yourself so you can reach your travel writing goals?
See how far you can take your travel writing in 2016.
Register today and save $250 ...



---

Please share this e-zine with friends, family or anyone who may be interested in travel writing and can benefit from some free marketing and travel writing information.


They can sign up for this e-zine at this link.
---

'Friend' Me!
If you haven't already done so, please 'Friend' me (Roy Stevenson Freelance Writer) on Facebook. My posts are generally travel writing-related and I try to keep it fun.

My Saturday morning 'Where's Roy' Facebook post has been particularly popular! I post a travel photo—usually with me in it—and you have to guess where the heck I am. A few friends and subscribers have proved particularly adept at this.

That's all for now.

Until next time, you keep pitching....

Roy

Roy Stevenson
Pitch Travel Write
www.pitchtravelwrite.com


Please note: Some products mentioned in this e-zine may result in my receiving a small referral fee if you decide to purchase the product. I only recommend products and services that I believe are high quality and can help you be more successful as a freelance writer. Please let me know if you have any questions.
---