Greetings Writers!
Last week I received an interesting email from one of our newsletter subscribers. I met this travel writer on a couple of press trips - she's been in the game for a several years. Here's what she had to say along with her question:
"Here's my story. I've been writing travel for 15 years now at three different publications. In the last one, "What's Happening", I wrote a monthly travel column both print and online (circulation: 100,000 in the upscale Chicago suburbs) for almost four years, so I never had to pitch. "What's Happening" stopped publishing in July."
"Although I write for several online sites, the press trips I had accepted did not want online and were canceled. Print seems to still be king. So I'm looking for new print outlets. Any suggestions?"
I frequently receive emails on this topic. I hear her story from other travel writers whose "steady" outlets are drying up. As the shakeout with print magazines continues, more long-time travel writers are finding their regular gigs drying up. They're suddenly finding themselves casting around for more viable outlets. And for the veteran writer in this story, her online travel outlets don't seem to have enough clout to qualify the writer for press trips.
In my experience, I've been pleasantly surprised at how many tourism agencies accept online round-up stories as collateral for press trips. Still, many tourism agencies have obviously not recognized their value. It's up to the CVB's and PR agencies to decide what media assignments qualify a writer for a press trip.
In the case of my veteran travel writer friend, she has outstanding travel bylines and long record of getting published, so my guess is she will not have much problem finding new print outlets to publish her travel stories. And I'm guessing she will enjoy writing for new magazines once she finds some new outlets.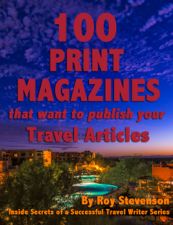 If you're finding yourself in the same situation, or you're looking for a list of print magazines for pitching your stories, my e-Book 100 Print Magazines that Want to Publish Your Travel Stories offers a solid list of publications you can query.

Having a solid distribution list with a wide range of publications is one of the best ways to find a home for your articles more quickly.

You can learn more about it here.

----

The other piece of advice I gave this writer is to expand her writing genres. Every time your focus is too narrow, you limit the number of places you can get published.

It doesn't matter whether you're a beginning writer or an experienced one - it's really important to expand your writing genres. This gives you a broader base of outlets for your stories and more possibilities to get published.

Several months ago I posted an article that explains how expanding your writing genres can help you get published more often - and how to do it. Everyone can benefit from expanding their writing genres - here are five compelling reasons to do it:


Read the article: 5 Reasons to Expand Your Writing Genres and How to Do It

---

Callout for Articles: Lost Treasure Magazine

I just received an email from the managing editor of Lost Treasure Magazine, asking for more articles. I've had more than twenty articles published in Lost Treasure and although this magazine only pays five cents a word, it has provided me with an platform that has led to assignments in Wales, New Zealand and around the U.S.

I've visited gold mines, historic gold rush sites, museums and ghost towns in California, Alaska, Washington State, Oregon and Arizona for this magazine. This magazine has been a travel writing gold mine for me (pun intended).

The editor is very easy to work with. You'll need to supply photos to accompany your story.

Here's the managing editor's request letter:

"Hi there -

I am contacting all writers to see if you might have a story (or stories) you could work up in the following themes. We are especially in need of "How To" stories ... and they can also be about any of the themes included below:

- Caches
- Coinshooting
- Farm & Ranch
- Ghost Towns
- How To
- Healthy and Fun Hobby


Hope to hear from you and thanks so much! Carla Nielsen, Managing Editor, Lost Treasure Magazine managingeditor@losttreasure.com"

If you're interested in treasure hunting and want to expand into this genre, you can learn more about the magazine online, at: www.losttreasure.com.
---

Please share this e-zine with friends, family or anyone who may be interested in travel writing and can benefit from some free marketing and travel writing information.

That's all for now.

Until next time, you keep pitching....

Roy

Roy Stevenson
Pitch Travel Write
www.pitchtravelwrite.com


Please note: Some products mentioned in this e-zine may result in my receiving a small referral fee if you decide to purchase the product. I only recommend products and services that I believe are high quality and can help you be more successful as a freelance writer. Please let me know if you have any questions.
---