Greetings Fellow Travel Writers and Bloggers!
---
… and welcome all new subscribers!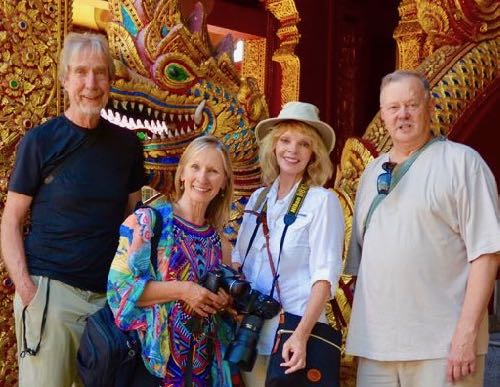 Wow! What a week we've had with travel writers and photographers here in Chiang Mai, Thailand!

Professional photographer, Sarita Simmons, flew in from Southern California to work with me on breaking into travel writing. She stayed for a week for a series of one-on-one tutorials with me.

I mentored Sarita on freelance writing sales techniques, pitching stories, writing effective query letters, and improving her travel writing. We also reviewed and prioritized Sarita's freelance story ideas for 2017.

I showed Sarita how to enhance and expand her social media platform and her writers' and photographers' websites to boost her credibility with magazine editors. There'll be no stopping her freelance writing game now! She's primed and excited—and she already has travel photography nailed down.

But it wasn't all work and no play! After each three-hour morning tutorial sessions, we headed out for coffee, lunch, and local excursions around Chiang Mai.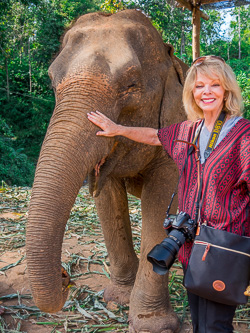 We visited Wat Phra Singh and Wat Srisuphan, the Silver Temple. Linda and Sarita did photography shoots at Wat Palad, the jungle temple, Wat Doi Sutep and a little shopping at the hill tribe village nearby. They also did a photo shoot at an elephant sanctuary.

Sarita took a solo excursion to the Tiger Kingdom and a butterfly park just out of town at Mae Rim. This lady got around town!

And Sarita wasn't the only travel writer in town. A sizeable band of travel writers and photographers invaded Chiang Mai last week.

To add to our travel writer mix, Penny Frederiksen flew in from Queensland, Australia, to get together with us for coffee, lunch and a couple of outings before heading over to Myanmar. Her photographer friend, James, also joined us one day for lunch and a temple tour when he arrived from Alaska . And freelance writer Dave Hamill from Ohio dropped in for lunch during his month-long trip around S.E. Asia.

Thanks to all for stopping by and joining in the fun!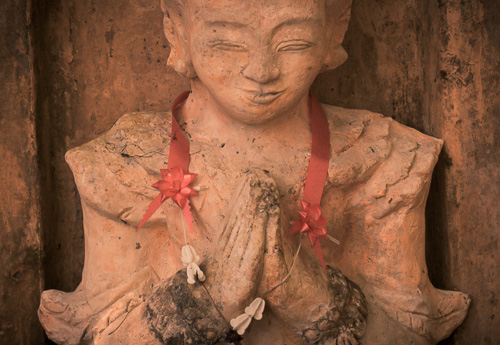 ---
Inspirational Quote of the Week
"I soon realized that no journey carries one far unless, as it extends into the world around us, it goes an equal distance into the world within."
- Lillian Smith, Writer and Social Critic

---
Featured Post: Sell More Stories, Do It Faster
Simultaneous queries are a vital cornerstone of my marketing platform. This technique has contributed to the 90% acceptance rate for my articles.  That's right: 90%! 



If you don't already have a 90% acceptance rate for your story ideas and would like to significantly improve your acceptance rate, this article will tell you how to do it.

Read the article ...

Simultaneous Submissions - Sell More, Do It Faster

---
Coming soon ...
Our Holiday Book Sale Begins Next Week!

If you're gearing up for holiday shopping, we're offering a book sale of our best selling travel writing books and reference manuals.

The sale starts on Monday December 12 and ends on Sunday December 18. All our books are offered at a 20% discount. This includes our Beginner's 3-Pack and Advanced 2-Pack, which are already offered at a discount.

---

We've received lots of questions for workshops planned for next year. We'll be releasing more details in early January, but here's some information in the meantime …

The Complete Travel Writing & Marketing Master Class Seattle, Washington, U.S.A. April 7-9, 2017

This is our "no-frills" three-day intensive master class on breaking into freelance travel writing and photography. This workshop is limited to the first 20 registrants.

---
Travel Writing & Marketing Master Class & Photography Expedition
Siem Reap, Cambodia. October, 2017
This is our weeklong destination workshop with the same content as the Seattle workshop, spread out over one week. Each day after class we'll do tours and photography shoots around Siem Reap.
Excursions and photography shoots include the ancient city of Angkors' most renowned and atmospheric temples including Angkor Wat, Angkor Thom, and others, plus a few other unique excursions.
This workshop will be limited to ten participants. We'll release more details in January so you can reserve your space.
You can find out more about both of these master classes - and get on the interest list at this link:

2017 Travel Writing Master Classes and Interest List Sign-up

---
Website For Sale
A friend of mine who owns a quality website focused on Europe has decided to sell it and devote her time to her travel business.

If you're looking to purchase an 'instant', ready made travel website about Europe that carries enough traffic statistics clout to qualify you for complimentary hotel stays, entry to tourist attractions and special events, meals, river cruises, and personal guides throughout Europe, this website is the ideal vehicle.

I know this because I've written more than 40 travel articles on all things European for her site. I used most of these assignments to get complimentary entry to some truly fantastic events and museums, plus many other tourist attractions, personal guided tours, hotel stays and meals in Europe.

These assignments have taken me to England, Scotland, Wales, Ireland, France, Germany, Belgium, Switzerland, and the Czech Republic and Hungary.

If you're looking to own a well developed website focused on Europe, this site has excellent monetization prospects and unlimited complimentary European travel potential.

If this kind of opportunity interests you, please contact me at roy_stevenson (at) hotmail.com. I'll be happy to provide traffic statistics and further details.

---
Resources for Travel Writers
The Complete Guide to Query Letters for Travel Writers
100 Print Magazines that Want to Publish Your Travel Articles
50 Websites that Want to Publish Your Travel Stories
How to Land Press Trips and Fam Tours
How to Break Into the Luxury Travel Writing Market
The Complete Guide to Marketing & Selling Your Travel Articles
Coaching - The Complete Coaching Package for Travel Writers

Testimonial for The Complete Guide to Query Letters:

"I bought this book direct from the author's website and even though I'm a full-time travel writer myself, I learned a heck of a lot from it. We all have our weak spots, and mine is definitely pitching and writing query letters.

This book pushed me into action, showed me lots of the author's own query letters that worked, and has now given me a 'to do' list for pitches I want to send. Just reading it reminded me of trips I've done in the last year or two that I could sell more pieces from, and also stuff that's on my own doorstep that I could and should be pitching.

Whether you're a professional or a complete beginner, I highly recommend this book."


- Mike Gerrard, Writer
---
Facebook invitation ...
You are invited to join me on Facebook:

If you're interested in my travel writing advice and in reading short snippets about my new lifestyle in S.E. Asia, please feel free to "Friend" me at my Facebook site.

My posts feature unusual and fun things about our new lifestyle here in Thailand, and I also throw in tips and advice about breaking into travel writing—plus a few stories about my published travel articles. Some of my posts are even funny! Facebook link to Roy's account

---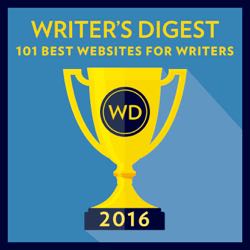 ---
Please share this e-zine with friends, family or anyone you know who is interested in travel writing. They can get free marketing and travel writing information by signing up for my e-zine at this link:

Sign up for my weekly e-zine ...

That's all for this week.

Until next week, you keep pitching.

Roy

Roy Stevenson
Pitch Travel Write
www.pitchtravelwrite.com

---