Greetings Fellow Travel Writers and Bloggers!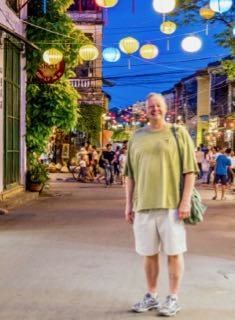 . . . and WELCOME all new subscribers to The Best Travel Writing Newsletter, ANYWHERE!!
Thanks for joining us.


---

Registration is OPEN for our annual Travel Writing and Photography Retreat in Hoi An, Vietnam, December 8-14.

If you're looking for a relaxing, atmospheric place to practice your travel writing craft and hone your photography skills, join us in Hoi An.

We're very excited to learn that Hoi An, Vietnam has just been voted the Best City in the World for 2019 by Travel+Leisure Magazine. Hoi An is the hottest travel destination in the world right now!


You can read more about Hoi An, Vietnam at these links:

Metro article about Hoi An - World's Best City 2019
Lonely Planet article about a Perfect Weekend in Hoi An
Travel&Leisure article about World's Best City




You can find more information about our retreat after the editorial, or at this link:

LEARN MORE ABOUT OUR RETREAT IN HOI AN


---
Editorial: Do You Pitch Stories Before or After Your Trip?
Beginning travel writers are often told to pitch their travel story ideas after they've taken a trip. This means they will travel to a place, get some story ideas, and then send out queries after they get home.

Unfortunately, this approach is backwards. It's an amateur approach meant for hobbyists, not for writers who wants to earn income.

Professional travel writers pitch stories and get assignments before they travel. This requires creativity plus a willingness to research a destination before you travel.

Based on my experience the best approach is to pre-sell your stories before you travel. I've presold hundreds of stories before I travelled to my destinations, and this has become my standard operating procedure.

The advantage of lining up assignments before travel is mainly financial. Take my recent trip to the U.S. in May, for example. I rounded up three paying assignments worth $3,600 before I left on my trip. This income easily covered the costs for my visits to Denver, Detroit, and Ohio.

I wouldn't dream of going on a trip without pitching story ideas beforehand! And I always round up multiple assignments when possible.

What are the biggest advantages of pitching before you travel?

1. If you parlay your assignments with the local destination marketing organizations (DMOs), you can arrange complimentary travel benefits like free accommodations, free meals, free tours, free tour guides, and often free ground transport. DMOs are happy to work with writers with assignments.

2. Having assignments before you travel enables you to focus your travel schedule when you're at the destination. You know exactly what article you're writing and can get the interviews, information and photos you need.

There may be a few editors who prefer you pitch them stories after you return from your travels. But these editors don't live in the real world. Freelancers need to cover travel expenses with paid assignments and assistance with travel costs from DMOs.

I've found most editors are very receptive to my queries before I travel. And if I hadn't pre-sold my stories, I would have missed out on several hundred bylines over the last ten years. I always pitch before I travel.

The key is making sure you research your destination thoroughly. Then you'll have plenty of viable and interesting story ideas to pitch. They're not all going to work out, but some will.

Your goal is to earn enough to cover your expenses and make you a tidy profit after your articles have all been published. If you pitch first, you'll know you're going to make a profit before you ever take the trip.


---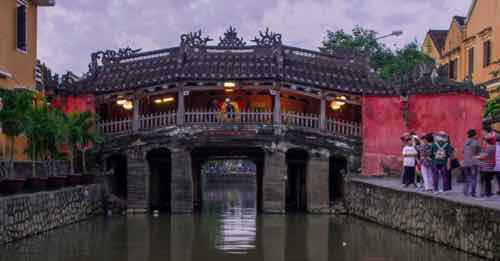 Travel Writing & Photography Retreat
December 8-14, Hoi An, Vietnam
We're pleased to announce that registration is open for our Travel Writing & Photography Retreat in Hoi An, Vietnam, December 8-14th.

Vietnam's atmospheric and beguiling UNESCO World Heritage City of Hoi An offers an unforgettable experience. It will inspire your writing, spark your imagination and please your palate. Hidden inside the ancient buildings are some of the best culinary delights known to mankind. 

Here's your chance to visit the Best City In The World for 2019 as voted by readers of Travel & Leisure magazine. And you'll brush up on your travel writing and photography skills while you're here. Don't worry, you'll have plenty of time to tour Hoi An.

Our classes run from 9am to Noon, then you're on your own to stroll around this captivating town and soak up its extraordinary atmosphere.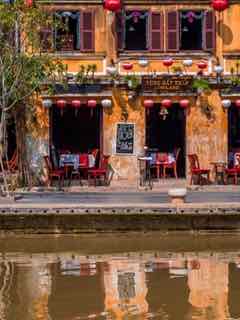 The ancient town of Hoi An, Vietnam was a SE Asian trading port in the 15th through 19th centuries and is a UNESCO World Heritage site. The town continues to thrive today as a trading port, center of commerce and tourist destination.

Hoi An is especially loved for its beautiful lanterns that decorate the streets by day and magically transform the town into a colorful wonderland every night.

At the retreat you'll learn the craft of travel writing while touring this unique destination. No experience is necessary! Just bring an open mind, a laptop, or simply pen and paper. Your sense of curiosity and creative juices will flow no matter which tools you use.

We'll explore the fascinating local attractions and experience true Vietnamese culture — all while learning the craft of travel writing and photography from a seasoned travel journalist and photographer.

We'll spend three hours each day in classroom instruction including writing and photography activities. The rest of the time you're free to explore Hoi An, relax with a spa treatment, go on a bike tour or practice your writing and photography.

Join us in Hoi An this December for an unforgettable experience! We limit registration to 10 people.

LEARN MORE AND REGISTER

Here's what some of the 2018 Attendees had to say about the Travel Writing & Photography Retreat:

"Thank you for an amazing week! We learned so many useful tips to improve our writing and photography. We thoroughly enjoyed the dinners, drinks and cooking class. You are so gracious and generous. Your workshop was everything we hoped for and more!"
- Pam and Gary Baker

"I would like to thank you for all you did for me in Hoi An. I thought you made the classes very relaxed and understandable and passed on a wealth of information. This was the biggest bang for my buck of all the travel writing workshops I've attended. I learned more from you in those 5 days than I did in two previous workshops with a competitor. I will definitely recommend your classes."
- Linda Blair

"I loved the small size of the group and the relaxed and friendly atmosphere."
- Jill Friedman

"The balanced curriculum between writing and photography were outstanding."
- Deb Sittko

To learn more and register for the Travel Writing & Photography Retreat click here.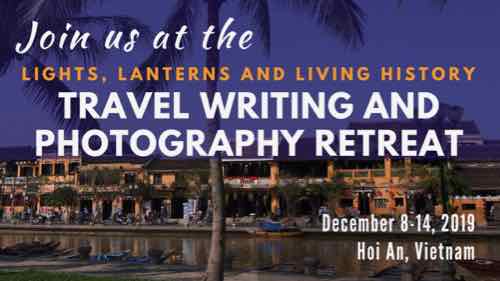 ---
This Week's Featured Post
Writing for Military Magazines
My first few published articles, in October 2007, were about one of my passions — all things military.  Since then I've had over 139 military stories appear in more than twenty magazines and newspapers in the U.S., U.K, and New Zealand. 



So far, every military story I've pitched has been picked up, and I've resold many of them, often in other countries. This success has led to a regular military museum column for Military Magazine, which has further enhanced my credibility in this genre. Some of my articles have been 4-figure payouts.


What I love, above all else, is that I can combine my love of travel writing with my passion for military places and artifacts.

Here's my process for selling so many military-themed articles. If this is one of your interests, this article will help you understand how to do what I do - write about some cool military topics – and get paid to do it.

READ THE ARTICLE


---
Upcoming Posts
August 12: How To Prepare for Overseas Assignments
August 19: Travel Safety: This Article Could Save Your Life!
August 26: Four Reasons Why You Should Get Published On Travel Websites


---
Pitch Travel Write: Most Popular Links for Researching Your Destinations

Most travel story ideas are worthy of publication somewhere, but you need to spend some time researching your destination to find marketable story ideas. 

Sometimes you'll have to abandon a travel story idea. If it doesn't have enough "jam" to hook an editor, you won't be able to sell it.

But it's more likely that you just need to do a little work to discover what's so interesting about a place and to clarify your unique story angle.

What does it take to sell your travel articles? In simplest terms, my sales process starts with pitching a story idea.  Once I have an assignment, I travel to the destination. Finally I write the article. Pitch. Travel. Write. That's the birds-eye view. Here's my sales process in a little more detail.  This is the process that works for me over and over again.

It takes some experience to know what constitutes a viable travel story.  And deciding whether a story idea is a dog or a shooting star is an important first step in the pitching process.
 


So where, and how, do travel writers start their quest for a salable story? Here are 6 Tips for Dreaming Up Better Story Ideas.

Over the past couple of years, I've received several desperate requests from novice travel writers, asking me to help them round up some last-minute assignments, so they can request complimentary accommodations, meals, entry to tourist attractions, rounds of golf, fishing trips, boat cruises, and a host of other freebies, at their destinations.

There's only one problem with these requests — they've all been expecting to round up some travel assignments from a few days to a week or two before they leave for their destination! Here's an article I wrote for Travel Writers Exchange about planning your trip.


---
Inspirational Travel Quote of the Week
---
Do You Have a Success Story?
We're Looking for More PitchTravelWrite Travel Writing Success Stories.

Have you used our reference books, our PitchTravelWrite.com website, Roy's coaching, our Master Class, our online Master Class, our Travel Writing & Photography Retreat, our weekly newsletter, or any of our other resources to achieve travel writing success?

If so, we'd love to hear from you. Don't be shy!

We also want to hear how you've used our resources to land press trips, score complimentary stays at hotels and resorts and spas, get free guided tours and meals and ground transport and tours, etc.

Please send a summary of your successes to pitchtravelwrite@gmail.com.
---
RESOURCES FOR TRAVEL WRITERS
Featured Book of the Month: How to Land Press Trips & Fam Tours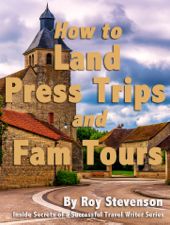 Who doesn't like press trips to exotic and exciting destinations?

In ten years of freelance writing, I've been on more than 100 press trips & fam tours. Places like Belgium, Wales, England, France, Germany, New Zealand, Bali, all over the U.S.A., and to many other exotic and exciting destinations.

I tell you this not brag but to say you too can get regular press trip & fam tour invitations.

Books about travel writing might mention that press trips are available to travel writers, but they fail to tell you how to get invitations to these gigs. For some reason most veteran travel writers keep this information to themselves.

My resource guide, How to Land Press Trips and Fam Tours, tells you exactly what you need to do to get invitations to press trips and fam tours, and also how to organize your own self-guided press trips.

Here's a review of my manual by travel blogger Chris Backe at OneWeirdGlobe.com:
"I was extremely impressed with Roy's last book, reviewed in April, so reviewing another of his books was a no-brainer. Roy takes a simple, logical approach to getting invited (or getting on the list) by the folks that have the budgets to offer them. Reality checks are aplenty, and he links to several excellent sites or conferences to stay in-the-know. There are also several sample letter templates to borrow from, along with an entire chapter on etiquette (which could easily be titled 'How to ensure this isn't your last fam trip ever!')

At 75 pages long, the only thing it really lacks is fluff. You can breeze through the basics in a single sitting, but actually taking action will be your bigger challenge. The book does everything it can to offer tools and advice, but it's still up to you to follow it."

---
We'd like to say THANK YOU to all our subscribers and social media followers. Running the PitchTravelWrite site would not be possible without your support. Thank you for following us, reading our posts, and emailing questions, comments, and compliments.

We value you more than you can know. Our goal is to help you break into travel writing, get paid for it, and land some cool press trips and free travel.

So keep emailing us - we love hearing from you!
---
At Your Service
Coaching and Consulting
Travel Writing Workshops
Travel Writing Retreats
Online Courses
Vietnam 1-1 Retreat & Consulting
Expat Consulting
email: pitchtravelwrite@gmail.com
If you know someone who will enjoy this newsletter,
please forward or sign up
---
Friend me on Facebook
My Facebook page is about freelance travel writing. I frequently post about:
• travel writing & blogging conferences,
• links to other well produced travel websites and blogs,
• links to my travel articles,
• travel writing themes,
• links to reputable travel writer's groups, associations, and newsletters,
• magazine covers stories and back stories,
• links to resources pages,
• links to travel writing archives,
• links to coaching and mentoring resources,
• and plenty of other useful information to get you up to speed.



Link to Roy's Personal Facebook page
---


That's all for this week.

Until next week, just keep pitching!

Roy

Roy Stevenson
Pitch Travel Write
www.pitchtravelwrite.com













---