Greetings Fellow Travel Writers and Bloggers!
I'm back in Seattle after 13 days of back-to-back press trips to the Yukon Territory, Canada, and Nashville, Tennessee. Fun trips, both! If you want to see what travel writers do on Press Trips, please friend me on Facebook: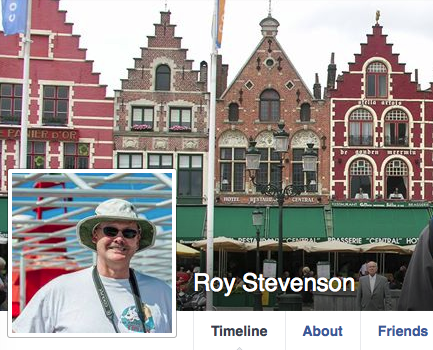 Click on graphic above, or click here for Roy's Facebook page ...

Scroll through my recent posts. They're funny!

It always takes a few days to get back into my writing routine after press trips, and this was no exception. But apart from the grazes on the back of my legs from some rather inelegant zip-line landings in the beautiful Tennessee woods near Nashville, I'm back and I'm bad.

My next trip, as a guest speaker at the Great Escape Publishing Ultimate Travel Writing Workshop at the Denver Grand Hyatt Hotel, on September 18-20, will be fun for because this workshop is where I got my initial training as a travel writer.

After taking this workshop I had the basic tools necessary to get started with dreaming up and pitching travel stories and getting published. I met with instant success. It took me just 7 months to get my first 100 stories into print.

I heartily recommend this workshop if you're interested in taking up freelance travel writing. Learn more about this world-class travel writing workshop at this affiliate link...

I'm working on a backlog of travel stories about Roanoke, Virginia; Reno, Nevada; Yukon Territory, Canada; and Nashville, Tennessee.

Press trips still to come this year: Virginia City and Reno, Nevada, and a few days at Oceanside on the Oregon Coast in some gorgeous luxury suites.

This week's e-zine article is my take on what you need to succeed as a travel writer or blogger. There are no shortcuts to getting multiple stories published in print or online - but there are some things you can do to power you through each day.

Here are 5 tips for practicing your craft and succeeding in getting published and landing those cool press trips.

Enjoy!

---
Featured Article:
5 Travel Writing Secrets for Success - Part 1
Every week I receive emails from aspiring travel writers asking me to share the secret of my travel writing success. They want to know the one key that has opened the door to my most notable writing achievements so they will know how to be successful.

A few have kindly commented, in emails and on social media, that they want to be "just like me", (a proposition my wife strongly suggests you rethink!)

They ask …

"How have you managed to get so many articles published in such a short time?"

"How have you managed to get your stories into so many different magazines, trade and specialty journals, in-flights, on-boards, and blogs and websites?"

"How do you get all those press trips and FAM Tours?"

Aspiring travel writers reason that if they know the answers to these questions, they can simply emulate my actions and reap the accompanying travel writing perks and rewards. That's logical - find out what makes someone tick, and then copy them.

But those of you who've been around for a while know that there is no single secret to achieving success in any field. Achieving success in any field is due more to a balanced combination of factors and talents rather than being expert at just one thing.

This isn't an article about how to improve your writing. There are plenty of books out there that can help you do that.

Even if you already know how to write words that flow like a gentle stream, and paint vivid pictures that make me want to travel to a destination, it doesn't mean you'll be successful. And even if you write the most beautiful prose in the universe - you still need these things to succeed.

Unfair as it seems, your writing talent plays a minor role in your success.

Think of your writing talent as a ticket you need to enter the game. Once you decide to throw your hat into the ring, what else do you need?

There are a handful of common success traits:

Continue reading the article ...

---

Please share this e-zine with friends, family or anyone who may be interested in travel writing and can benefit from some free marketing and travel writing information.


They can sign up for this e-zine at this link.
---

'Friend' Me!
If you haven't already done so, please 'Friend' me (Roy Stevenson Freelance Writer) on Facebook. My posts are generally travel writing-related and I try to keep it fun.

My Saturday morning 'Where's Roy' Facebook post has been particularly popular! I post a travel photo—usually with me in it—and you have to guess where the heck I am. A few friends and subscribers have proved particularly adept at this.

That's all for now.

Until next time, you keep pitching....

Roy

Roy Stevenson
Pitch Travel Write
www.pitchtravelwrite.com


Please note: Some products mentioned in this e-zine may result in my receiving a small referral fee if you decide to purchase the product. I only recommend products and services that I believe are high quality and can help you be more successful as a freelance writer. Please let me know if you have any questions.
---