Greetings Fellow Travel Writers and Bloggers!
... and welcome to all new subscribers!



We arrived in Vientiane, the capital city of Laos, a week ago. We spent five days exploring the main sights in this fascinating place.

The Lao National Museum provided a crash course on Laotian history. We learned about the American air force bombing the Vietnamese soldiers who were cutting through Laos, on the Ho Chi Minh Trail. Later we walked past 10,000 Buddha statues of varying sizes in the Wat Si Saket Temple Museum. One morning we stomped up stairs to the top of the Patuxai - Vientiane's answer to Paris's Arc de Triomphe. From there we saw an impressive panorama of Vientiane.

Our long and dusty 25-kilometer tuk-tuk ride out to the Xieng Khuan Buddha Park delivered an amazing, eclectic collection of enormous ferro-concrete sculptures depicting the Buddha, Apsara (dancing female divinities), insects, crocodiles, elephants, snakes, and a huge pumpkin shaped demon head. Crawl through the mouth and you can visit heaven, hell and the earth.

Best of all, we found some excellent coffee shops and restaurants - a sign that Vientiane is being discovered by international tourists.

On Friday we moved on to Luang Prabang and found a very special place. We're still exploring Luang Prabang, Laos's second most important city. In next week's e-zine we'll tell you more about what we found here.


---
This Week's Featured Post
Will Travel Writing Awards Help You Get Published?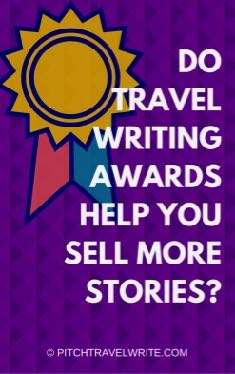 Well, I've never been one to shy away from controversy, and this week's feature article is sure to stir things up, especially among my friends who have won well-earned writing awards.

If you've been in the travel writing game for a while, you've noticed some travel writer's bylines like this:

"Kate Somebody is an award-winning travel writer with articles published in this magazine, that magazine and another magazine."

These writers promote their travel writing awards on their websites and mention them in their query letters.  The hope is they'll impress editors enough to commission their stories. 



But, just how effective are these awards at securing assignments from travel editors?  Should you spend time chasing them?

Ever since I started travel writing, I wondered, "If travel writing awards can help me sell more stories, I want in!"  But I wanted to find out if competing for travel writing awards justified the time I'd spend doing it.



So I decided to go to the source.  I sent out surveys to several travel magazine editors and asked these two questions:

1. Are you likely to be impressed enough with award winning travel writers to commission their stories?

2. What do you look for in a travel writer's query that will help you decide whether to buy a story?

The editor's comments were eye-openers!  And they were very generous in providing important insights into their selection process. 

Read the article for their enlightening responses:


READ THE ARTICLE


---
Upcoming PitchTravelWrite Feature Posts
September 4: Coping with Editorial Changes: Strategies for Travel Writers
September 11: 2017 Travel Writing Website Resource List
September 18: Five Ways to Increase Your Productivity
September 25: A Travel Writing Letter to Myself, Back in Time


---
Travel Writing Networking Tip of the Week
Have you bookmarked this travel writing website yet?

Former CNN Travel Editor and freelancer, James Durston, has a pithy blogsite for travel writers & bloggers trying to make their way in the travel writing arena.

The articles on James's website are timely and excellent.

Travel Write Earn - Home Page


---
We've Been in the News!
Thank you, Karen Padilla, for listing PitchTravelWrite.com on your website as a good travel writing resource!

Tumble Along Tales blog - Karen Padilla


---
We're Looking for Success Stories!
Have you used our reference books, gleaned tips from our website (PitchTravelWrite.com), found success in Roy's coaching program, or benefited from our Master Class to achieve travel writing success?

If you've used any of our resources to get your travel stories published in print media, we'd love to hear your story.

We also want to hear from people who have used our resources to land press trips, score complimentary stays at hotels and resorts and spas, get free guided tours and meals, and comped transportation.

Writers Guidelines:

Your success story must be a minimum of 500-words (or longer). Your article should outline how you used a tip, technique, or any of our resources to get your stories published and/or score complimentary travel perks. (A combination of tips, techniques and resources is fine, too.)

Query first! Tell me what you were struggling with and how our resources helped you. We want to hear about your journey: where you started, what you did to get published, where you were published (with links, if available), how you've landed press trips, and how else you've used our resources to be successful.

If your article is accepted, your story will be published on PitchTravelWrite, and promoted on social media, and in our newsletter. And best of all, if we publish your story, we'll pay you $25!

Send your query to pitchtravelwrite@gmail.com.


---
Inspirational Travel Quote of the Week
---
Have You Planned Your Travel Calendar for 2017?
Have you planned your travel writing calendar for 2017 yet? We at PitchTravelWrite.com spent days preparing lists of:


24 Travel Writing and Blogging Conferences
11 Travel Writing and Blogging Workshops
11 Special Travel Writing Groups, Meetings & Events
5 Travel Shows (and a link to access many more)

Get organized now: Use these lists to plan your travel writing & blogging events for 2017.


---
Resources for Travel Writers
Books and Reference Guides:
The Art & Craft of Travel Writing

Beginner's 3-pack Reference Guides

The Complete Guide to Query Letters for Travel Writers

100 Print Magazines that Want to Publish Your Articles

Fifty Websites that Want to Publish Your Travel Stories

Advanced Travel Writing 2-Pack Reference Guides

How to Land Press Trips and FAM Tours

How to Break Into the Luxury Travel Writing Market

The Complete Guide to Marketing and Selling Your Travel Articles

Digital Bookstore - Guides, Manuals and Special Reports

---
Friend Me on Facebook:
My Facebook page is about freelance travel writing. I frequently post:
• travel writing & blogging conferences,
• links to other well produced travel websites & blogs,
• links to my travel articles,
• travel writing themes,
• links to reputable travel writer's groups, associations, and newsletters,
• magazine cover stories with the back stories about my published articles,
• links to resource pages,
• links to travel writing archives,
• links to coaching & mentoring resources,
• and plenty of other useful information to get you up to speed about travel writing.



If you haven't 'friended' me yet on Facebook, please feel free to do so here:

Link to Roy's Personal Facebook page

---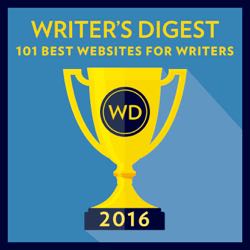 PitchTravelWrite.com was named in 2016's Writer's Digest 101 Best Websites for Writers list.

We're the ONLY travel writer's website on the list! We urge you to forward our newsletters on to your friends that might be interested in taking up travel writing.

PitchTravelWrite.com Testimonials

"I think you should know that I have been sending your link to many a travel journalist as your site is one of the most helpful I've seen to date. I even sent it to my sister who writes mostly about gardens and she was totally blown away by the amount of information you are giving away for free." —Karin Leperi, Freelance Travel Writer

"This site is more like a book than a website. It is one of the best (if not THE best) travel-writing sites I've seen in a long time. It is packed! And most of the articles will be useful to any freelancer, not just travel writers." —Moira Allen Anderson, Writing- World.com


---
Please share this e-zine with friends, family or anyone you know who is interested in travel writing. They can get free marketing and travel writing information by signing up for my e-zine at this link:

Sign up for my weekly marketing tips ...

That's all for this week.

Until next week, just keep pitching!

Roy

Roy Stevenson
Pitch Travel Write
www.pitchtravelwrite.com

---