Greetings Writers!
It seems like everyone, these days, wants to be a travel writer. One of the biggest reasons people want to do this is for the travel perks that come with the job.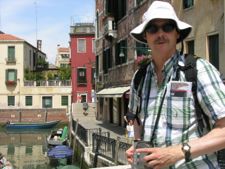 Recently I compiled some stats on my travel writing career. Since 2008 I've …
- Been on 73 press trips and fam tours
- Spent 527 days on the road
- Visited 16 countries
- Made six trips to Europe
- Toured more than 250 cities
- Visited 17 states in the U.S.

Yes, I'm exhausted. But I wanted to see how far I could take it. And I can say I've mastered the art and science of using travel stories as collateral for free or super-low-cost travel.

Many beginning travel writers don't always realize they can parlay their writing assignments into free or heavily subsidized travel. I certainly didn't know the full extent of what was possible when I got started.

And even veteran travel writers don't come close to maximizing the perks available.

Back in 2011, I wrote an eBook called Free and Low Cost Travel. Although the information in this eBook is still current, I've learned a lot since then and have just finished revising and updating it. I've also retitled it How to Land Press Trips and Fam Tours.

The original eBook has been lengthened, rewritten, and reconstituted into a mini-encyclopedia of new information about landing press trips. And it's four times longer than the original.

So How to Land Press Trips and Fam Tours is meant to reveal all the secrets. Most are easy to do, but there are a number of tricks you must know . . . or you can lose out . . . big time.

It shows you, step-by-step, how you can go on amazing press trips and self-guided tours for free, or for super-low-cost. It can save you thousands of dollars on your future travels. And it will help you land those dream press trips.

How to Land Press Trips and Fam Tours is currently in the final editing stage, due for release in a few weeks time. Watch for announcements about this new, all-secrets-revealed manual in the coming weeks. I'll be running a special offer for subscribers for a limited time when I release it.

And, if you already own a copy of the original version of this eBook, you will receive a free download link to the updated version. So stay tuned …
---


It's not too late to sign up for The Ultimate Travel Writer's Workshop in San Diego. Great Escape Publishing is still offering a $200 discount through August 31 when you sign up at this link:

2014 Ultimate Travel Writer's Workshop, September 11-13, 2014 in San Diego

---

In this issue:

When people start out in travel writing, they're encouraged to pitch front-of-the book articles to magazines. I've never done this.

So my article this week gives you two points of view - one from experts who say this is a good way to start, and the other one explaining why I've never bothered to do this.

It's food for thought, and will help you decide which strategy is best for you.
---
August 18 Travel Writing Tips:
Writing FOB Articles: Are They Worth It?

As you pore over magazine writer's guidelines, you'll notice that many of them suggest you break into their magazine by pitching them with Front-of-the-Book (FOB) story ideas. 



Most travel writing experts will tell you this is a great way to break into a prestigious magazine. 



What are front-of-the-book articles?  They are very short pieces, usually ranging from 100-300 words.  They're mini-articles. 



These short blips usually focus on one small aspect of a travel destination and you can find them in the first few pages of most travel magazines.  Here are a few examples from three popular travel magazines:
Continue reading article ...
---

Please share this e-zine with friends, family or anyone who may be interested in travel writing and can benefit from some free marketing and travel writing information.

That's all for now.

Until next time, you keep pitching....

Roy

Roy Stevenson
Pitch Travel Write
www.pitchtravelwrite.com


Please note: Some products mentioned in this e-zine may result in my receiving a small referral fee if you decide to purchase the product. I only recommend products and services that I believe are high quality and can help you be more successful as a freelance writer. Please let me know if you have any questions.
---