Greetings Writers!
I'm excited to announce the launch of my latest eBook:
100 Print Magazines that Want to Publish Your Travel Articles.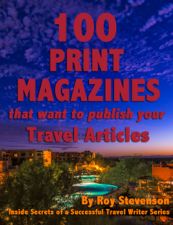 This is a list of 100 print magazines that publish travel articles from freelance writers. It's the list I use to sell my travel articles.
Having a solid list of magazines is vital to your success as a freelance travel writer. I wish I had a list like this when I was getting started in travel writing.
If you don't already have your own comprehensive magazine list, this list of 100 magazines will save you hundreds of hours of research time.

Complete with editor contact details and writers guidelines for 100 print magazines, this eBook also includes expert advice to help you use the listings to your best advantage so you can get published more successfully.
As usual, I'm running a special for subscribers of this e-zine. The regular price of this eBook is $14.95.
Subscribers of this ezine will receive a 33% discount if they make their purchase in the next 3 days.

You can purchase this eBook for $9.95 at this link.
Use the discount code: 5BUCKSOFF. (The discount code expires at midnight PST on August 13th, 2014.)
Special Note: A number of subscribers have already purchased this eBook at full price. If you are one of these people, you will receive a $5 refund via Paypal this week, so watch your emails from Paypal to confirm your refund.
(Contact me at roy@pitchtravelwrite.com if you don't receive your refund email from Paypal so I can get it processed.)
A big THANK YOU to everyone for being loyal subscribers - and also for all the positive feedback about the posts each week.
---
Just a friendly reminder that it's not too late to sign up for The Ultimate Travel Writer's Workshop in San Diego. Great Escape Publishing is still offering a $200 discount through August 31 when you sign up at this link:

2014 Ultimate Travel Writer's Workshop, September 11-13, 2014 in San Diego

---
Now for the topic of the week.
This issue is for new writers - and the dilemma you face when you don't have any bylines.
Bylines, and writing clips give writers a chance to impress the editor with their experience and examples of their writing style.
This article is about how to catch the editor's attention and convince them you're a professional - even when you can't back it up with bylines.
---
August 11 Travel Writing Tips:
No Bylines? Five Ways to Pitch Stories When You Don't Have Clips

Beginning travel writers frequently ask, "I don't have any bylines or writing clips. What do I say to an editor in my query letter when I'm just starting out?"

It feels like an insurmountable obstacle to a new writer. But remember, every experienced writer had to pitch their first article at some point in the past – we've all been through it.

And it's not as much of a disadvantage as you think, so take heart. There are ways of dealing with this.

So, if you're a new writer, how do you handle a lack of published clips when you're starting out?

Here are five of my best suggestions on how to handle this so it's not a problem:

When you don't have bylines, explain convincingly in your query letter why you are the best person to write this article.

If you are an expert on the topic you're pitching, this will often trump a shortage of bylines. Having experience or knowledge in a specialty area gives you a big advantage over other writers who might be pitching a similar story—even if they're more seasoned.

Here are some examples:

• A history teacher pitching a story about a historical square or building in Paris will have good credibility with an editor. You're likely to have good insights about the history of a place because of your experience.

• If you're a military history or weapons expert, and served in the military, you obviously have good credentials for writing about military battlefields and museums, even if you've never been published before.

• If you lived overseas in a particular place, you know where the locals go, the things they do, and have some insights into the culture. You have knowledge that a tourist doesn't have about the same place.

Everyone has some specialized knowledge or experience. Highlight yours in your query letter.
---

Please share this e-zine with friends, family or anyone who may be interested in travel writing and can benefit from some free marketing and travel writing information.

That's all for now.

Until next time, you keep pitching....

Roy

Roy Stevenson
Pitch Travel Write
www.pitchtravelwrite.com


Please note: Some products mentioned in this e-zine may result in my receiving a small referral fee if you decide to purchase the product. I only recommend products and services that I believe are high quality and can help you be more successful as a freelance writer. Please let me know if you have any questions.
---