Greetings Fellow Travel Writers and Bloggers!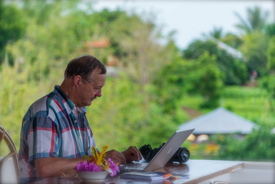 I'm leaving tomorrow for an 8-day press trip around Canada's Yukon Territory. I'll be traveling with three other top-notch travel writers and our host, Jim Kemshead, PR & Media Director for Tourism Yukon.
As this will be my 90th press trip since I started my travel writing career in the fall of 2007, it's a good time to reflect back to where I started my travel writing career.
My exciting travel writing journey began at the 2007 Great Escape Publishing's Ultimate Travel Writer's Workshop.  It was held in Portland, Oregon, that fall. I can honestly say that I would have dropped out of travel writing within my first year or two if I had not taken this three-day workshop.  I owe my quick success to Jennifer Stevens who teaches the workshop and Lori Allen who hosts it.
Since the workshop, I've been published in 190+ different magazines, newspapers, trade journals, in-flights, and on-boards and travel websites. I spend up to 140 days each year traveling to interesting and exotic places, usually with my expenses covered.  I've stayed at dozens of luxury lodges, villas, and resorts and spas, and toured countless exotic destinations around the world.
I can virtually pick a spot on the globe, round up some magazine and online assignments, and travel there for free—and be treated like royalty while I'm at it.
My only travel writing limitation is a lack of time. I decline press trip invitations almost every week because I simply can't go on them all.
The Ultimate Travel Writer's Workshop is the complete package for getting started in the travel writing game. 
In this packed three-day workshop, you'll learn everything you need to know - from dreaming up good story ideas to marketing and selling them—and then writing them to a high standard.
The engine that drives this course, Jennifer Stevens, is an absolute virtuoso at the game. She's the Executive Editor of International Living magazine and she knows what she's talking about.
The Ultimate Travel Writer's Workshop is coming up next month in Denver, Colorado, from September 18-20, at the Grand Hyatt.
If you want to learn how to break into print and online travel writing, this is THE course for you. It's three days of information overload, aimed at showing you how to market your stories—and how to write them—with a plethora of outstanding travel writing experts to guide you. Learn more about this world-class travel writing workshop at this affiliate link...

Yes, I do get a small commission if you sign up through this link—but I wouldn't recommend this workshop if I didn't believe it offered valuable information and tools to aspiring travel writers. I have no hesitation recommending this workshop to help get your travel writing career started.
I'm also on the guest speaker list. I'll be presenting at the Denver workshop on my favorite tried-and-true marketing techniques.
And, I'll be available throughout the workshop for you to ask questions and pick my brain on the art and craft of marketing and selling your freelance travel stories. This will be your chance to hang out with me and discuss, one-on-one, your biggest questions about breaking into the travel writing arena.
Hope to see you there!
---------

Every week I'm asked the question, "Should I start a blog?" by travel writers itching to get their work out there in the world.
The featured article this week answers this question by giving you seven important things to consider before jumping into the blogosphere.
Enjoy!
---
Featured Article:
Travel Blogs: 7 Things to Consider Before You Start One
"Should I start a blog?"
I hear this question from travel writers every week. With the internet bursting with travel blogs and websites, I have to say I have mixed feelings about how to answer the question.
I don't want to kill their enthusiasm and say "no", but I also know how much time it takes to create a successful blog.
In fact, it's a question I can't answer, because everyone has a different reason for wanting to start a blog, and each person has different expectations about what success (or failure) looks like.
Novice travel writers say they want to start a blog to hone their writing skills. If they haven't been published, it's a way to show magazine editors their writing skills.
Some people start blogs to keep their families and friends up-to-date on their travels around the world.
Others start travel blogs because they want to leverage it to get free stuff like complimentary travel or travel gear and accessories.
An ambitious few start blogs to make money.
No matter what your reasons for wanting to start a blog, one thing is true: it's really easy to start a blog. In less than an hour you can be up and running on some of the popular platforms.
Starting a blog is easy. Keeping it going is the hard part. Just ask a blogger, any blogger.
If you're thinking about starting a blog, here are seven things to think about before you go online:

Continue reading the article ...


---

Please share this e-zine with friends, family or anyone who may be interested in travel writing and can benefit from some free marketing and travel writing information.


They can sign up for this e-zine at this link.
---

'Friend' Me!
If you haven't already done so, please 'Friend' me (Roy Stevenson Freelance Writer) on Facebook. My posts are generally travel writing-related and I try to keep it fun.

My Saturday morning 'Where's Roy' Facebook post has been particularly popular! I post a travel photo—usually with me in it—and you have to guess where the heck I am. A few friends and subscribers have proved particularly adept at this.

That's all for now.

Until next time, you keep pitching....

Roy

Roy Stevenson
Pitch Travel Write
www.pitchtravelwrite.com


Please note: Some products mentioned in this e-zine may result in my receiving a small referral fee if you decide to purchase the product. I only recommend products and services that I believe are high quality and can help you be more successful as a freelance writer. Please let me know if you have any questions.
---