Greetings Fellow Travel Writers and Bloggers!
... and welcome to all new subscribers!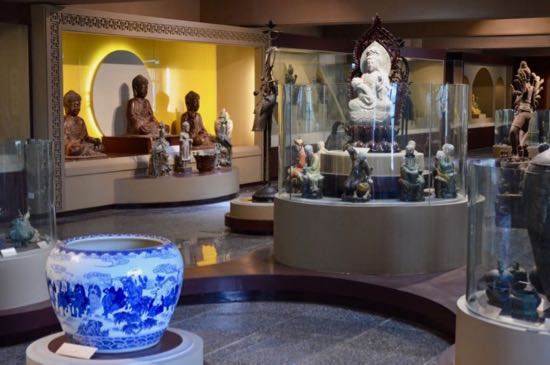 It's been hot here in Da Nang, Vietnam the past few weeks. Temperatures have hovered over 90 degrees F. during the day. Fortunately, it cools off quickly in the evenings, helped by a brisk breeze off the ocean.


Despite the heat, we still slip out for some sightseeing when we can. Last week, we visited one of the city's newest and most underrated tourist attractions, the Buddhist Museum. Opened in 2016, this is Vietnam's first Buddhist museum, and it turned out to be an undiscovered gem!

We had the entire museum to ourselves, and were guided around by a novitiate monk. This modern, air-conditioned gallery boasts a world-class collection of Buddhist statues, relics, and artwork, from around the globe.

Located at the Avalokitesvara Pagoda, in the Ngu Hanh Son District, the Buddhist museum displays more than 200 artifacts including the Bodhisattva Guan Yin and Kuan-yin Statues, the Avalokitesvara riding dragon, Sakyamuni and Maitreya sculptures, plus Buddhist scriptures, incense burners, and mandalas. Some artifacts date from the 7th century, and a few were even dug up at local archeological digs.


---
This Week's Featured Post
Query Letter Self-Sabotage: What NOT to Say in Your Pitch
Victorian romance poet, Elizabeth Barret Browning's Sonnet 43, starts out with, "How do I love thee? Let me count the ways." It's easily one of the world's most famous love poems.

Well, in counterpoint to Browning's breathtaking poem, I'm thinking of creating my own poem titled, "How can you mess up your query letters? Let me count the ways".

Some aspiring travel writers have a tendency to shoot themselves in the foot with their queries, sabotaging their chances of getting their stories published.

My article this week looks at the nine creative ways neophyte travel writers blow their chances of getting their stories published—and, more importantly, how you can avoid making these cardinal sins in YOUR query letters.

Are you making any of these mistakes?

Read the Article
---
Upcoming PitchTravelWrite Feature Posts
August 14: The Best Travel Writing Facebook Groups
August 21: Getting Testimonials from Editors & CVBs
August 28: Will Travel Writing Awards Help You Get Published?
September 4: Coping with Editorial Changes: Strategies for Travel Writers


---
The Art & Craft of Travel Writing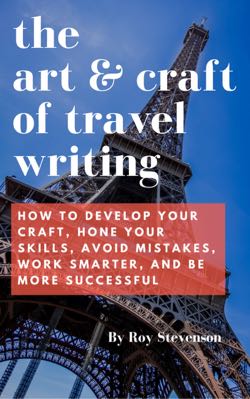 We were thrilled to release our seventh book last week, The Art & Craft of Travel Writing".

What's in the book?

The five sections cover . . .
The Craft of Travel Writing
Things That Go Wrong in Travel Writing
Keys to Success in Travel Writing
Working Smarter
Goal Setting for Your Travel Writing


This book will help you develop your craft, hone your skills, avoid mistakes, work smarter and be more successful.



You can learn more about it here: The Art & Craft of Travel Writing




---
Featured in WritersWeekly.com
Last week, we were delighted to have Roy's travel writing success story featured on Angela Hoy's renowned WritersWeekly.com website.

Roy describes his freelance writing achievements and dispenses some valuable advice in this piece, titled "From Exercise Physiologist to Travel Writer".

Read the article in Writers Weekly - From Exercise Physiologist to Travel Writer
---
Inspirational Travel Quote of the Week
"Focus on the journey, not the destination. Joy is found not in finishing an activity but in doing it."
- Greg Anderson, Author

---
Have You Planned Your Travel Calendar for 2017?
Have you planned your travel writing calendar for 2017 yet? We at PitchTravelWrite.com spent days preparing lists of:


24 Travel Writing and Blogging Conferences
11 Travel Writing and Blogging Workshops
11 Special Travel Writing Groups, Meetings & Events
5 Travel Shows (and a link to access many more)

Get organized now: Use these lists to plan your travel writing & blogging events for 2017.


---
Resources for Travel Writers
Books and Reference Guides:
Beginner's 3-pack Reference Guides

The Complete Guide to Query Letters for Travel Writers

100 Print Magazines that Want to Publish Your Articles

Fifty Websites that Want to Publish Your Travel Stories

Advanced Travel Writing 2-Pack Reference Guides

How to Land Press Trips and FAM Tours

How to Break Into the Luxury Travel Writing Market

The Complete Guide to Marketing and Selling Your Travel Articles

Digital Bookstore - Guides, Manuals and Special Reports

---
Friend Me on Facebook:
My Facebook page is about freelance travel writing. I frequently post:
• travel writing & blogging conferences,
• links to other well produced travel websites & blogs,
• links to my travel articles,
• travel writing themes,
• links to reputable travel writer's groups, associations, and newsletters,
• magazine cover stories with the back stories about my published articles,
• links to resource pages,
• links to travel writing archives,
• links to coaching & mentoring resources,
• and plenty of other useful information to get you up to speed about travel writing.



If you haven't 'friended' me yet on Facebook, please feel free to do so here:

Link to Roy's Personal Facebook page

---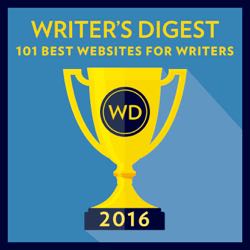 PitchTravelWrite.com was named in 2016's Writer's Digest 101 Best Websites for Writers list.

We're the ONLY travel writer's website on the list! We urge you to forward our newsletters on to your friends that might be interested in taking up travel writing.

PitchTravelWrite.com Testimonials

"I think you should know that I have been sending your link to many a travel journalist as your site is one of the most helpful I've seen to date. I even sent it to my sister who writes mostly about gardens and she was totally blown away by the amount of information you are giving away for free." —Karin Leperi, Freelance Travel Writer

"This site is more like a book than a website. It is one of the best (if not THE best) travel-writing sites I've seen in a long time. It is packed! And most of the articles will be useful to any freelancer, not just travel writers." —Moira Allen Anderson, Writing- World.com


---
Please share this e-zine with friends, family or anyone you know who is interested in travel writing. They can get free marketing and travel writing information by signing up for my e-zine at this link:

Sign up for my weekly marketing tips ...

That's all for this week.

Until next week, just keep pitching!

Roy

Roy Stevenson
Pitch Travel Write
www.pitchtravelwrite.com

---