Greetings Fellow Travel Writers and Bloggers!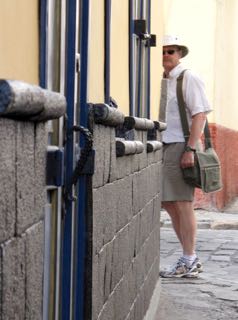 It's been a busy week, coaching my travel writing clients and writing a backlog of travel stories that has accumulated over the past few weeks.
I'm also making arrangements for press trips I'll be taking in August, September & October to the Yukon Territory (Canada), Nashville (Tennessee), Virginia City (Nevada), British Columbia (Canada), and the Oregon Coast—but more about those in next week's e-zine.
One thing is for sure: Once you've established yourself as a well-published travel writer, you'll never have a dull moment!
Last week I was the featured travel writer on Tim Leffel's TravelWriting2.com website. I think you'll find this interview—by my travel writing friend Terri Marshall—interesting reading.
If you're a new PitchTravelWrite.com e-zine subscribers, you'll get a quick up-to-date view of my background.
The interview tells you how and why I became a travel writer and mentions some of my coolest travel writing gigs. It also gives some insight into my travel writing marketing philosophy and talks about some of my future projects.
Here's the link: TravelWriting2.com conversation with Roy Stevenson
---
Featured Article:
What Are Your Travel Writing Goals? (and where do you fit among other writers?)
My original goal as a travel writer was to get paid to travel. I love to travel and writing about it was a way to earn money from something I love to do. So I started up my freelance travel writing business and got busy selling stories to editors.

Getting paid to travel was my sole objective.

I used to believe that everyone else wrote for exactly the same reason, but after meeting hundreds of other travel writers and travel bloggers, I realize now that we all do it for different reasons.

I've met travel writers who only write for local or regional newspapers and magazines in their area. That's their specialty. They love everything about where they live and never get tired of writing about it.

Some travel writers are paid very modest amounts for their stories—and some are not even paid at all. Yet, they're perfectly content with this.

Other writers are ambitious and work toward moving themselves into more challenging publications and higher paying outlets. I know some journalists who will only write for magazines that pay $1/word, or more.

Eventually, I came to realize that many of us write travel stories for more than financial gain. Many of us simply write to express ourselves — and we derive great pleasure from this.

There's a lot of diversity.

The point is, you can practice the craft of travel writing in your own way and for your own reasons. You can choose to stay with one type of publication, seek out stories only in your neighborhood, or extend your reach into other countries or into better paying publications.

Your personal and professional goals as a travel writer are entirely your choice.

Since it's human nature to want to categorize things - here are the categories of writers I've met and unique traits of each group. Their outlets and compensation might differ, but they all have two things in common: they love to travel and they want to write about their travels.

The love of travel is the "one ring to bind them all" as Tolkien says.

But what makes you want to write about your travels? Which one (or more) of these groups describes you?

Continue reading the article ...


---

Please share this e-zine with friends, family or anyone who may be interested in travel writing and can benefit from some free marketing and travel writing information.


They can sign up for this e-zine at this link.
---

'Friend' Me!
If you haven't already done so, please 'Friend' me (Roy Stevenson Freelance Writer) on Facebook. My posts are generally travel writing-related and I try to keep it fun.

My Saturday morning 'Where's Roy' Facebook post has been particularly popular! I post a travel photo—usually with me in it—and you have to guess where the heck I am. A few friends and subscribers have proved particularly adept at this.

That's all for now.

Until next time, you keep pitching....

Roy

Roy Stevenson
Pitch Travel Write
www.pitchtravelwrite.com


Please note: Some products mentioned in this e-zine may result in my receiving a small referral fee if you decide to purchase the product. I only recommend products and services that I believe are high quality and can help you be more successful as a freelance writer. Please let me know if you have any questions.
---