Greetings Fellow Travel Writers and Bloggers!
. . . and WELCOME to all new subscribers! Thanks for joining us.


We've just spent five exciting days in Vancouver, British Columbia, checking out this gorgeous city's main attractions and cuisine. We love this place! It's different enough from the U.S. to be interesting. And the Canadians are so friendly - even in a big city like Vancouver.
While we recovered from our 14-hour time zone jet lag, we've done several tourist activities, courtesy of Tourism Vancouver (www.TourismVancouver.com). They provided us with a media-pass-on-steroids that covers entry to 39 museums and other major tourist attractions including harbor cruises, whale watching, and walking tours. We couldn't do it all. Thank you, Tourism Vancouver!
We visited the Vancouver Art Gallery, the Museum of Vancouver, did a horse-drawn tour of Stanley Park, enjoyed Flyover Canada, and took an elevator up the Vancouver Lookout to get a superb panoramic 360-degree view over Vancouver.
The Museum of Vancouver depicted the city's coming of age in the 19th and 20th centuries through well designed dioramas and galleries, and the Art Gallery had enough funky and off beat sculptures and paintings to keep me amused. Flyover Canada is a slick 180-degree, Disney-like big screen "ride" over Canada's magnificent and varied territory.
Our one-hour horse-drawn carriage tour of Stanley Park yesterday was on a gorgeous, bright sunny day. We thoroughly enjoyed Northwest scenery as it moves into spring, with lots of daffodils, tulips, and flowering cherry trees, as the two huge horses slowly clip-clopped us around Stanley Park. The Park is Vancouver's main tourist attraction (8 million visitors/year!).
The well-oiled Vancouver tourism machine has a lot of solid attractions on offer. We heartily recommend any of their attractions to other travel writers!
Being a bibliophile, I browsed for books at 5 bookshops: MacLeods, Albion Books, Books Unlimited, Coles Books, and Indigo - a book lovers dream! There remains at least a half dozen other used and new bookstores in nearby suburbs, but we just plain ran out of browsing time. Maybe next time!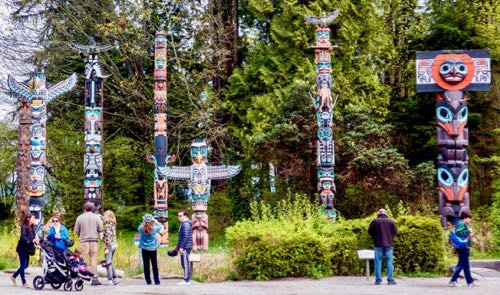 On Wednesday, we host a gathering of several travel writers I'm personally coaching, at our annual Coaching Deep Dive session. The Deep Dive is a free one-day workshop for travel writers in my 12-month coaching program. We cover topics we don't have time to cover in the Master Class and topics that are more advanced. Since my coaching clients are knowledgeable about my marketing process, we get a lot done in one day. And we have some face-to-face time to get to know each other better.

We'll be covering topics like building accountability and structure into your work processes, establishing a killer travel writing platform and photography tips with the best ways to share your photos with magazine editors. We've also got a special module on organizing self-guided press trips. Freelance travel writer and guest speaker, James Ullrich, will talk with the group about his travel writing career & his multiple travel-related streams of income.

It will be a full day, and we'll wrap up in the evening with a Meet & Greet with all the workshop participants. Then we'll kick off the Master Class on Thursday morning and for the next 3 days get totally absorbed in marketing, writing, working with editors and landing press trips. More news in the next issue.
---
This Week's Featured Post
Press Trips for Travel Writers

Regional, state and international press trips are fun, rewarding, and a coveted perk for many travel writers. 
 I've been on a lot of these trips. Just in the three-year period from 2011 to 2013, for example, I went on forty-three press trips and FAM tours.  This included tours in Nebraska, Missouri, Oregon, Alaska, Arizona, Louisiana, Texas, Virginia, Idaho, California, Florida and Oklahoma. I've been to some of these States multiple times. I receive press trip invitations weekly.

I'm frequently asked how I get invited to go on so many of these trips and FAM Tours.

Here's what you need to get invited and two stellar sources for finding these fun gigs:

READ THE ARTICLE


---
Upcoming Posts
April 29: Why Practice Makes Perfect is Terrible Advice for Travel Writers
May 6: Marketing Yourself On the Road
May 13: Travel Shows: They're Not Just for Tourists
May 20: Guided Tours: Why They Can be Good for Travel Writers


---
Pitch Travel Write: Most Popular Links to Improve Your Writing
The Art of the Travel Story: Turn Your Destination into a Compelling Read
Four Books to Help You Improve Your Writing
Top Four Travel Writing Books for Marketing Advice
Travel Story Marketability - What Makes a Story Hot and What Does Not
Writing Style - 7 Ways to Improve Your Writing Style
Travel Writing Craft Success: 10 Ways to Write Like a Seasoned Professional
---
Inspirational Travel Quote of the Week
---
RESOURCES FOR TRAVEL WRITERS
Featured Book of the Month: The Art & Craft of Travel Writing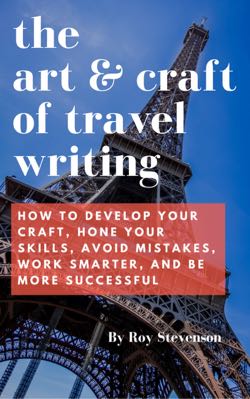 This book will help you hone your travel writing skills and get more stories published.

The Art & Craft of Travel Writing includes five sections . . .
- The Craft of Travel Writing
- Things That Go Wrong in Travel Writing
- Keys to Success in Travel Writing
- Working Smarter
- Goal Setting for Your Travel Writing


Here are a few of the chapters you'll find . . .
- Creating a Sense of Place and Ambiance
- Turning Your Destination into a Compelling Read
- How to Write Like a Seasoned Professional
- Five Travel Writing Blunders and How to Avoid Them
- Why Some Travel Writers Have More Success
- How to Plug into the Travel Writing Community
- Seven Ways to Take Control of Your Writing Time
- Set Up Systems to Create More Writing Time



---
We want to say THANK YOU to all our subscribers and social media followers. Running the PitchTravelWrite site would not be possible without your support. Thank you for following us, reading our posts, and emailing questions, comments, and compliments.

We value you more than you can know. Our goal is to help you break into travel writing, get paid for it, and land some cool press trips and free travel.

So keep emailing us - we love hearing from you!
---
Friend me on Facebook
My Facebook page is about freelance travel writing. I frequently post about:
• travel writing & blogging conferences,
• links to other well produced travel websites and blogs,
• links to my travel articles,
• travel writing themes,
• links to reputable travel writer's groups, associations, and newsletters,
• magazine covers stories and back stories,
• links to resources pages,
• links to travel writing archives,
• links to coaching and mentoring resources,
• and plenty of other useful information to get you up to speed.



Link to Roy's Personal Facebook page
---
Please share the e-zine with friends, family or anyone you know who's interested in travel writing. They can sign up for the newsletter and get free marketing tips each week at this link:

Sign up for my weekly marketing tips

That's all for this week.

Until next week, just keep pitching!

Roy

Roy Stevenson
Pitch Travel Write
www.pitchtravelwrite.com













---