Greetings Fellow Travel Writers and Bloggers!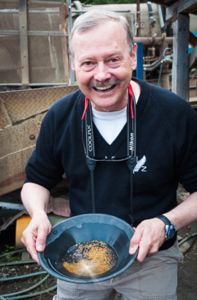 Are You a Travel Blogger? You Could Be Sitting on a Gold Mine!
We have a great mix of print travel writers and travel bloggers subscribing to this newsletter. If you're a travel blogger with dozens—or hundreds—of travel stories lying dormant on your blog, you could be sitting on a gold mine!
Your raw, unrefined travel blogs could very well form the genesis of travel stories that you can pitch to paying print media. This means you can pluck out your juiciest travel blogs and pitch them to print magazines and newspapers without doing any research. (Note: You'll need to remove the article from your blog before you pitch.)
Your travel blogs contain practically all the necessary elements of your query letter, saving you valuable time. Dreaming up and researching travel stories are the first two steps to getting your articles published—and you already have these tasks completed!
Travel bloggers already have several other built-in advantages over novice travel writers too. You have . . .
• Travel writing experience
• An eye for a good travel story
• A travel blog portfolio to refer magazine editors to
• Social media skills
• A built-in audience to mention in your query letters
• A blog to advertise your published article

It's still not going to easy; to see your stories published in print magazines, and get paid for them, means you may need to adjust your style to print media standards. But, if you're a reasonable writer, this may not be such a big stretch.
And, of course, you'll have to learn how to create magazine distribution "pitch" lists to query.
For print magazine editors to take your queries seriously, you'll also need to make sure your blog looks professional. If it's riddled with misspellings, poor grammar, poor syntax, poor writing voice, and overused clichés, editors will not take your queries seriously.
I've met a lot of travel bloggers during my freelance writing career. Almost without exception they tell me that they didn't realize how much work would be involved in creating and maintaining a blog. And the majority of them tell me they've made little or no money from their travel blog.
If you're looking to make some quick ca$h for all the time and effort you've put into your travel blog, pitching your most exciting travel blogs to print magazines could reap considerable reward!
And that's what we're all about here at PitchTravelWrite! Use our advice, techniques, tips, and tricks to get your travel blogs into respected magazines—and get paid for them!


---
Free Download ... in case you missed it
To thank you for your loyalty and for subscribing to our newsletter, we'd like to reward you with a free valuable Bonus eBook.

You'll want to download it immediately.

This 57-page 2018 Ultimate Travel Writer's Resource Pack contains the following eight valuable resources . . .
• The 2018 Ultimate List of Travel Writing Conferences
• The 2018 Ultimate List of Travel Writing and Travel Blogging Workshops
• Website Resource List for Travel Writers
• Travel Magazine Lists: 18+ Great Sources of Magazine Leads
• How to Use Newsletters to Get Plugged into the Travel Writing Community
• Best Websites for Travel Writers
• 2018 Recommended Facebook Travel Writing Sites
• Which Travel Writers Association is Right for You?


It's your for free. Just add it to your shopping cart and check out for $0. The download will be available immediately.

Download Your Free Copy of the Travel Writers Resource Pack
---
This Week's Featured Post
7 Travel Writing Tips to Take You To the Next Level
As a freelancer, I've accumulated a lot of travel writing experience over the past decade. Some of my most valuable writing lessons and tips came from travel magazine editors, directly and indirectly.

Some direct feedback was from editors who asked my to rewrite my article. They either wanted more detail or a different slant than I had proposed. Doing rewrites was definitely not my favorite part of writing!

Other editors were kind enough to take the time to provide direct feedback on my writing. This feedback helped me tremendously and increased my awareness of what they needed from me.

Indirectly, I've also learned a lot by comparing my original manuscript with the published version of my article. The edited articles always "flow" better. Editors sometimes removed superfluous verbiage, and even whole sentences.

I've also learned a lot from reading "how to" books, well-written travel stories, and a few captivating travel blogs.

From all of these sources, I've put together seven of the most practical tips and techniques that will improve your writing. Use these tips and take your writing to the next level …

READ THE ARTICLE
---
Upcoming Posts
April 16: Guest Post: How Going Local Ran Me Out of Town
April 23: Query Letter Guide: Seven Tips for Travel Writers
April 30: Simultaneous Submissions Strategies for Multiple Acceptances
May 7: Getting Paid for Your Travel Stories


---
We've Been In The News
Honored to be quoted as the main reference by Dave Pilcher in an article about how print magazines are thriving.

READ THE POST

---
Preparing Magazine Distribution Lists
I get requests from travel writers every week asking me to help prepare distribution lists to send their queries to.

I'm not surprised that so many travel writers contact me with this request. I get it. Searching for target magazines is perceived as an onerous clerical task and can take up many hours. Yet, it's an indispensable step in getting your freelance articles published. After all, if you can't find magazines to pitch, you're not going to get your stories published.

The following articles cover the nuts and bolts of creating your own distribution lists. These articles will help you find magazines to pitch your stories to.

How to Create Magazine Distribution Lists and Where to Look for Leads
Different Types of Magazines You Can Pitch
Finding Travel Magazine Sales Leads on Vendor Websites

---
Inspirational Travel Quote of the Week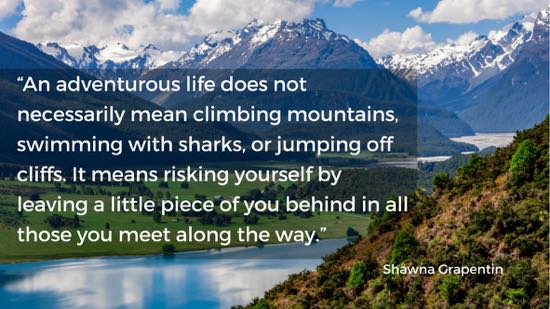 Travel Writing Bonus
For some of the finest travel writing ever, read John Steinbeck's article about Positano, Italy, written in 1953 in Harper's Bazaar Magazine.
Download the free PDF:

Link to Download Steinbeck PDF

---
Featured Book of the Week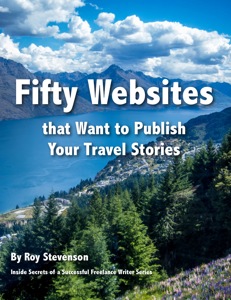 FIFTY WEBSITES THAT WANT TO PUBLISH YOUR TRAVEL STORIES
A red-hot list of quality websites that are eager to publish your travel articles. 

Travel writers must have some travel stories published online in today's rapidly changing freelance writing world. If you're a beginning travel writer, this eBook will help you accelerate your travel-writing career by rapidly enhancing your online presence. 

Getting your work published online is a quick and easy way for novice travel writers to establish some bylines and credibility as a writer, even to score press trips.  The advice in this eBook and the list of fifty websites is your short cut to travel writing success.

LEARN MORE AND PURCHASE THE BOOK


---
Friend me on Facebook
My Facebook page is about freelance travel writing. I frequently post about:
• travel writing & blogging conferences,
• links to other well produced travel websites and blogs,
• links to my travel articles,
• travel writing themes,
• links to reputable travel writer's groups, associations, and newsletters,
• magazine covers stories and back stories,
• links to resources pages,
• links to travel writing archives,
• links to coaching and mentoring resources,
• and plenty of other useful information to get you up to speed.



Link to Roy's Personal Facebook page
---
Please share the e-zine with friends, family or anyone you know who's interested in travel writing. They can sign up for the newsletter and get free marketing tips each week at this link:

Sign up for my weekly marketing tips

That's all for this week.

Until next week, just keep pitching!

Roy

Roy Stevenson
Pitch Travel Write
www.pitchtravelwrite.com













---