Greetings Fellow Travel Writers and Bloggers!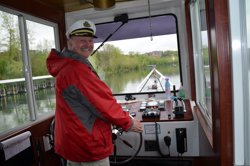 We arrived back in Seattle a few days ago, and are just getting over the 14-hour time zone jet lag. It's a long haul from Vietnam!
We start our Travel Writing & Marketing Master Class April 27-29, at the Hilton Garden Inn, with 15 enthusiastic aspiring travel writers. And we're very excited to meet all of them. We'll tell you more about it on Facebook in the next few days, and in the next newsletter.
The day before the Master Class we're hosting a Deep Dive for my current coaching clients. This special gathering of motivated writers gives us some face-to-face time to delve deeper into travel writing topics that we don't cover during the Master Class. And it's a good chance for my writers to get to know each other and share their successes.
It's been a year since I was last in Seattle and I'm having fun catching up with friends and neighbors. And we're doing some shopping for everyday items we can't find in Da Nang (thank you Fred Meyer!).
Of course, we're feeling reverse culture shock, most of all with orderly traffic where the drivers actually obey the rules of the road!


---
Free Download ... in case you missed it
To thank you for your loyalty and for subscribing to our newsletter, we'd like to reward you with a free valuable Bonus eBook.

You'll want to download it immediately.

This 57-page 2018 Ultimate Travel Writer's Resource Pack contains the following eight valuable resources . . .
• The 2018 Ultimate List of Travel Writing Conferences
• The 2018 Ultimate List of Travel Writing and Travel Blogging Workshops
• Website Resource List for Travel Writers
• Travel Magazine Lists: 18+ Great Sources of Magazine Leads
• How to Use Newsletters to Get Plugged into the Travel Writing Community
• Best Websites for Travel Writers
• 2018 Recommended Facebook Travel Writing Sites
• Which Travel Writers Association is Right for You?


It's your for free. Just add it to your shopping cart and check out for $0. The download will be available immediately.

Download Your Free Copy of the Travel Writers Resource Pack
---
This Week's Featured Post
Query Letter Guide: Seven Valuable Tips for Travel Writers
Most "experts" still recommend a traditional approach to writing and sending queries to editors. Following this advice is a mistake if you want to succeed at travel writing and see your articles published in print.

With the digital age and the speed at which things happen these days, the game has changed dramatically. Freelance travel writers who want to succeed need to change with it. After all, if your query letters don't sell your stories, you'll never get to write them.

This post is a guide to answer the questions about query letters that I hear most often. It reflects the tips that I used, with great success, to sell more than 1,000 articles to 200+ publications - get paid for them.

Read it - it will clarify the rather murky waters surrounding this critical topic.

READ THE POST
---
Upcoming Posts
April 30: Simultaneous Submissions Strategies for Multiple Acceptances
May 7: Getting Paid for Your Travel Stories
May 14: Business Policies for Travel Writers
May 21: Do You Know About These Travel Writing Scams?


---
We've Been In The News
Honored to have our PitchTravelWrite.com website listed in this article about "How to Publish Your Travel Writing on Major Sites" by Claire Shefchik.

Claire says, "Veteran travel writer Roy Stevenson has written literally thousands of articles for travel sites and has dozens of valuable tips for how to pitch, what to pitch, and the business of travel writing."

Link to Claire Shefchik's article

---
Preparing Magazine Distribution Lists
I get requests from travel writers every week asking me to help prepare distribution lists to send their queries to.

I'm not surprised that so many travel writers contact me with this request. I get it. Searching for target magazines is perceived as an onerous clerical task and can take up many hours. Yet, it's an indispensable step in getting your freelance articles published. After all, if you can't find magazines to pitch, you're not going to get your stories published.

The following articles cover the nuts and bolts of creating your own distribution lists. These articles will help you find magazines to pitch your stories to.

How to Create Magazine Distribution Lists and Where to Look for Leads
Different Types of Magazines You Can Pitch
Finding Travel Magazine Sales Leads on Vendor Websites

---
Inspirational Travel Quote of the Week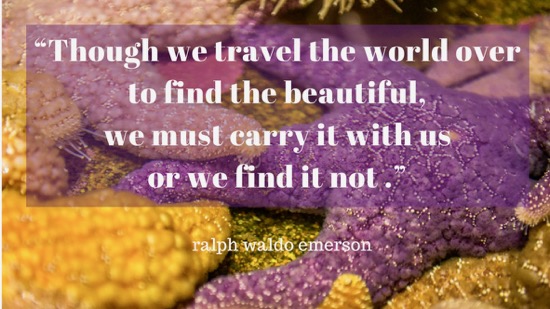 Travel Writing Bonus
For some of the finest travel writing ever, read John Steinbeck's article about Positano, Italy, written in 1953 in Harper's Bazaar Magazine.
Download the free PDF:

Link to Download Steinbeck PDF

---
Featured Book of the Week
100 PRINT MAGAZINES THAT WANT TO PUBLISH YOUR TRAVEL ARTICLES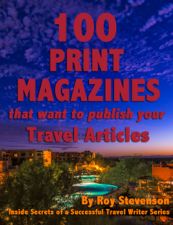 Where do travel writers find magazine leads to pitch and sell their stories?

My reference guide, 100 Print Magazines That Want To Publish Your Travel Articles, is a great place to start your search.

This compilation is far more specialized than what you find in Writer's Market.  Compiled over ten years from a wide variety of on-line sources, field resources and book references, this comprehensive listing also includes international publications for the English-speaking market.

If you want to be a successful travel writer and get your articles published in paying print publications, you need to be highly proficient at finding travel magazine leads.  Having a solid list of magazines makes it easier to find assignments that will help get you invited on Press trips.

LEARN MORE AND PURCHASE

Here's what professional travel blogger Chris Backe has to say about 100 Print Magazines That Want To Publish Your Travel Articles reference manual:

"The title tells you exactly what to expect. Roy introduces the concept of a 'distribution list' early on, his approach to simultaneous submissions, along with the need for writers to research and add places of their own to the list.

The list itself is well-organized and offers a paragraph or so for every noted magazine (though some descriptions do look copy-and-pasted from a magazine's own page). Look for the website, a link to their guidelines, the editor's name, and an e-mail address – note of course that you'll want to confirm everything's still up-to-date before sending off your pitches."

---
Friend me on Facebook
My Facebook page is about freelance travel writing. I frequently post about:
• travel writing & blogging conferences,
• links to other well produced travel websites and blogs,
• links to my travel articles,
• travel writing themes,
• links to reputable travel writer's groups, associations, and newsletters,
• magazine covers stories and back stories,
• links to resources pages,
• links to travel writing archives,
• links to coaching and mentoring resources,
• and plenty of other useful information to get you up to speed.



Link to Roy's Personal Facebook page
---
Please share the e-zine with friends, family or anyone you know who's interested in travel writing. They can sign up for the newsletter and get free marketing tips each week at this link:

Sign up for my weekly marketing tips

That's all for this week.

Until next week, just keep pitching!

Roy

Roy Stevenson
Pitch Travel Write
www.pitchtravelwrite.com













---