Greetings Fellow Travel Writers and Bloggers!
It's our 200th newsletter!
We launched our first newsletter on June 18, 2013 to 23 aspiring travel writers. Today, more than 1800 of you are reading this e-Zine!
We've come a long way!
In the 58 months since our inaugural newsletter, we've sent out 200 feature posts and dispensed a ton of free advice for aspiring and veteran travel journalists alike. We believe the PitchTravelWrite free weekly newsletter is THE BEST in the business. We've yet to find another one for travel writers that even comes close in terms of solid, actionable information.
Since June 2013, we've published seven eBooks that have helped more than 2,000 novice and seasoned travel writers get their work published in paying print media and online. And we have plans to release another five eBooks this year!
Our third annual Travel Writing & Marketing Master Class is scheduled for April 27-29, in Seattle, Washington, USA. And our Master Class is THE BEST travel writing & marketing course, ANYWHERE. Students who take the information and run with it are getting published like there's no tomorrow—in respected paying print magazines.
I'm currently coaching 10 novice travel writers by Skype and email who have bylines that range from 3 to 30. Most of their stories have been published in paying print magazines and newspapers.
In late 2018, we're offering our first annual Creative Travel Writing Retreat in Hoi An, Vietnam, for travel writers who want to brush up and learn new travel writing skills that will propel their stories into paying print media—in a unique historic Disney-like world heritage town.
We also will be launching our first online course in May for aspiring travel writers. More information about this course is coming soon.
Our website punches far above its weight, appearing in search engines alongside - or above - other "travel writing" websites that contain considerably more pages, but somehow fail to deliver anything more than fluff.
Freelance writing guru, Moira Allen Anderson, describes our website as . . . "This site is more like a book than a website. It is one of the best (if not THE best) travel-writing sites I've seen in a long time. It is packed! And most of the articles will be useful to any freelancer, not just travel writers".
Moira Allen Anderson, Writing-World.com
To thank you for your loyalty and for subscribing to our newsletter, we'd like to reward you with a free valuable Bonus eBook.
You'll want to download it immediately.
This 57-page 2018 Ultimate Travel Writer's Resource Pack contains the following eight valuable resources . . .
• The 2018 Ultimate List of Travel Writing Conferences
• The 2018 Ultimate List of Travel Writing and Travel Blogging Workshops
• Website Resource List for Travel Writers
• Travel Magazine Lists: 18+ Great Sources of Magazine Leads
• How to Use Newsletters to Get Plugged into the Travel Writing Community
• Best Websites for Travel Writers
• 2018 Recommended Facebook Travel Writing Sites
• Which Travel Writers Association is Right for You?

It's your for free. Just add it to your shopping cart and check out for $0. The download will be available immediately.

Download Your Free Copy of the Travel Writers Resource Pack
---
This Week's Featured Post
Break into Travel Writing with Museum Stories
Since I entered the freelance travel writing arena in 2007, I've had more than 200 museum stories published in 32 paying print magazines. That's 20% of my total number of published articles!

My ten-year museum writing binge started early in my freelance career. I love visiting military museums of all kinds. I'd visit these museums even if I wasn't writing a story.

Museum stories were one of the essential keys to my rapid ascent in freelance travel writing. I've sold a lot of museum travel articles. And, I mean A LOT! (If you Google Roy Stevenson + museums, you'll see a few of them online.)

If you enjoy visiting museums and learning more about topics that interest you, there's no reason why you can't sell museum stories. And you can make some good coin, too.

Why do museum pieces sell so well? And, more importantly, how can you sell museum stories, and to whom?

Read the post to find out …

READ THE ARTICLE: Break into Travel Writing with Museum Stories
---
Upcoming Posts
April 9: How to Write Travel Stories that Sell
April 16: Guest Post: How Going Local Ran Me Out of Town
April 23: Query Letter Guide: Seven Tips for Travel Writers
April 30: Simultaneous Submissions Strategies for Multiple Acceptances


---

There are only 5 days left to sign up for The Complete Travel Writing & Marketing Master Class. Registration closes April 6th.

Get a crash course on breaking into travel writing and marketing and join us in Seattle in April.

There are four weeks until our Seattle master class. Easily enough time to sign up and book your flights and hotel. We still have a handful of seats left. If you want to supercharge your travel writing career you'll need to act now. Our last few seats always sell out the month before class starts.


We believe our master class is the BEST travel writing & marketing workshop in the world. And we can prove it. We have writers coming from five countries! Join aspiring travel writers from Canada, the U.S.A, Grenada, Australia, & Belgium in Seattle, in April.

Learn how to . . .
• Consistently sell your travel stories to paying print media
• Land Press Trips & get complimentary travel
• Improve and accelerate your travel writing career
• Transform your travel blogs into cash by selling them to print magazines



You'll get all this information—and much more—in my three-day intensive workshop for travel writers, The Complete Travel Writing & Marketing Master Class.

The focus is on marketing & selling your articles, and on using your assignments to request complimentary travel - areas where most writers struggle.

Sign Up Here ...

---
Here's what husband and wife team, Pam & Gary Baker, had to say about last year's Master Class:
"We attended Roy's Master Class in Seattle last April. We had just flown in from Europe the night before and I worried I would be too jet lagged to stay awake during the workshop. But the excitement of the class and the tremendous information kept me awake all day long!
You will learn things in the class that you won't get from books. And you'll make friends, too, that have the same goals. You'll continue to stay in touch and encourage each other and cheer your successes. A network is important! If you haven't signed up for Roy's class this April, you need to do it now before it's sold out!"
Pam & Gary Baker, Master Class Attendees, April 2017

Learn more ...

---
We've Been In The News
Here's my guest post in WritersWeekly.com about when I first started out as a freelance writer. I never would've thought I'd get more than 1,000 articles published in just a decade.

Here are some freelance writing tips that I've picked up on my journey that will save you time and emotional energy.

READ THE POST

---
Preparing Magazine Distribution Lists
I get requests from travel writers every week asking me to help prepare distribution lists to send their queries to.

I'm not surprised that so many travel writers contact me with this request. I get it. Searching for target magazines is perceived as an onerous clerical task and can take up many hours. Yet, it's an indispensable step in getting your freelance articles published. After all, if you can't find magazines to pitch, you're not going to get your stories published.

The following articles cover the nuts and bolts of creating your own distribution lists. These articles will help you find magazines to pitch your stories to.

How to Create Magazine Distribution Lists and Where to Look for Leads
Different Types of Magazines You Can Pitch
Finding Travel Magazine Sales Leads on Vendor Websites

---
Inspirational Travel Quote of the Week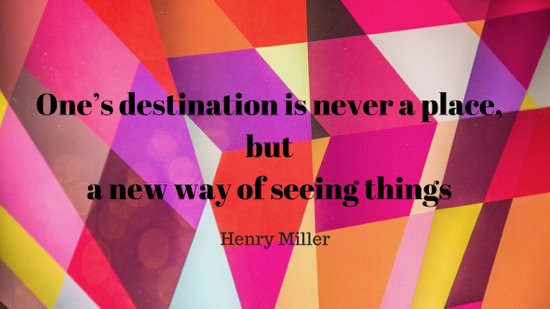 Travel Writing Bonus
For some of the finest travel writing ever, read John Steinbeck's article about Positano, Italy, written in 1953 in Harper's Bazaar Magazine.
Download the free PDF:

Link to Download Steinbeck PDF

---
Featured Book of the Week
THE COMPLETE GUIDE TO MARKETING AND SELLING YOUR TRAVEL ARTICLES
Everything you need to know about selling your travel articles. If you can't sell your travel stories, you don't get to write them.

My updated manual, The Complete Guide to Marketing and Selling Your Travel Articles tells you how to select saleable story ideas, how to write query letters, how to pitch your ideas the right way, how to find magazines that will be interested in your story, and how you can start selling your travel articles to magazines immediately and reap the fantastic travel benefits.

LEARN MORE AND PURCHASE THE BOOK

Here's professional travel writer Mike Gerrard's review of my marketing manual:

"I bought this book direct from the author's website and even though I'm a full-time travel writer myself, I learned a heck of a lot from it. We all have our weak spots, and mine is definitely pitching and writing query letters. This book pushed me into action, showed me lots of the author's own query letters that worked, and has now given me a 'to do' list for pitches I want to send. Just reading it reminded me of trips I've done in the last year or two that I could sell more pieces from, and also stuff that's on my own doorstep that I could and should be pitching. Whether you're a professional or a complete beginner, I highly recommend this book."

Here's professional travel writer Chris Backe's review of my marketing manual:

"Roy is a machine – at least, that's the only conclusion I have come up with. Having written for over 190 magazines (and reaching the 100 mark in 25 months), you would expect him to have a well-oiled machine and strong sense of process to keep things running. And you'd be right – his six-step 'chain-link' process is made out to be intentionally simple and easy to follow. That said, pitching, researching, and collecting good information still requires a fair bit of hard work, and the book offers no shortcuts. The specifics focus around coming up with good ideas, the correct questions to ask, finding the right publications for your ideas.

Creating distribution lists (one for each genre) makes pitching easier, while he encourages no fewer than 17 "essential elements" of a good query letter. Parts of these will sound old-fashioned to the younger set, ("no pictographs of inkwells, suitcases… smileys, [or] pink fonts…"), but will distinguish you as a professional. Chapter eight gets into some of the terminology used as rights go, along with the delightful problem of how to handle multiple acceptances.

My biggest critique is that the notion of going to a large bookstore and perusing print magazines or requesting 'comp' paper magazines (or worse, carrying a two-inch thick 'Writer's Market' around the world!) is difficult for most digital nomads. He helpfully offers up the many websites offering solid resources, along with a treasure trove of ideas I hadn't thought of. Traveling does give you more opportunities to spot worthy magazines, of course.

At $99 it's far from the cheapest set of information out there – but getting your first night in, say, a four-star hotel room in Europe means the book has already paid for itself.

Highly recommended."
---
Friend me on Facebook
My Facebook page is about freelance travel writing. I frequently post about:
• travel writing & blogging conferences,
• links to other well produced travel websites and blogs,
• links to my travel articles,
• travel writing themes,
• links to reputable travel writer's groups, associations, and newsletters,
• magazine covers stories and back stories,
• links to resources pages,
• links to travel writing archives,
• links to coaching and mentoring resources,
• and plenty of other useful information to get you up to speed.



Link to Roy's Personal Facebook page
---
Please share the e-zine with friends, family or anyone you know who's interested in travel writing. They can sign up for the newsletter and get free marketing tips each week at this link:

Sign up for my weekly marketing tips

That's all for this week.

Until next week, just keep pitching!

Roy

Roy Stevenson
Pitch Travel Write
www.pitchtravelwrite.com













---