Greetings Fellow Travel Writers and Bloggers!
I'm often asked by novice travel writers: "Is there a single element to use to predict whether I'll get my stories published?"
Unfortunately, there is no single factor. There are too many variables in the publication chain.
I've already written several articles about this, but here are five of the most important variables:

• Your story idea must be a good match for the targeted publication.

• Your research into the story must be adequate and presented coherently in your query.

• Your query letter must be well-written. That means at a minimum no typos, misspellings, or poor grammar.

• You must locate enough magazines to pitch.

• You must submit a quality article.

Each these factors are vital links for freelance writing success.
If you perform each of these steps well, your chances of seeing your story published and getting paid for your stories improve significantly.
Here's the most important point: The more stories you pitch, and the more magazines you pitch, the better your chances of getting published. Keep churning out a high volume of queries, as often as possible.
When I first started writing, I would send out 3-5 queries/week, sometimes more. I sent these queries out to every magazine that I thought would be a good target for my story.
I found that over time, more and more of my stories were published. For several years, I was writing up to 15 stories each month. Once I wrote 10 articles in 12 days!
This success continued to snowball and I spent less time pitching and more time writing.
I pitched new story ideas when I sent my submissions to the editor. I pitched multiple story ideas in some of my queries (i.e. more than one story idea in each query letter). I forged longstanding relationships with magazine editors, which I still maintain today.  
This may all seem daunting to novice writers, especially when you're preparing your magazine lists. But I can promise that after a year or two you get much faster.
Writers who can't be bothered improving their writing or doing the prep work required to sell their articles either drop out of freelance writing or doom themselves to writing free articles for websites forever. Put in the work - it's worth it!


---
Free Download ... in case you missed it
To thank you for your loyalty and for subscribing to our newsletter, we'd like to reward you with a free valuable Bonus eBook.

You'll want to download it immediately.

This 57-page 2018 Ultimate Travel Writer's Resource Pack contains the following eight valuable resources . . .
• The 2018 Ultimate List of Travel Writing Conferences
• The 2018 Ultimate List of Travel Writing and Travel Blogging Workshops
• Website Resource List for Travel Writers
• Travel Magazine Lists: 18+ Great Sources of Magazine Leads
• How to Use Newsletters to Get Plugged into the Travel Writing Community
• Best Websites for Travel Writers
• 2018 Recommended Facebook Travel Writing Sites
• Which Travel Writers Association is Right for You?


It's your for free. Just add it to your shopping cart and check out for $0. The download will be available immediately.

Download Your Free Copy of the Travel Writers Resource Pack
---
This Week's Featured Post
How Going Local Ran Me Out of Town
Guest Post by Travel Writer Mary Charlebois
I'm finally a travel writer that travels, writes Mary Charlebois.
Last year I logged over 12,000 miles domestically. This fall I'll be in England for a month. I still write for local publications. They believed in me from the start of my writer's journey. They are a source of regular income. My research and photography generally lead to stories for national publications. My bylines help me secure all-expense paid press and FAM trips.
Read Mary's inspirational guest post about how she has ascended through the travel writing ranks by starting local …

READ THE GUEST POST
---
Upcoming Posts
April 23: Query Letter Guide: Seven Tips for Travel Writers
April 30: Simultaneous Submissions Strategies for Multiple Acceptances
May 7: Getting Paid for Your Travel Stories
May 14: Business Policies for Travel Writers


---
We've Been In The News
Do you have an Amazon.com Author's Page? They automatically feed your posts to your author's page. Check out mine here:

Go to Roy's amazon author's page

---
Preparing Magazine Distribution Lists
I get requests from travel writers every week asking me to help prepare distribution lists to send their queries to.

I'm not surprised that so many travel writers contact me with this request. I get it. Searching for target magazines is perceived as an onerous clerical task and can take up many hours. Yet, it's an indispensable step in getting your freelance articles published. After all, if you can't find magazines to pitch, you're not going to get your stories published.

The following articles cover the nuts and bolts of creating your own distribution lists. These articles will help you find magazines to pitch your stories to.

How to Create Magazine Distribution Lists and Where to Look for Leads
Different Types of Magazines You Can Pitch
Finding Travel Magazine Sales Leads on Vendor Websites

---
Inspirational Travel Quote of the Week
Travel Writing Bonus
For some of the finest travel writing ever, read John Steinbeck's article about Positano, Italy, written in 1953 in Harper's Bazaar Magazine.
Download the free PDF:

Link to Download Steinbeck PDF

---
Featured Book of the Week
How to Land Press Trips and Fam Tours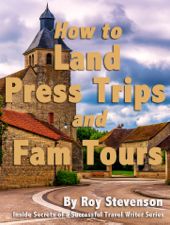 Who doesn't like press trips to exotic and exciting destinations? In ten years of freelance writing, I've been on 90 press trips & fam tours. Places like Belgium, Wales, England, France, Germany, New Zealand, Bali, all over the U.S.A., and to many other exotic and exciting destinations.

You too can get regular press trip & fam tour invitations. Books about travel writing might mention that press trips are available to travel writers, but they fall woefully short when it comes to telling writers how to get invitations. Most veteran travel writers keep this information to themselves.

My manual, How to Land Press Trips and Fam Tours, tells you exactly what you need to do to get invitations to press trips and fam tours, and how to organize self-guided press trips.

LEARN MORE AND PURCHASE

Here's a review of my manual by travel blogger Chris Backe in OneWeirdGlobe.com:

I was extremely impressed with Roy's last book, reviewed in April, so reviewing another of his books was a no-brainer.

Roy takes a simple, logical approach to getting invited (or getting on the list) by the folks that have the budgets to offer them. Reality checks are aplenty, and he links to several excellent sites or conferences to stay in-the-know. There are also several sample letter templates to borrow from, along with an entire chapter on etiquette (which could easily be titled 'How to ensure this isn't your last fam trip ever!')

At 75 pages long, the only thing it really lacks is fluff. You can breeze through the basics in a single sitting, but actually taking action will be your bigger challenge. The book does everything it can to offer tools and advice, but it's still up to you to follow it.

---
Friend me on Facebook
My Facebook page is about freelance travel writing. I frequently post about:
• travel writing & blogging conferences,
• links to other well produced travel websites and blogs,
• links to my travel articles,
• travel writing themes,
• links to reputable travel writer's groups, associations, and newsletters,
• magazine covers stories and back stories,
• links to resources pages,
• links to travel writing archives,
• links to coaching and mentoring resources,
• and plenty of other useful information to get you up to speed.



Link to Roy's Personal Facebook page
---
Please share the e-zine with friends, family or anyone you know who's interested in travel writing. They can sign up for the newsletter and get free marketing tips each week at this link:

Sign up for my weekly marketing tips

That's all for this week.

Until next week, just keep pitching!

Roy

Roy Stevenson
Pitch Travel Write
www.pitchtravelwrite.com













---