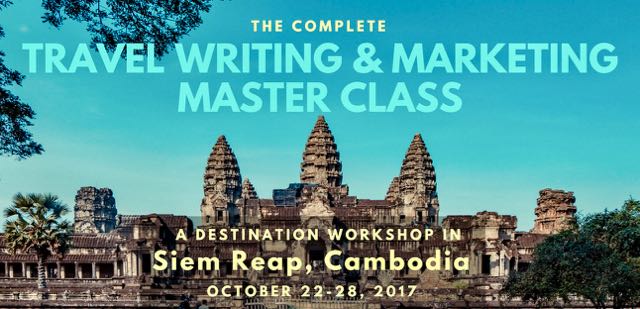 Five Ways to
Increase Productivity
Most freelance writers work alone, so we're doing every kind of task from administrative to marketing to writing.  Because of this, finding ways to increase productivity is important. 

Finding smart ways to accomplish your work is a critical step to getting your work done without feeling overwhelmed. 

The first installment in this series was about how to increase productivity by taking control of your time.
This article focuses on how to create more time in your day by setting up smart systems and processes.

Here are five ideas that will save you a chunk of time and help you to earn more money:

Increase Productivity with Templates

Doing the same thing over and over again, and starting from scratch each time is obviously a waste of time.  Yet many people approach the administrative side of their freelance work like this. 

---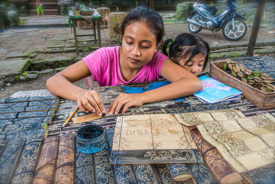 Young girl in Bali, Indonesia creates maps using a template.  Tourists don't care that they are all basically the same - each one looks unique thanks to a few finishing touches.

---
I used to waste a lot of time laboriously creating every query letter from scratch.  I tailored each one perfectly for each magazine I was pitching. 

Several years later, having written hundreds of query letters, I've become a lot more efficient at this skill.  Now I can crank out a great query letter in a half hour or less.  I don't start any query letter from scratch.  Instead, I use a template.

I've got templates for query letters, for my Bio, my bylines, for thank you letters, for invoices, and more.  Having templates for repetitive tasks saves me a boatload of time.  It's a great way to increase productivity.

Here's how to do it:

Look at everything you do on a regular basis.  Query letters.  Invoices.  Requests for information.  Letters to tourist agencies requesting assistance with your itinerary.  Thank you letters. 

Read through a few examples of each type of document and notice what's similar in each one you've written.  Then, create a basic template from those letters, using the best content you've written.  Save it to a templates folder. 

When it comes time to write that kind of document again, you can open the template and customize it slightly as needed . . .  or not.

For query letters, look at the ones that were most successful.  Which ones resulted in a sale?  Those are the ones you'll want to use to create your template.

If you write in different genres, you will want to customize query letters to suit each genre.  All you need to do, then, is tweak it for your specific story angle when the time comes.
My Complete Guide to Query Letters for Travel Writers eBook does exactly that - it shows you examples of my best query letters for a variety of genres, and explains the marketing techniques that helped sell the articles to editors.  You can use these same templates to sell your story ideas.

Don't agonize over customizing your query letter when a more universal one will do.  This is not lazy, it's smart.  Will the editor care?  Not at all.  Why waste your time recreating a letter time and time again?

Here are the 2 most asked questions about simultaneous queries.

Setting up templates for invoices, requests for information and requests for assistance with your itinerary are even easier to do than query letters.

Save your time, increase your productivity.  Set up templates for every repetitive item.

Increase Productivity by Creating Customized Magazine Distribution Lists

It takes many hours to pore through magazines, the Writer's Market, and the Internet to locate markets for your stories.  Taking the time to record the details, and keeping an up-to-date record of the details is part of your intellectual property as a writer.  And it will save you a bundle of time in the long run.

What should be included?  The magazine title, the editor's name and contact details, with a third column for "notes" about the magazine (website URL, etc.).  And you should constantly update this list as editors change.

Starting these "distribution" lists from scratch is time consuming, but once you've constructed your list you'll never have to create it again.

I'm always surprised at how many freelance writers I've met who do their magazine search from scratch every time they want to sell a story.  What a terrible waste of time!

Let me give you an idea of what I've compiled over my seven years of freelance writing.  I have three dozen separate magazine and newspaper distribution lists.   The genres range from sailing magazines to travel magazines, and from wine magazines to automobiles and military magazines.
You can also purchase distributions lists to build upon.  My two eBooks, 50 Travel Websites that Want to Publish Your Travel Stories and 100 Print Magazines that Want To Publish Your Travel Articles are distribution lists created to save you valuable time creating your own.  You can use them as a foundation to build upon and create even better lists for your own use.

Implement a Document Management System

Beyond having distribution lists for all your outlets, you also need to keep track of your published articles.  Create a simple table with (at the very least) the magazine name, title of article, when it was sent to the editor, when the invoice was sent, and when it was paid.

You will also want to be organized about keeping digital copies of the articles you've written, photos that accompanied the articles, and captions for the photos.

It's hard at the beginning to get excited about creating systems to keep track of everything.  But the paperwork doesn't take care of itself.  Without some sort of basic document management system, you'll spend half the day trying to find records and information from a disorganized document morass.

Figure out a system where you can store your lists, folders, reference materials, contacts, distribution lists, form letters, query letter templates, and the myriad other documents from an easily retrievable platform.

Keep it simple.  Your systems do not need to be complex to be good.

Rewrite and Resell Your Articles

Many writers get stuck in the bear trap of writing an article for one publication and never selling the story again.  This makes sense if you are selling the article to top shelf magazines and getting paid accordingly.

But the vast majority of magazines pay considerably less than $1/word, so your objective is to squeeze as many articles as possible out of a topic.

Writing about the same topic from different angles, for different magazine outlets is an easy way to do increase productivity.  You know the topic, you've done the research, you've taken the trip – why not make the most of it?

Rewriting or reselling your original article (repeatedly) saves you time and increases your revenue well above the one-story-at-a-time approach.  This technique requires some mental creativity, but once mastered becomes easier and earns you more income.

---
Sign-up for our free weekly e-zine and download your free copy of Get Published Now!:

---
Increase Productivity with Repeat Business

It's a well-known fact that it's easier to keep working with the customers you have than to find new customers.  So once you have established a working relationship with an editor, keep pitching that editor more story ideas for repeat business.

It's easier to work with one editor with whom you've established a relationship, than to approach and "break in" several new editors.  (Editors feel the same way about writers, too.)

Once you've proven yourself to an editor, you'll find it easier to sell that editor subsequent story ideas.  Repeat business trumps starting from scratch every time.

What does it take to prove yourself to and editor?  Deliver a well-written article that needs little or no editing, and deliver it before deadline.

There's another time-saving advantage of developing a strong working relationship with an editor.  As an editor becomes comfortable with you and your work, you will usually be able to propose new story ideas with less detail.

I've been working with the editors of some triathlon and running magazines in three different countries for so long now that I simply write my article and send it to them.  They publish it.  No query needed!  It may take a few years to get to this point with an editor, but it's worth it when you do. 

Research Several Stories Simultaneously

We are lucky to have technology to help us do our research easily, often without ever getting out of our desk chair.

When doing your research, try researching several stories simultaneously to increase productivity.

Here's an example:  When planning a lengthy trip to Singapore and Borneo, I amassed information for thirteen stories for Singapore and twelve more for Sabah, Sarawak, and Brunei.  How long did this take?  Only three days.  I studied my guidebooks and scoured the internet with multiple stories in mind.  Then I came up with twenty-five ideas from that research, saving much duplication of effort.

To implement this for your next trip, decide which places you're thinking about visiting.  Gather all your published materials, sit down in front of your computer – and do the work all at once.  Coming up with a big batch of story ideas from one round of research will boost your productivity very quickly.

If you implement any – or all – of these ideas, you'll find that you have more time on your hands.  You'll increase productivity, and you'll have more time to do the things you really want to do – write and travel. 

Other related articles that will interest you:
Dreaming up Multiple Story Ideas About One Place
Where to Sell Your Travel Stories
How to Increase Productivity by Getting Control of Your Time
Travel Writing Craft Topics

---